Audi Q7 India Petrol Review: We drove the diesel earlier and this time its the 2.0 litre four-cylinder petrol. Small engine for a large car? Not exactly!
The Bollywood car. Everyone calls it the same way and so do the journalists. It is go to choice for most celebrities in the Hindi film community. Want to see one in hoards? Get a job in Film City and you can probably see one leaving and one going every day. We, as you know have been acquainted with this earlier as well in the past which was the diesel version. The SUV baffled us with its cruising ability, the way it fit in city traffic, how easy it was to maneuver, park and live with on a daily basis.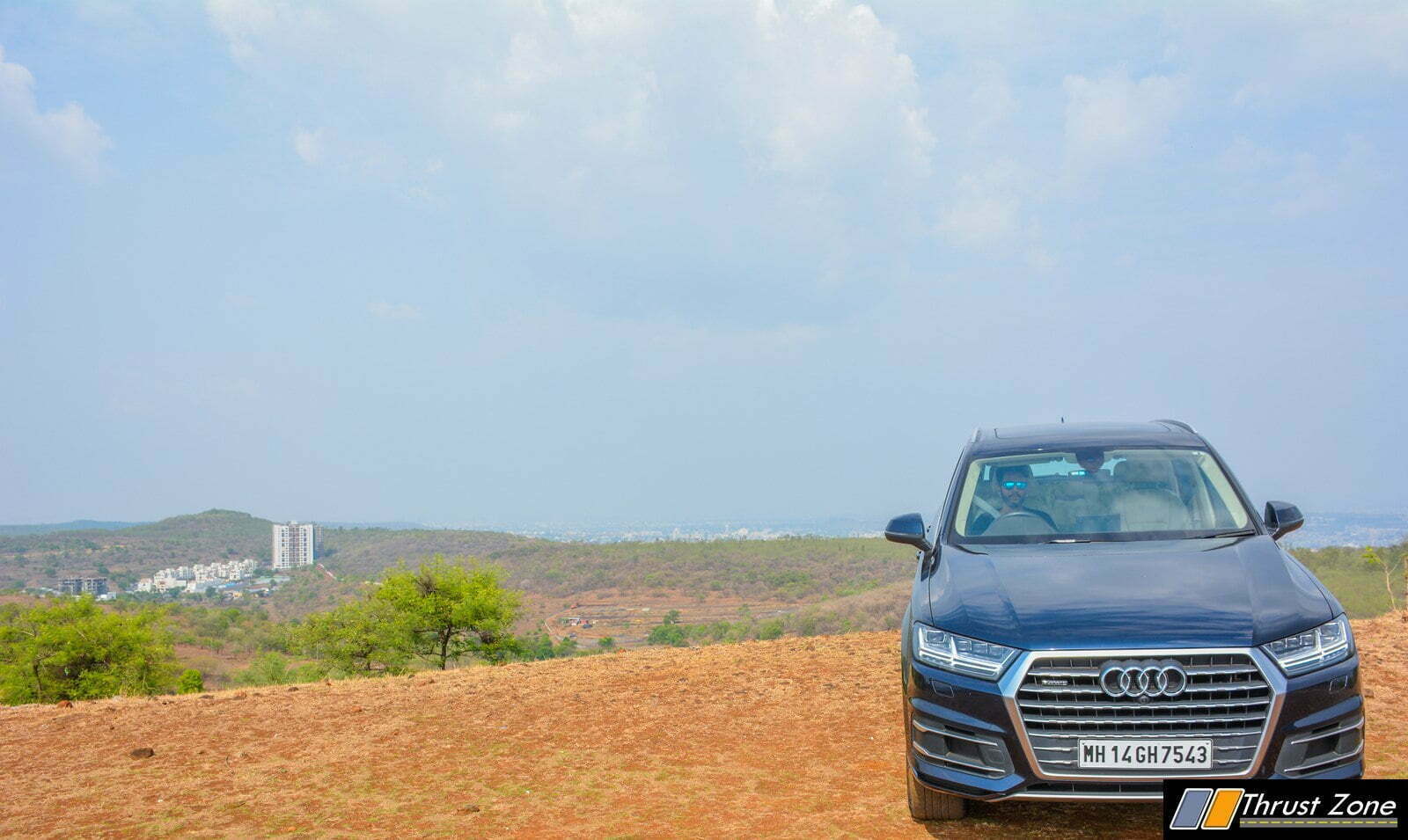 However, the fuel choices make a stark difference in buying decision around the country. While some just do Bandra to Film City, others do long journeys as well. Audi saw that and introduced the petrol some time back. Is it an all arounder like the diesel just with different fuel? We find out as we head out of the city with it.
What does it offer?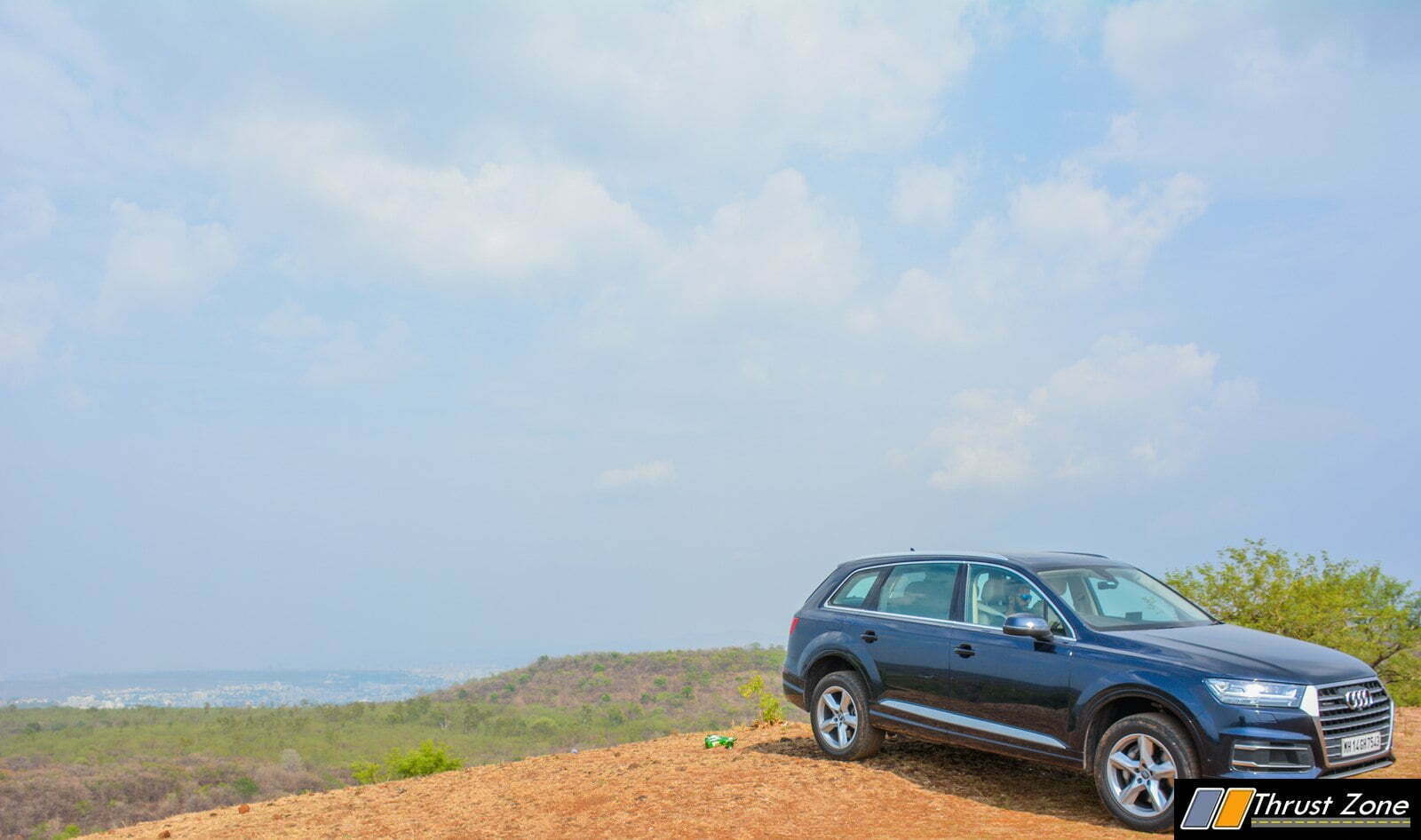 Well, it is a regular Q7 with hardly any changes over the diesel version that we drove earlier. The styling remains large, intimidating and timeless with its new found love for edginess over the curves that it had earlier. The head and tail-lamps have dynamic turn indicators, matrix LED headlamps at LED tail-lamps at the rear which are eye candy with every Audi, here, they make it part of the iconic styling. The alloy wheels sharp enough when you look closely, don't particularly grab attention as they look uninspiring at first glance.
Interior is high on quality, good use of aluminum, faux wood, leather and dual tone interior makes the cabin very friendly and pleasing to our audience. Beige mats though make the car dirty quite early. The virtual cockpit for the driver shows everything possible and all of it can be controlled via buttons on the steering wheel.
You can tuck the screen in the dashboard with a button because that clearly isn't necessary unless you have a tech-fiddling passenger on the side. Needless to say, the 3D virtual cockpit is the highlight of the package and offers navigation, connectivity options and more which is also easy to use.
Bose sound system is good, with 180 ww 10 speaker surround system capability. Four-zone climate control, cruise control and a panoramic sunroof is on offer. The car continues to not get Apple Car Play and Android Auto as of now. Height adjustable belts, electrically adjustable seats make things comfortable for all types of drivers and drives.
How is it to drive?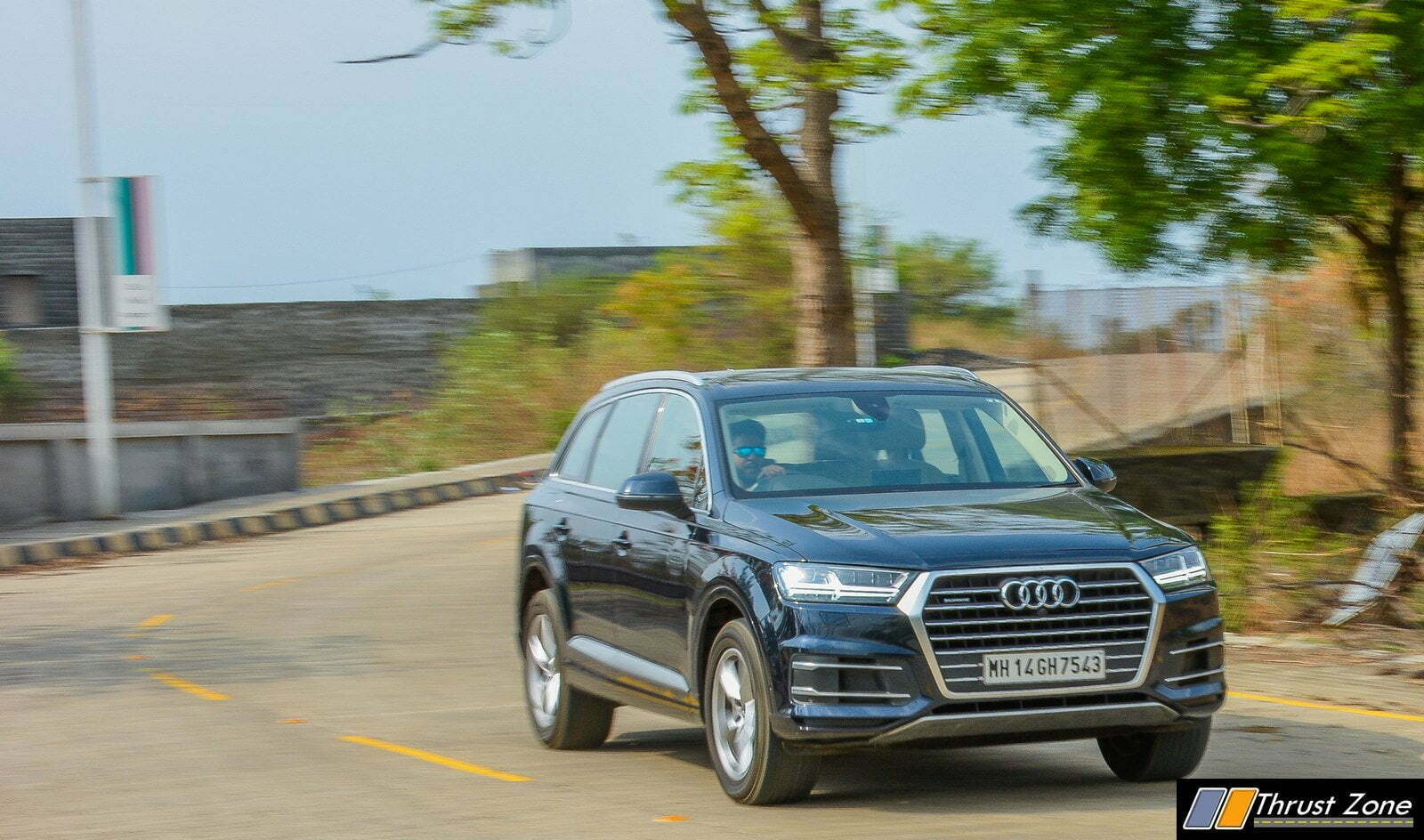 The heart of the matter is the real deal as we drove the petrol motor this time. The engine is the 2.0 TFSi motor which is a four-cylinder motor and sounds smaller for this larger SUV but it isn't. Since its turbocharged, it makes a good amount of horsepower and torque to power all four wheels.
252 PS of power and 370 Nm of torque through an 8-speed torque converter gearbox is on offer. Shifts are smooth and fast and there is a good amount of driveability on offer in the city and highway. The mid-range is strong enough and is perfectly acceptable for our roads and driving technique. There is turbo lag which is very well controlled to deliver optimum driveability even under 1800 RPM.
However, that ample amount of extra power on tap, associated with luxury cars is missing. It will do 200 km/hr given the empty stretch, but it will be slow and post that it will struggle as the weight and size come into action. Gearbox does a great job of squeezing the engine entirely when required. NVH levels are downright fantastic as can you barely hear anything inside the engine even at redline. It gave us 7 km/l and did 0-100 km/hr in 7 seconds.
Dynamically, the Q7 isn't a driver's SUV like the BMW X5. However, it is still a better choice over some of its other non-dynamic focused rivals. Body roll is in check when in dynamic mode. Go into other modes, the roll is more pronounced. Ride quality in every mode is supple enough to keep everyone in the SUV comfortable.
The adjustable air suspension allows the ride height to be increased and do off-roading or wave through pockets of water in Mumbai city, just like how we did on that given Monday. Steering continues to light and precise and less on feedback. Brakes are good with excellent bite and lot of progressive power after the initial bite.
Audi Q7 India Petrol Review, Verdict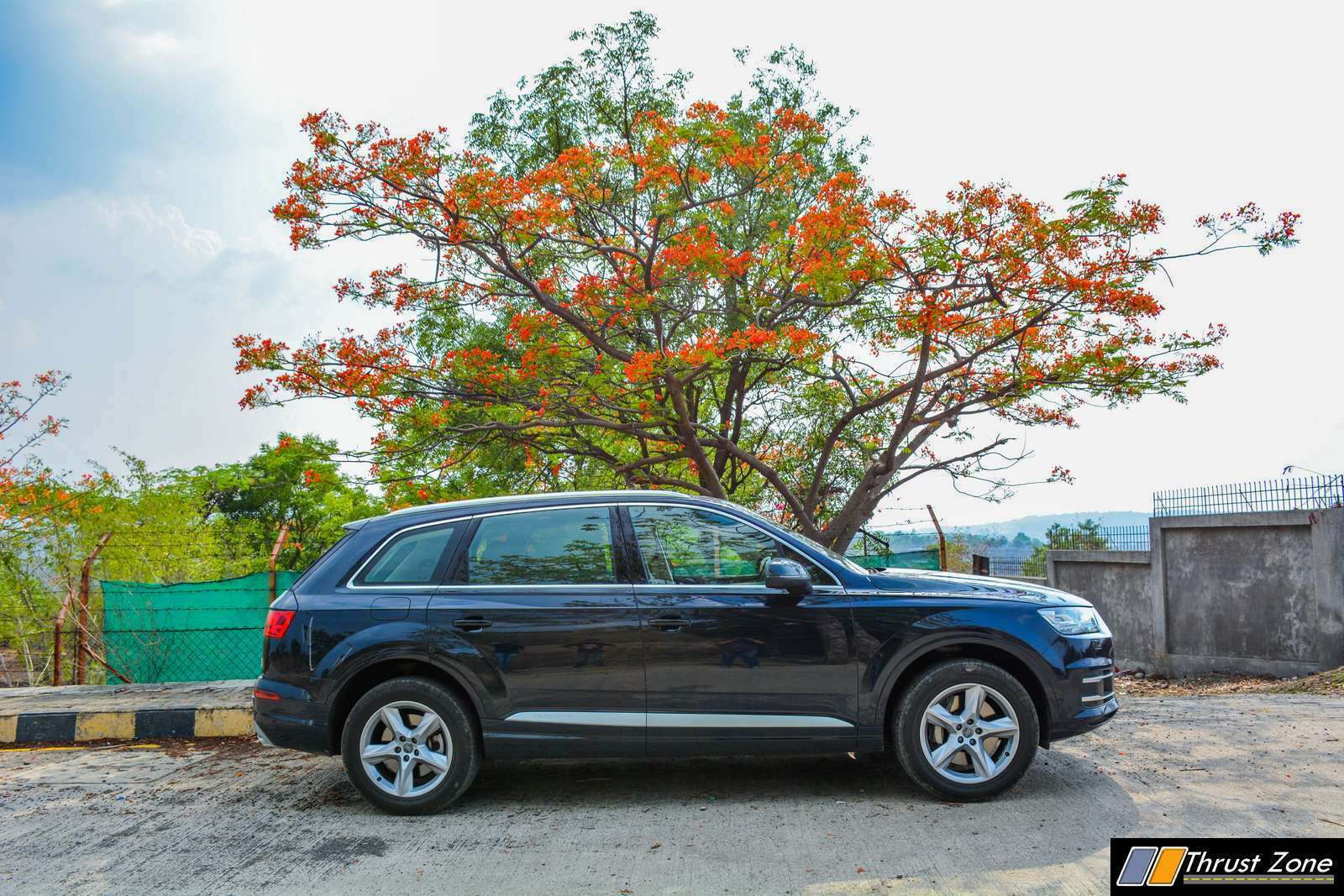 The Q7 aims to bring the cost of buying the Q7 lower for people who clock less mileage throughout the period of the car ownership. The Rs 5.0 lakh lower price tag over the diesel makes it a good deal if you want a petrol powered SUV that has comfort, safety has 7-seats and gets you a lot of attention and helps you arrive in style.
However, if you want more performance and fuel economy and use the car well enough, the diesel is still the right choice for you. Now, let's wait when Audi decides to get the SQ7 which will be fun to drive SUV that the enthusiasts look forward. For everything else, petrol powered Q7 is your ideal bet.
Premium Plus: Rs. 73.73 Lakhs
Technology Pack: Rs. 81.00 Lakhs
Read this too: Audi Q7 Diesel Review