Audi Q7 Diesel India Review: The SUV that became a sub-brand and took the already a loved luxury brand to new heights as it has parked itself in many celebrity garages
Enchanting –
Elegant and Already Established Sub-brand for Audi India
Superlative chassis, brakes, engine (Creamy V6 diesel)
Spacious and feature loaded
Easy to Drive, despite the massive size
Unsatisfying –
Soft roaders, not hardcore off-roader
Could be more dynamic to drive
The Audi Q7. The SUV that has been the flagship Q car in the stable from Audi throughout the world till today. Obviously, that honor will now go to the Audi Q8 which is coming. The story has two sides. The Q7 will continue to be a 7-seater car with practicality on offer with typical Audi traits such as being high on technology. Meanwhile, the Audi Q7 has turned out to be so much more in the Indian market that it already is.
It is a statement, its a car for the rich and the famous. It is a car that defines some people in the business of looking good the moment they open their eyes in the morning. Q7 is the Bollywood car, there, we said it, the word Bollywood that is. The SUV is owned by mostly actresses in India which have global fame. It now falls into place right? Maybe! We ended up getting our hands on the car now, we are going to tell you whether you should be buying this Q7 which is in its second generation. All the way from Ingolstadt, how does the Q7 deliver? Audi sent us the diesel model to find out just that. Are you getting famous anytime soon, better start reading!
Inside and outside
Call it classic, understated, sophisticated or minimalist, all of this is the Audi Q7 in the first place. It is only the size and LED headlamps and LED taillamps and massive grille that help it stand out. Even the alloy wheels fall into the category aforementioned. The case is the same on the inside as well. Beige and black interior with a large dashboard which is mounted like in a car, slightly lower help it get a very view outside, which is commanding enough. Wooden and aluminum inlays above each other and vents running all throughout the dashboard makes it look like a modern Audi interior design.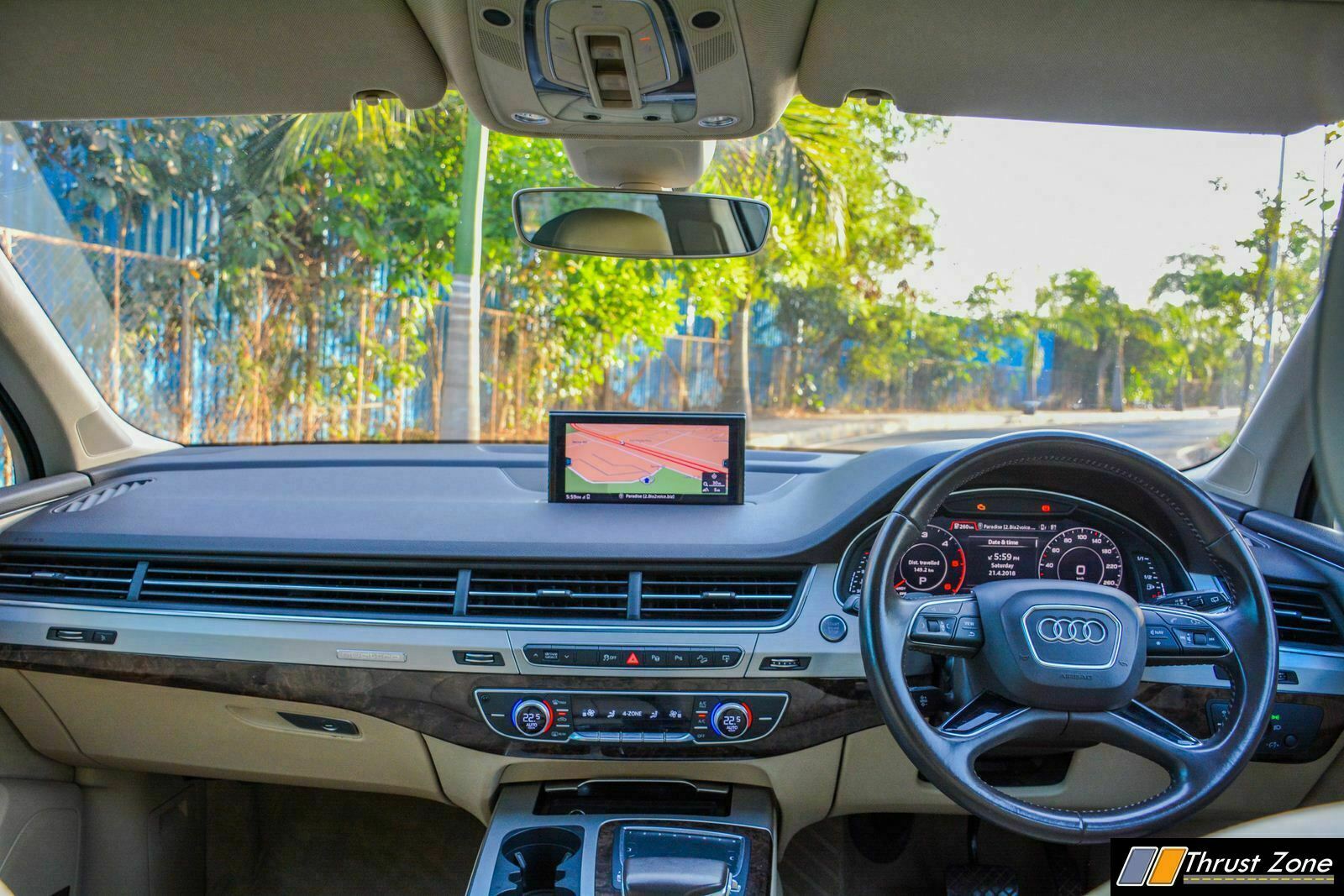 The three A/C vents work, rest are faux as the real units have controllers below them. The aluminum start-stop button, the SUV inspired gear knob, the high-quality interior with soft-touch plastics and backlit switches help make cabin ambiance soothing. The cloth fabric used for the roof, high-quality leather for seats, ambient lighting, electrically operated steering adjustment help it make a comfortable and luxurious car.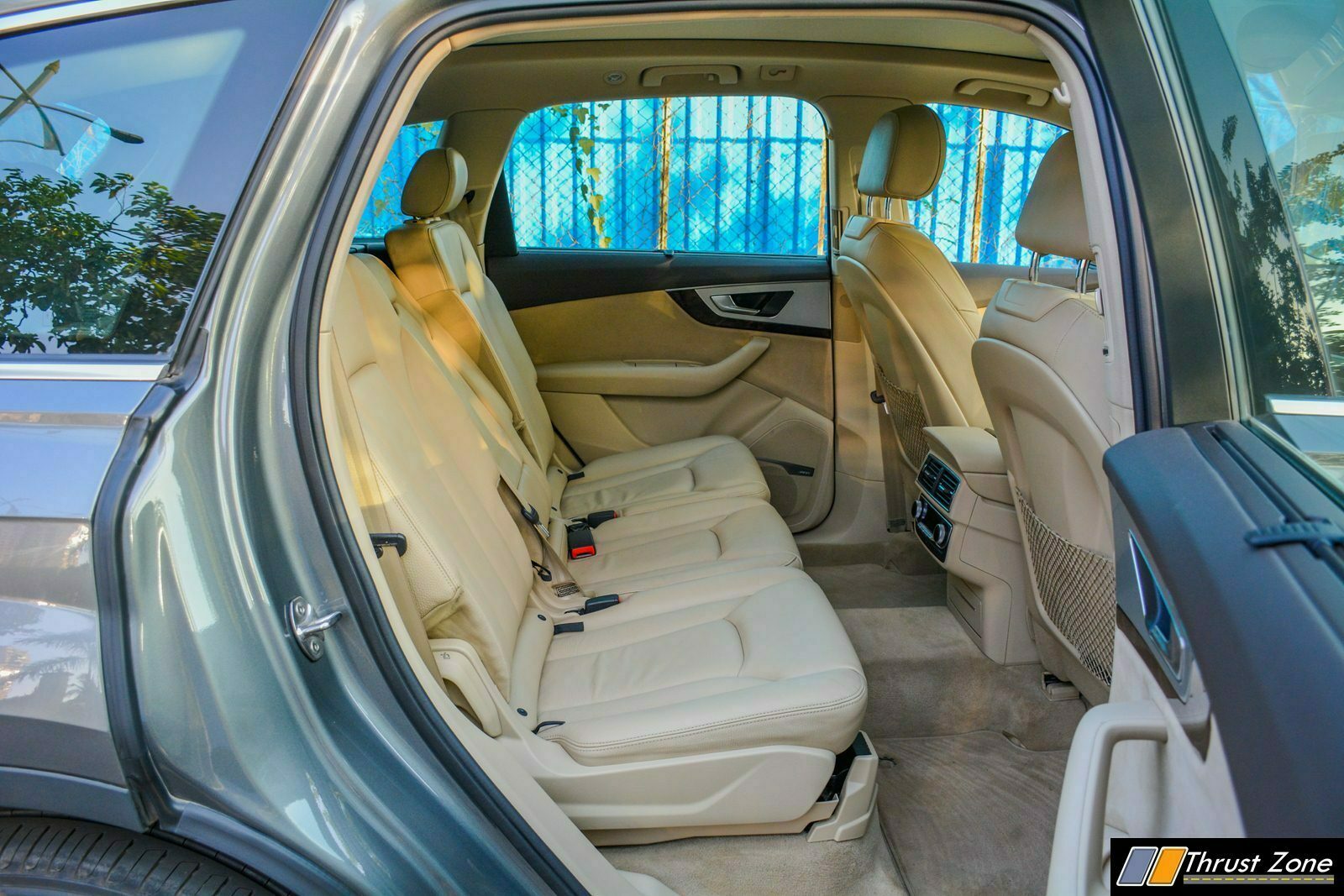 In terms of features, you get to choose two screens that can be displayed in the cluster thanks to the introduction of the Virtual Cockpit. Connectivity options, steering mounted controls, LED Lights at the front and back, a knob that controls volume and track is seen behind the trackpad which doesn't have the number 9 on it. There is a touchscreen unit and there are Apple Car Play and Android Auto on offer. Auto hold and the electric parking brake is on offer. 4 zone climate control, dedicated controls at the rear make it a car which is now chauffer friendly.
Drive modes which alter the ride height of the car, front and rear parking sensors with 360-degree camera, electric seats, pop out screen button, sunroof, cruise control, a decent sound system from Bose is on offer. Center armrest with wireless charger, USB and aux on offer and twin pads for the driver and passenger that adjusted separately is a great thought.
Cup holders are small, storage space around the cabin is alright, but could have been more. Space in front two rows is excellent in all areas and the rear two seats are good, but the third row is only for children or adults for short journeys. Seats are large and supportive and make for a great highway companion. What also makes it an easy car to drive as it gets auto parking which is a great boon to handle our city streets and this size of the car.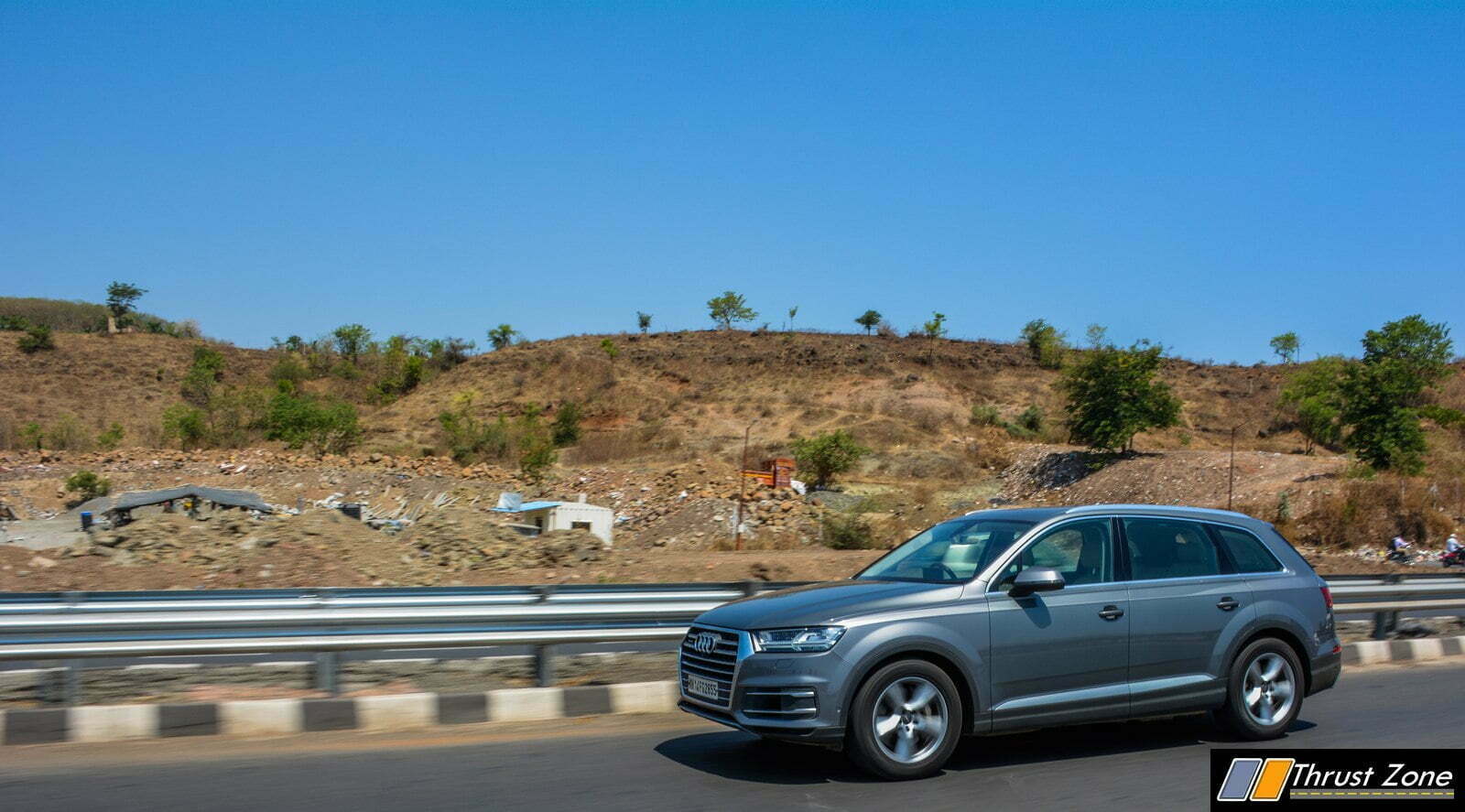 The Drive
What immediately blows you away is the NVH levels which are fantastic at any given speed despite it being a V6 diesel motor. The engine comes mated to a Tiptronic (Torque converter) 8-speed gearbox which isn't a DSG unit. The 3.0-litre V6 engine makes 250 PS of power and 600 Nm of torque which is mated to an almost fast and smooth gearbox. Turbo lag and driveability is slightly scarce, but the midrange and top-end thrust are excellent. Not particularly fast, the 0-100 km/hr is still done in 7 seconds flat and has a limited top speed of 233 km/hr.
An SUV which weighs over 2 tonnes reaches illegal speeds without smashing the throttle into the carpet, impressive. Put it in Dynamic mode and it gobbles up the highway miles without fuss. The ride quality in any setting is really impressive, in dynamic mode, it does get a bit jittery, but extremely well composed and there is hardly any body roll in comfort mode, which ends up giving it an excellent balance for a car of this size and weight. Steering isn't feedback-rich, but is precise and light and weighs up well enough, artificially that is, at highway speeds to inspire confidence. Braking is excellent as always and tires inspire confidence. Needless to say Quattro helps too as it is Audi's perfected AWD system.
Audi Q7 Diesel India Review, Verdict
The Q7 comes across as an SUV which already has made its mark in the Indian automotive scene. Yes, we concur. The manufacturer is offering whatever it can, with it, but there is still space for more, especially when it comes to the interior. What seals the deal is the pricing on offer, which is just under RS 1.0 crore on-road making it a great deal with so much on offer.
Be it style, space, performance and a sorted drive which includes a bit of love from the enthusiast, comfort-oriented customer and people looking for the chauffeur experience too. Q7, honestly, has become the Mercedes S-Class, unbeatable in its class, sets a new benchmark.
45 TDI Premium Plus Rs. 75.06 Lakhs
45 TDI Technology Pack Rs. 82.06 Lakhs
Q7 Diesel India Review
Design

Interior

Space

Features

Performance

Dynamics

Value

Safety