Bajaj Discover 110 vs TVS Victor 110 – A comparison between the two homegrown manufacturers who are offering similar outputs through these motorcycles where they are desperate for market share
The commuter segment is yet again witnessing a massive surge in launches and sales. The fight between Hero and Honda is making some mass market motorcycle lovers switch to other brands to try something new. Bajaj has always had the Discover in one way or the other and this time it has decided to take a conservative approach. Getting a new Discover 110 without creating much fuss in the market but still offering so much more bang for the buck continues though.
We have told you that in a detailed review earlier. Today, we are pitting it against its rival from Hosur to broaden your horizon and help you pick the right bike. The battle gets intense as technologies get cheaper, demands from customers get more transparent and our job of finding the best bike a lot harder. The same segment, same price bracket motorcycles in the lower cubic capacity segment are even tougher. However, we spend some time with these bikes and ride them back to back to tell you what is the difference and what suits your needs.
Styling
When it comes to the design. Victor has colours that make it stand out and very loud at times. The premium edition especially is eye-catching indeed. However, its short and stubby stance deserve that to make the elements pop out more. Meanwhile, Discover has a tall and long stance with sleek body panels which are really well executed and doesn't feel incomplete as before. The side panel merging into the tail-piece, the same futuristic and acceptable tail-lamps look great.
The front has LED DRL in them which is a standard fitment. The Victor gets them in the premium edition and not as standard. Tail-lamps and alloy wheels are basic looking. these two things on the Discover 110 are stand out material as they get web type alloy wheels and aforementioned tail-lamp design. Overall, subjective look out towards design is always the way and we leave it to the customers what they like the most. Where Victor excels though is the quality of switches which is better over the Discover by a good margin, but the Discover 110 isn't far behind this time.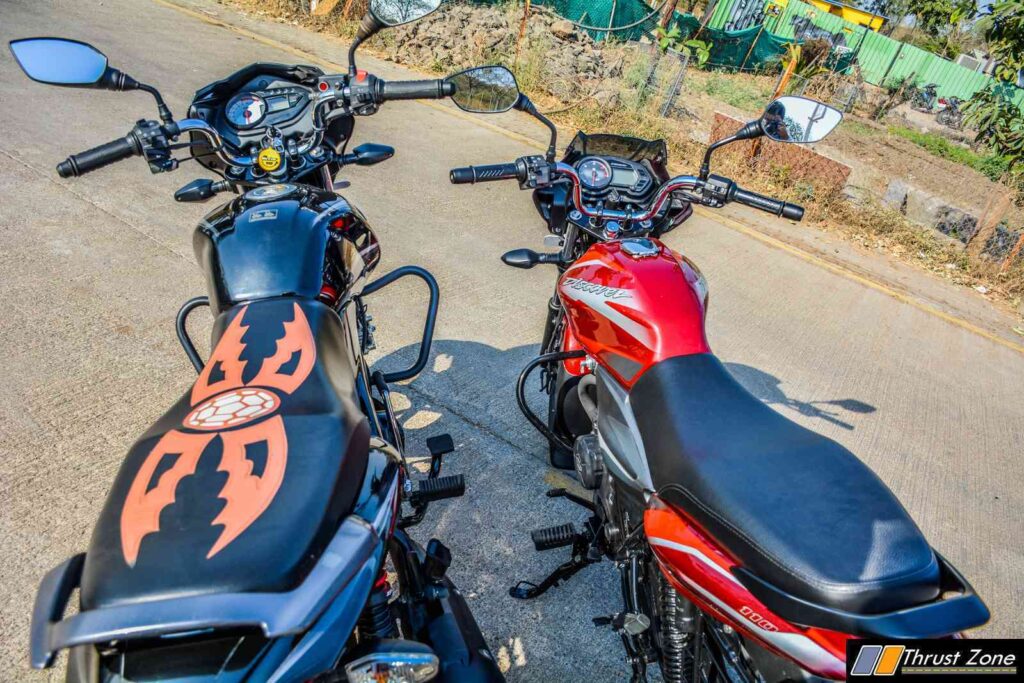 Both are comfortable in terms of ergonomics with their layout being similar. Discover has a slightly longer seat, both are comfortable for long and short journeys and both get premium looking rear view mirrors. The feature set includes tachometer on both bikes and a digital layout for the speedo. Tell-tale lights are seen on both bikes but the Victor has service light due to indicator and hazard light switch, meanwhile, the Discover 110 has the battery indicator.
Engine and Gearbox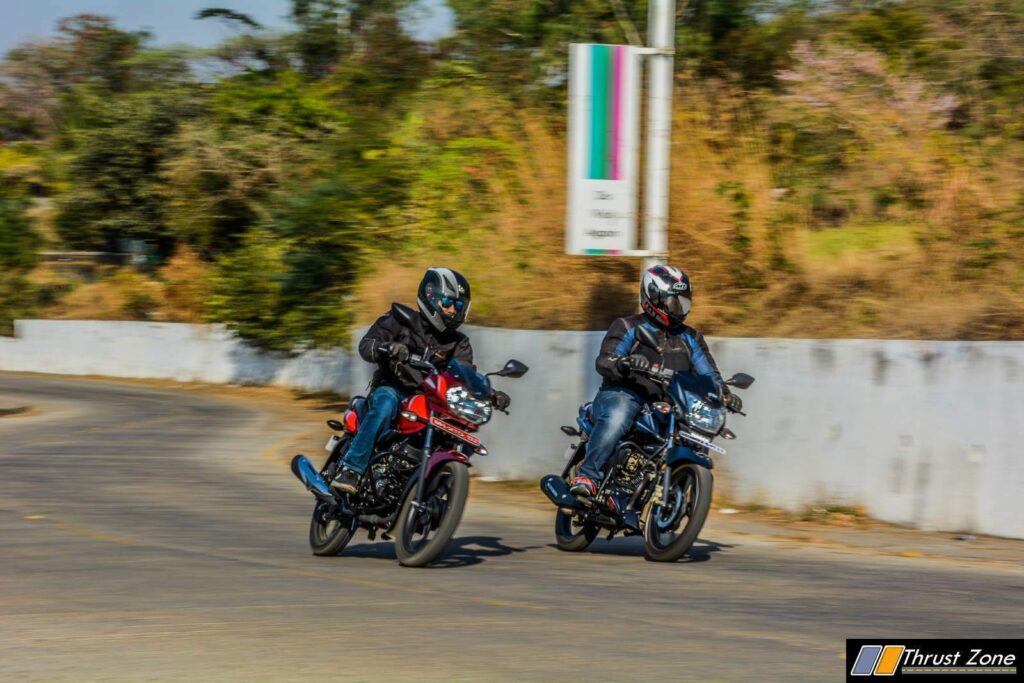 When it comes to engines, both firms have made dramatic work to make sure their engines perform with maximum efficiency in every regard. Bajaj's new engine is a short stroke motor which stands out thanks to its refinement and extremely peppy performance on offer. This is due to an extremely well-geared motorcycle that offers low, mid and top-end power at any given point when the rider demands.
The TVS EcoThrust engine is also smooth, offers a punchy mid-range and top-end power as well. However, the criticism with Victor 110 is that the 3-valve layout and slightly off the chart gearing doesn't lend it the low-end torque that is should offer. NVH levels are equally good on both bikes this time with the minuscule amount of vibration on offer that too at the top-end which won't bother 9 out of 10 customers.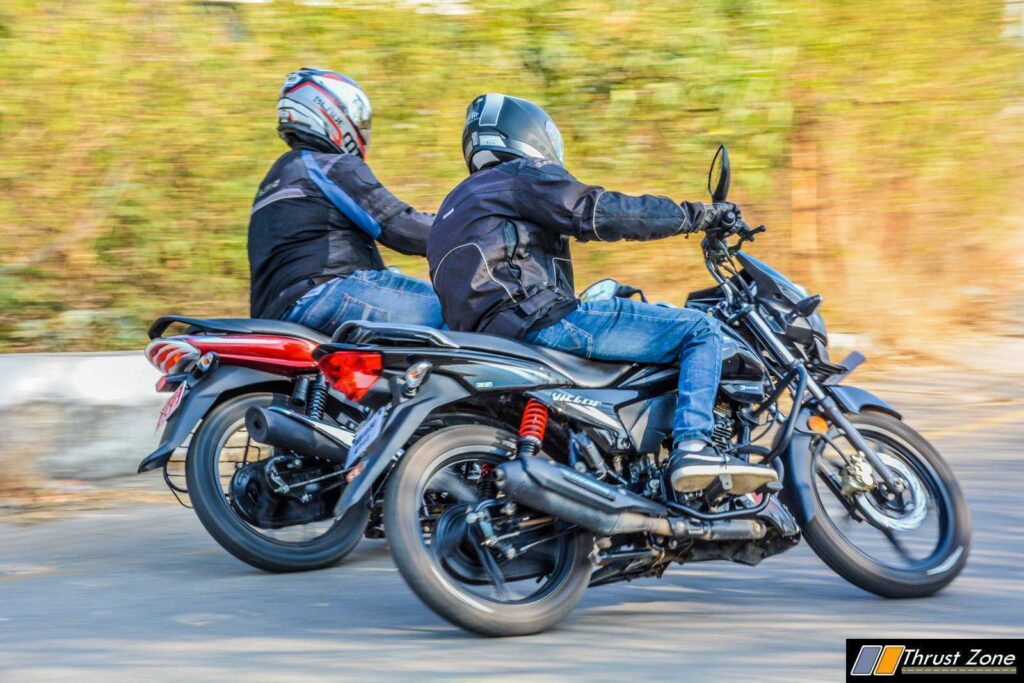 Both motorcycle companies claim around the 70 km/l mark and both deliver the same amount on the highway. The Victor engines make more power and torque at 9.6 BHP and 9.4 Nm of torque. Meanwhile, the Discover offers 8.6 bhp and a healthy 9.8 Nm of torque. Performance on the highway is a little better on the highway with the Victor as it displays less stress. Discover 110 does the same but with the stress that is almost negligible. Both bikes, in the end, max out at 97 km/hr in real-world testing. Both bikes offer 4-speed gearbox which is smooth to use.
Dynamics
When it comes to ride and handling, Discover 110 has an edge as the agility is extremely high in the city and in the corners. Raised suspension travel which also makes the ride quality compliant over all types of bad surfaces makes it a big plus point for the Discover over the Victor. Victor 110 has a sporty and mature setup and is quite agile in the city and in the corner, but not as effortless as the Discover 110.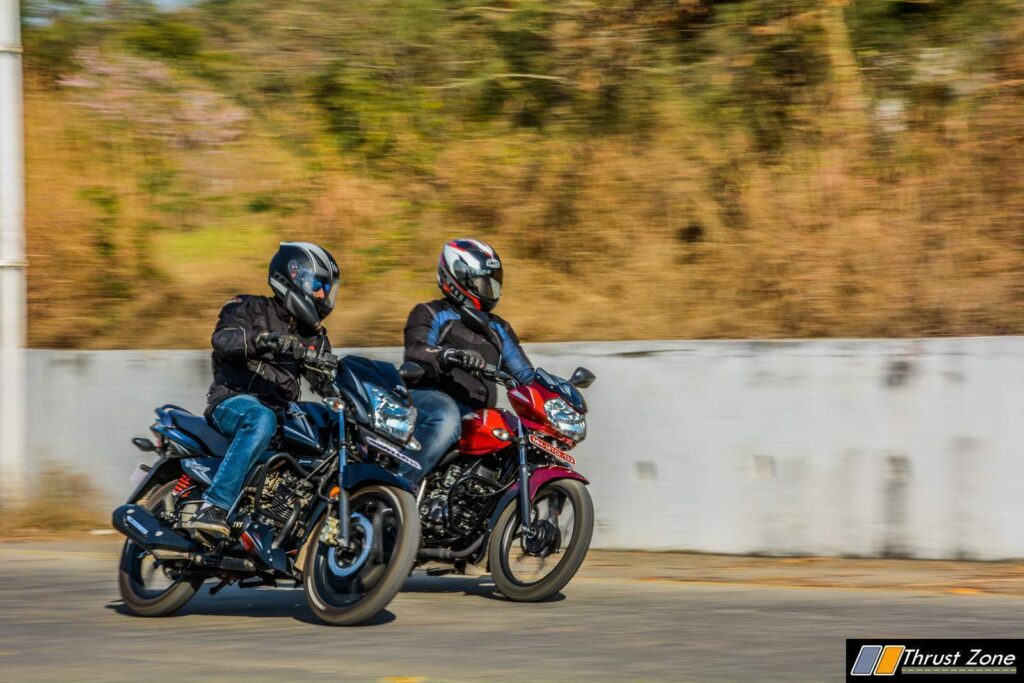 The stiff ride quality also transmits sharp bumps, but doesn't unsettle the rider in any way though. It is a good balance but could be more rider friendly. Brakes were really good on both bikes at the front and rear. Both bikes have a setup which allows fantastic highway stability at any given speed. Despite Discover has a higher kerb weight and wheelbase over the Victor, the Discover doesn't make you feel much and is clearly a friendlier bike in this segment in the way it feels over all types of road conditions.
Bajaj Discover 110 vs TVS Victor 110 Review Comparison, Verdict
The fight as we told you earlier, gets intense and our job gets tougher. The Discover 110 is an excellent package from Bajaj after a really long time. The level of expertise after failing and succeeding in all areas combined has led them to deliver this. Bajaj is also asking Rs 5,100 less over the Victor which makes it a tremendous value for money.
However, the Victor cannot be overlooked because in our books, it looks and feels slightly better which adds to the feel-good factor on a daily basis. Only if it was cheaper and the low-end torque would have been better, it would have won this test. It still remains the enthusiast choice if not on a budget. This is where Discover 110 comes ahead and wins this test. What about us in the meanwhile? We are still waiting for the Victor to come and join our long-term fleet!
Read this too: Victor 110 Road Test
Read this too: Discover 110 First Ride Review
TVS Victor 110: Rs. 60,310
Bajaj Discover 110: Rs. 55,283
Prices are On-road Delhi