2017 BMW 6 Series GT Revealed and is India Bound In Early 2018 and will replace the 6-Series earlier vehicles which now make way for the 8-Series
With the new 8-series coupe on its way, the BMW is making a lot of changes to the 6-series line-up. This car is actually a replacement for the old 5 series GT, which sold well enough to justify the second generation. The new 6-series GT is a new generation of a similar concept but wearing a new name badge.
The Gran Turismo is set to make its planned public debt at the Frankfurt motor show in September. The all-new 6 GT likely rides on modified version of the G30 chassis, though its wheel base is identical to that of its 5th series predecessor. The 6 GT is 3.8 inches overall, however, but all the other dimensions, inside and out are within an inch.
There will be one extra feature that will be offered in the U.S.: the all-wheel-drive 640i xDrive. Powering it will be the B56 3.0-liter, twin-turbo I-6, tuned to make 335 hp and 332 lb-ft. of torque — 35 hp and 332 lb-ft. more than the 5 GT's N55 unit. An 8-speed automatic with slightly taller gears handles transmission duties.The use of the name 6-Series for the new BMW model is in line with the German car maker's efforts to place greater emphasis on luxury at the upper end of its line-up.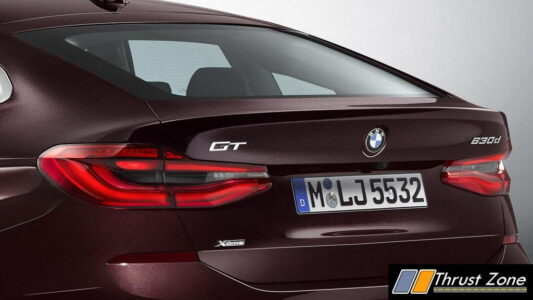 Not only has BMW kept a new name but also it adopts BMW's latest CLAR (Cluster architecture platform), which helps to endow it with claimed weight savings of up to 150 kg compared to the 5- series despite the use of a greater degree of aluminium and hot formed high strength steel within its body structure. To increase down-force at higher speeds, it also features an automatically extending spoiler integrated into the trailing edge of the tailgate.
There are a number of chassis developments made to the sixth series. The standard suspension features rear air springs and automatic self-levelling. Stylistically, the 6-Series Gran Turismo combines BMW's latest design lineage with the five-door lift backbody style of the 5-Series Gran Turismo.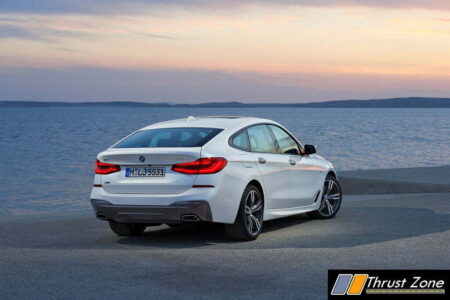 The 6-series GT features the same three-spoke steering wheel, 10.25-inch screen, head-up display, and driver-angled centre console.
Also available is a 16-speaker Bowers & Wilkins premium audio system that will massage (or violently assault, depending on your musical tastes) your ears with 1,400 watts of power.