BMW Reveals Their new i8 Roadster and The i3s at The Auto Expo 2018. Will launch them within the next two years if feasible enough
BMW is alive and kicking at the Auto Expo. The German giant had in store a bunch of exciting cars like the M5, M4, M3, the new X6 M-Sport and the 6 series GT. However, the cars that we were particularly excited about were the BMW i8 and the i3. The i8, we all know is at the epitome of hybrid sports cars. Blending in futuristic hybrid technology into the sportscar segment along with offering superior hardware over its rivals, the car is nothing short of a marvel. To spice things up, BMW has released a roadster version of the car. The new i8 roadster will be available later this year and will be the flagship model in Beemer's lineup. i8 Roadster and the i3s are here to offer the future in its luxury form, let's have a look at them in detail.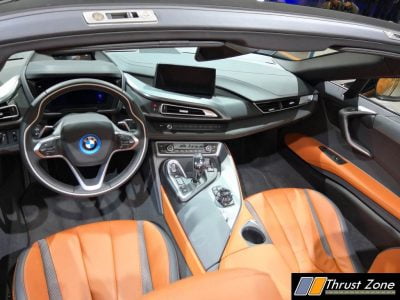 The roadster version is propelled via the very same 1.5 litre 3 cylinder engine paired with an electric motor at the front pumping out a total 362hp. For 2018, the new batteries give the i8 an additional 12hp boost, raising the total power output to 374hp. The new batteries also promise increased electric driving range.
The roadster's folding top takes 15 seconds to open or close and can be done at speeds of upto 50kmph. The mechanism adds 60kgs of weight to the i8. Lastly the rear seats now are swapped for some additional space. The BMW i8 is a rival to the cars like the Jaguar F-type, Maserati GT, Porsche 911 Turbo and the Mercedes AMG-GT.
The other car to grab attention was the smaller i3s hatchback. The i3s is already on sale in the international markets. It looks quirky with its U- shaped headlamps, blacked out signature BMW grille and glass B pillar. The rear gets a diffuser shaped bumper and glass enclosed LED tailights. To make the car even more desirable BMW has equipped it with suicide doors.
The i3 has an electric motor that develops 184PS of power and manages a range of 280km. The car gets a 5.7 inch TFT colour instrument cluster and a 10.25 inch infotainment system with iDrive and Apple CarPlay. BMW goes eco-friendly by using seats made out of recycled plastics and plant based fibres. The i3s is bestowed with safety features like dynamic stability and traction control, reversing camera, park assist and a cruise control.