Now a days the wild eyed enthusiasm that the buyers have towards the compact luxury SUV has made the BMW X3 the best seller hence overtaking the BMW X5 and ultimately the 3 series. The model has undergone a redesign for 2018, i.e. it's slightly larger. Not only there is an increase in dimensions but there is a decrease in kerb weight.
The dimensions of the length, width and height are 4716mm, 1897mm, 1676mm respectively, hence making it 61mm longer, 17mm wider and 16mm higher than its ancestor. Based on the BMW's cluster architecture (CLAR) platform, the new BMW X3 gets a wheel base of 2864mm which is 54mm longer than the second generation X3. This has led to a shift in weight distribution which is 50:50 front to rear.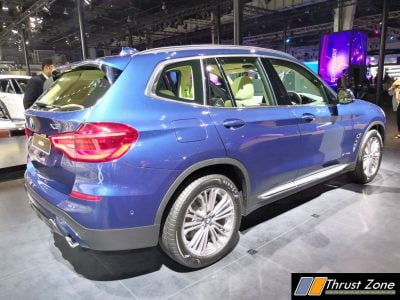 Coming to the design and styling the new X3 looks sharper with new headlamps, a new kidney grille, a heavy contoured bonnet, new LED tail lamps, large alloy wheels and some prominent creases along the sides and tail gate.  Inside the car the styling that is done is very much similar to the other BMWs, but for the first time there is a free standing infotainment system which was first featured in the 5 series, this is 10.2 inch display and also has gesture control and voice recognition. There is also a 12.3 inch all digital instrument cluster. At the rear of the car the seats are more comfortable as there is a 20mm increase in legroom because of the increased wheel base and a 20mm increase in seat height.
The new X3 will be available with a range of petrol and diesel engines and a hybrid system is also in progress. The first car of the entire series will be the new X3 M40i performance model which is powered by 3.0 litre, in line six cylinder petrol motor delivering 360hp and 500Nm of torque. The unit will be paired with an eight speed automatic gearbox and BMW's xDrive all-wheel drive system as a standard. For India, the new X3 is likely to make its way to our shores sometime next year.