Chevrolet Offers Discount On Cars and A Unique Body & Paint Service Campaign Initiative to make sure minor dents are gone at cheaper prices
Chevrolet in India is in the news for doing something or the other to gain some momentum. Most of its idea are sales and service related. Today once again one such initiative has been taken. After launching dealership in Mumbai recently, the brand is now doing something what it claims to be an industry first. Chevrolet today announced that they will be organizing one week-long nationwide Chevrolet Complete Care Body & Paint Camp. The initiative is set to be starting on September 23, 2016. This is said to be one a kind customer initiative that will benefit Chevrolet customers across India when it comes to maintaining their vehicles at competitive pricing and now discounts come into the mix.
The initiative will be happening at around 150 locations across India simultaneously to make sure everyone get's a piece of this bonus that the brand is offering. The camp will give a great opportunity to those customers specifically, who have minor dents & scratches on their cars. The initiative will offer customers benefits including up to 25 % discount on painting charges. There will be also free underbody inspection along with attractive discounts on anti-rust coating, body polish, interior cleaning. Body parts will be sold at 5% discount.
Chevrolet India is providing support customers of older car as well. Vehicles such as Opel Corsa, Aveo, Chevrolet Spark, Chevrolet Optra. Chevrolet has reduced prices for these cars by up to 70 % for specific body parts which are more prone to damages on a daily basis.Chevrolet Complete Care Body & Paint Camp concludes on 30th September 2016.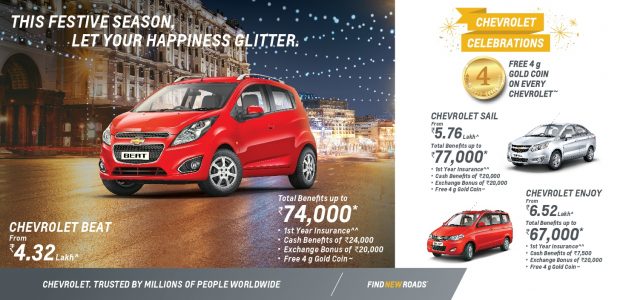 Meanwhile, Chevrolet is offering discounts on new cars owing to the festive season that is set upon us. The brand is now offering heavy cash discounts which includes bonus, loyalty and factory discounts to make sure the cars becoming more tempting. The discounts and service packages on offers will make sure the deals are tempting and lure buyers to showrooms.
Cruze: Rs.50,000 Rs. 50,000 Total: Rs. 1,12,000
Beat: Rs.20,000 Rs. 24,000 Total: Rs. 74,000
Tavera: Rs.15,000 Rs. 25,000 Total: Rs. 52,000
Sail: Rs.20,000 Rs. 20,000 Total: Rs.72,000
Enjoy: Rs.20,000 Rs. 7,500 Rs. 62,000