Citroen C3 is finally here and is good enough to compete against its rivals. The car will be pitted against the likes of Tata Punch, Maruti Ignis, Renault Kiger, and Nissan Magnite among others by customers. We pit this upcoming mass-market offering of Citroen against its rivals on paper to find where exactly it stacks in the hierarchy of competition.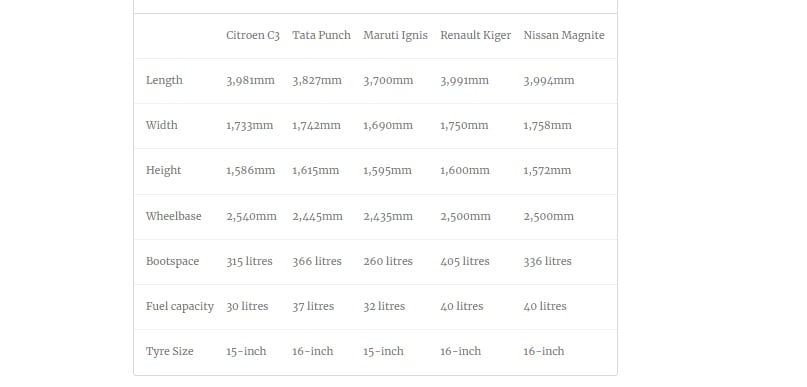 Dimensional Comparison
In terms of dimensions, Citroen C3 dwarfs Tata Punch and Maruti Ignis but falls short of Renault Kiger and Nissan Magnite. However, its trump card is its 2540mm wheelbase which is the longest in this comparison and even greater than that of Tata Nexon, Hyundai Venue, and Kia Sonet. In terms of width, C3 is only wider than Ignis while Punch emerges as the tallest vehicle in this comparison.
Kiger has the biggest 405-litre boot in this comparison with Punch and Magnite occupying second and third slots with 366-litre and 336-liter of trunk space. Kiger and Magnite have the biggest capacity fuel tanks measuring at 40 litres while C3 stacks at the bottom with a 30-litre capacity. Ignis and C3 are the only cars in this comparison with 15-inch wheels while all other three vehicles ride on bigger 16-inch rims.
Engine and Transmission
C3 will be offered with two engine options – a naturally aspirated version of a 1.2-litre petrol engine with 82 bhp and a turbocharged variant of the same capacity motor with 110bhp. Renault and Nissan also offer both naturally aspirated and turbocharged petrol engine options although Maruti and Tata offer their cars only with naturally aspirated variants of petrol motor. Please note that Maruti Ignis is the only car that comes with a 4-cylinder configuration compared to the 3-cylinder architecture of all other vehicles in this comparison.
Punch is the most powerful car in a naturally aspirated state with 86bhp on offer followed by Maruti Ignis (83bhp) and C3 (82bhp). However, in the turbocharged avatar, C3 is the most powerful making 10bhp and 40Nm more than what is put out by Kiger and Magnite.
C3 is the only car here which hasn't got the automatic convenience as of now. Its naturally aspirated engine is paired with a 5-speed manual transmission while the turbocharged variant gets the support of a 6-speed manual gearbox. Ignis and Punch can be had with either a 5-speed manual transmission or a 5-speed AMT. Magnite offers a standard 5-speed manual transmission across the range with buyers opting for a turbocharged variant having the convenience of CVT. Kiger has an additional option of AMT for the naturally aspirated variants and CVT is available for the turbocharged trims.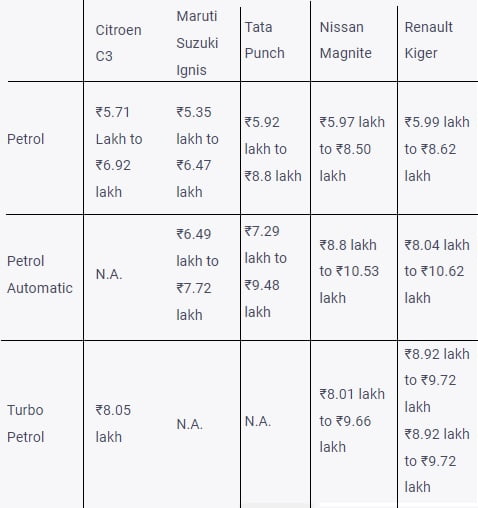 Fuel-Efficiency
In terms of fuel efficiency, Citroen C3 comes with 19.8kmpl and 19.4kmpl ARAI certified figures for naturally aspirated and turbocharged variants respectively. These numbers are higher than what Tata Punch claims although fall short of Ignis and manual transmission variants of both Renault Kiger and Nissan Magnite.
While the C3 is a great proposition for people who enjoy driving more than anything else and it has a better engine over the Tata Punch for now which is the segment leader. Kiger and Magnite, sure, they do fall in the list of being compared because they are not premium SUV's like the Nexon, XUV 300, Venue and Sonet. If you are willing to spend more, you can go with the Magnite, but if your budget is smaller and you really want a very good dynamic and a car with excellent ride quality, the C3 is worth considering as it takes one test drive to fall for it.