The Engine For 2019 Jawa Motorcycle seems very familiar to the Mahindra Mojo but claims to be all new
Classic Legends Pvt. Ltd., a lifestyle start-up, formed in 2015, with the purpose of re-introducing today's consumers to the rich heritage and legacy of classic brands in a new avatar, today unveiled the Engine For 2019 Jawa Motorcycle.
Icons of golden eras seldom come back for another generation. We at Jawa longed for that Icon and saw it through! The new Jawa engine is a befitting testament to the old one.
First up, let's get past the specs. 293cc – Liquid Cooled – Single Cylinder – DOHC, because specs alone won't do justice to the Engine For 2019 Jawa Motorcycle. It packs 27 bhp and 28 Nm of torque with a generous mid-range and a flat torque curve. The brief taken was always to build an engine that had the Jawa DNA. Classic, yet sporty. And it was clear, if anything, it had to be free revving.
Working closely with one of the world's leading engine specialist at the technical center in Varese, Italy, not only did we build an engine with a near flat torque curve and generous mid-range, but also a motor strong enough to last a lifetime. Piece by piece bringing together Classic and Sporty all in one!
However, it was not just the aesthetics and power delivery were tried to engineer. The unique exhaust note of the old Jawa was something that we all were in love with and we wanted our engine to have a unique sound, given that replicating the tone of a classic 2-stroke on a modern day 4-stroke would be a big challenge. A maverick team of sound engineers in Italy worked extensively with us through countless cycles of harmonic pipe combinations and multiple other permutations to discover a sound that was worthy of the new Jawa.
While the engine needed to be built with a reminiscent sameness it needed to be an engine of the future. Hence, the engine For 2019 Jawa Motorcycle has been built on a BS6 ready platform. From the tuning of the fuel injection to the gearbox that completes the powertrain, we believe one will get from this engine, what one seeks in a classic.
Classic Legends Pvt. Ltd. is an Indian company formed in 2015, that aims to re-introduce iconic marquee motorcycle brands in the market.lassic Legends aims to become India's first true lifestyle company and provide opportunities to consumers to relive the heritage of classic brands by co-creating exciting product and service offerings along with the motorcycling ecosystem. The company was formed by three industry stalwarts – Mr. Anand Mahindra, Mr. Anupam Thareja and Mr. Boman Irani – who have come together to launch products that capture the brand DNA and ethos, of these iconic brands.
From its marquee brands portfolio, Classic Legends is currently going to bring alive the JAWA, not simply as a brand but a way of life. The brand Jawa motorcycles will be launched first in India while other brands will come later. Classic Legends would leverage the best of its partner capabilities in design and engineering along with the global expertise, to design and launch products that capture the DNA and ethos, of the JAWA.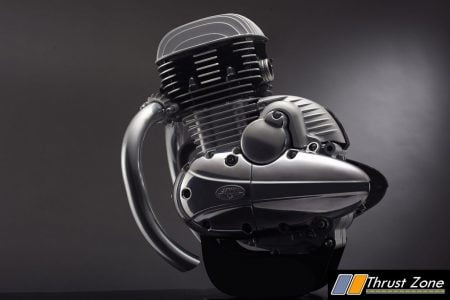 JAWA is a motorcycle brand from Czechoslovakia, with a 90-year legacy, which in its heydays exported classic, well engineered and rugged motorcycles to more than 120 countries. It entered the Indian markets in the early 1960's. The twin aspects of Jawa motorcycles – its beautiful design and strong performance character helped it not only to win hearts but also win many world titles. Jawa motorcycles have a huge legacy and especially in India have a strong connect across generations. The news of the relaunch of the brand has garnered excitement from the community and fans who have kept the love for the brand alive.
The company will bring to consumers a totally immersive approach to experiencing motorcycles and the associated lifestyle with it. The longer-term roadmap of Classic Legends would be to open an entire ecosystem of lifestyle experiences which are exciting and immersive for consumers. The brand will unveil a new chapter in the world of classic motorcycling which will create renewed fervor for retro-classics!