The pandemic brought us close and pushed us far away in many ways. Talking about Pandemic in mid 2023 is weird, but it shaped our world in ways, we are yet to realize. Personal mobility and road trips were corner stone of our lives, suddenly became necessities! All public transport remained dicey. Both things were combined and taken into account together many times and we yet again chose the road. As the pandemic subsides and things have returned to normalcy, the urge to do the same will continue, combining necessities and leisure together. Purpose of the journey? We were invited to a small town called Rajkot, Gujarat for a multi function marriage spanning 10 days! Gujarati food and Mumbai crowd always sounds like a fun and interesting times waiting for us.
This time, our companion and who said yes to our request, was Skoda! This allowed us to spend some time quality time with the Kushaq 1.5 DSG! Super excited for the car and the trip had us ecstatic. On the trip after we were even more impressed with how good it was in our road test that we did a couple of months back. With the great reputation of the story and the car, my friends also believed in the idea and he started driving it and realised how good this is on the open road, just days before we want on the actual journey. Re-checked everything possible with the car before starting our journey a day in advance which included checking the coolant, engine oil, air pressure, and loading the car with liquids for the car and humans in it as we set off to the hottest state in the country while staying in one.
For the first time, the temperatures in Mumbai also soared to 40 degrees mark in the late days of the month of March. Approaching Gujarat after starting at 5:15 am, we reached in Gujarat border area by 7:20 AM. A quick journey out of Mumbai was courtesy of lack of traffic and trucks, surprisingly at the Mumbai-Mira Bhayandar junction area which is critical for quick progress every time you head to the Gujarat or further. The new bridge is clearly a big help!
8:30 AM and temperatures rose from a pleasant 25 degrees to 36 degrees within 45 minutes making 9 Am felt 2 PM! What could be a sore point, but was an ace aspect in our journey. The controversial AC kept us quite cool considering the problem was solved on our test car. Cooling was as good as other cars by 95%! We had opted for sunblinds from our cars! A media car is devoid of personal items such as mats or any sun films making our everyday job harder in the summers like any other day in Automotive Journalism. We are still not complaining though!
All of those aspects faded away as 2 passengers out of three slept in at the back while I and the driver enjoy the freshly done roads as soon as crossed Navsari. The roads were widened to a large extent, marked, well-paved, barricaded, and super signboard coverage made our life so much easier. The joy of being on the road in those 3-4 hours before arriving into the hustle of Surat helped us relax, mentally. Reaching Rajkot was great as the newly paved roads are smooth and wide enough and since we entered the city in the afternoon where locals stay away from the heat and close their shops and wait for the heat to pass away till 4:30-5 PM so business and activities can resume in the cooler time of the day.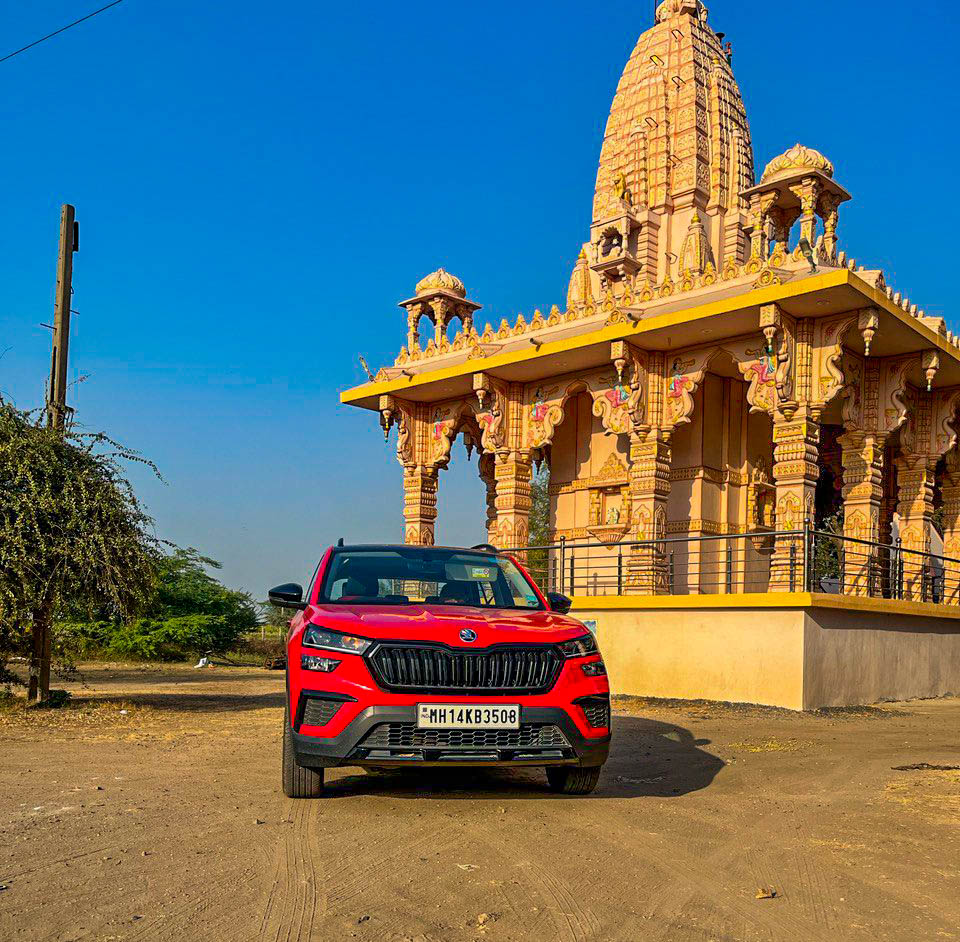 Again, quick progress to Samadhiyala made us reach the destination by 4:30 PM making it one of the best, smoothest and quickest journeys we undertook despite two breaks. One for lunch and one for fuel. We had time to kill from day 3 to day 5 before we headed to the destination of the actual event. Local places to visit were usually old bridges and buildings. Kesar-E-Hind bridge is always a sight to watch as it was one of the biggest bridge back in the century! We also enjoyed every road which was very high on tree cover. A rare sight in our cities where huge trees are now a rare sight and memories of childhood thanks to Metro rail construction.
Needless to say, people who love trying all types of cuisines, will enjoy Gujarati food the most. The delicate balance of sweet and sour curries to the other end of hard and soft snacks that the state is famous for makes for a delight every time we sat for a meal. The food on the day of events was even more heavenly as we gorged on it while enjoying the company of friends and family we only saw in video and voice calls as we were all busy preparing for the grand 10 days in one way or the other. We also enjoyed the fuel being almost Rs. 15 less than Mumbai in Rajkot. We tanked up again as we began our journey. We stopped at the age old gurdwara and enjoyed some free time within the 10 days. The monuments in Rajkot are surprisingly large in number. Most of the roads are old and paved quite well. They haven't be resurfaced in years. Rajkot is stark reminder of a sentence we say every other day, "The good old days". The city seems to be wrapped around that idea rather well.
Fuelling up the third time we calculated that the fact that Kushaq delivered 16 km/l was higher than we expected. The steady cruise of 110 km/hr on smooth and empty roads saw the meter displaying 21 km/l too! That is truly amazing! Skoda Kushaq continued to impress with its straight-line stability, good refinement from the engine, and the solid way it dealt with a few bad roads that we came across from time to time. Reaching home at 6:30 PM after witnessing bare minimum traffic at the Vasai junction was luck by our side yet again.
As the trip ended and we returned the car to Skoda after the weekend was over, was generous of Skoda! We gathered our thoughts on how the journey was the smoothest and we never expected it to be this good. Skoda Kushaq with a solid suspension setup, great boot and leg space combination that kept us comfortable while enjoying a healthy dose of performance and fuel economy from time to time! Something that kept our pockets relatively happy as well. The two unique tales of two people, two groups of couples and bachelors in two different urban cities, modern and retro-modern is what our journey ended up being about and we were glad the Skoda Kushaq was a part of it. We can never forget spending this much time with the emperor of mid size SUV's. Something we call the Kushaq here at ThrustZone every other day.