Ducati worldwide is known for its design, technology and exceptional performance. The Streetfighter V4 has been exactly that motorcycle over the years and with continuous updates, it has been upgraded dramatically. However, that also means it has some things that Ducati isn't modifying to make sure the success mantra continues as people continue to beauty in flaws. However, we have to talk about both. Ducati has again updated with a host of features, design updates and subtle changes everywhere to make it special. The biggest update is the new V4 engine over the L-twin. How good is it this time? The first time behind the 1103 cm3 Desmosedici Stradale engine BS6 motor tells us a lot. Let us find out!
When it comes to design, the headlamp has an angular design with a single-lard LED DRL and LED lights that make it stand apart from the crowd. The illumination and spread of the headlight are impressive in pitch-black darkness with the high beam on. The tank is big and muscular and dominates the entire motorcycle's design. The rear tail lamp is huge and is LED, with indicators being LED as well. The wheels are multi-spoke units and are black, making it look befitting to the overall design. The side fairing piece looks sharp! The rear subframe is small and so is the seat on it. The grab handle is non-existent. The exhaust also looks befitting, extra large, and mounted lower like a true SF! The fantastic-looking single-sided swingarm is also an attention magnet on this bike. Overall, a motorcycle that looks fantastic, is proportionate and grabs attention thanks to its well-done elements.
The 5-inch TFT instrument cluster is a digital layout below it showing a trip meter, eco-driving manner, service indicators, and speedometer housing all the telltale lights. The tachometer is also digital and shows all the information you need to know except a fuel gauge. Although, it is still a big step up from its previous generation. The ergonomics are comfortable with the seat positioning being upright and the tank can be grabbed perfectly well for the sizes of riders. 835mm seat height suits anyone above 5'7. The handlebar is not as wide as other super bikes. It is also stretched ahead a bit because the seat and tank make it a bit of a reach.
All this does make it easier and sportier at the same to live with spraining your upper back. Foot pegs are rear set, which helps grab the tank rather well. Seat comfort for rider and pillion is average. Riding within the city and the highway run during our road test did not result in derrière aching as we clocked the 300 km run and did the grueling Mumbai traffic run of almost 100 km. The switchgear is new and is backlit and the LHS side controls the cluster and the right side button controls, the ignition and kills switch together. Mirrors offer a good view of what is behind, but could have been bigger for guys who are on the wider side.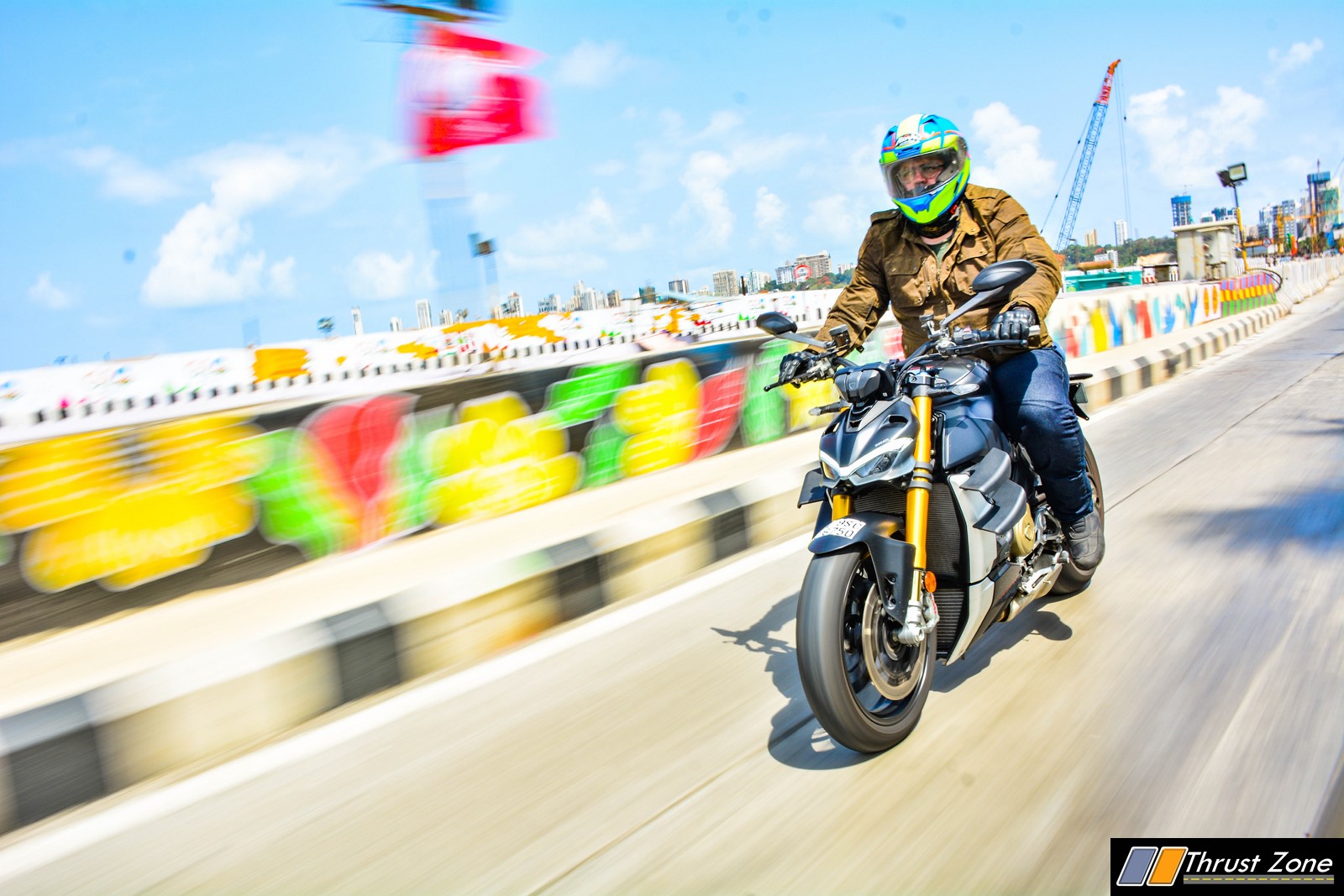 Powering the motorcycle is a 1043cc engine making 208 PS and 123 Nm of torque from a 4-valve, DOHC, liquid-cooled four-cylinder engine. These numbers are still more than a hatchback! The motor is mated to a 6-speed smooth-shifting gearbox that operates with a fairly light clutch action. The refinement is spot, as NVH levels are well in check. You can rev it all the way up and there are negligible vibrations on the handlebar, seats, and foot pegs. Low and mid-range torque is where it is good, and at the top end is where it truly excels. The intoxicating raw power at the topend which is also quite docile, makes you fall in love with this motorcycle.
This also makes you wonder,why, I don't have this bike with me or why I don't have the cash to get it in the first place! The cruising speed is around 140-160 km/hr, if you can find the road and sustain a bit of wind blast. The SF V4 does that in a calm, smooth and effortless manner before making it easy to live with and controllable to newbies who are entering the litre-class segment for the first time from their 400/600cc motorcycles.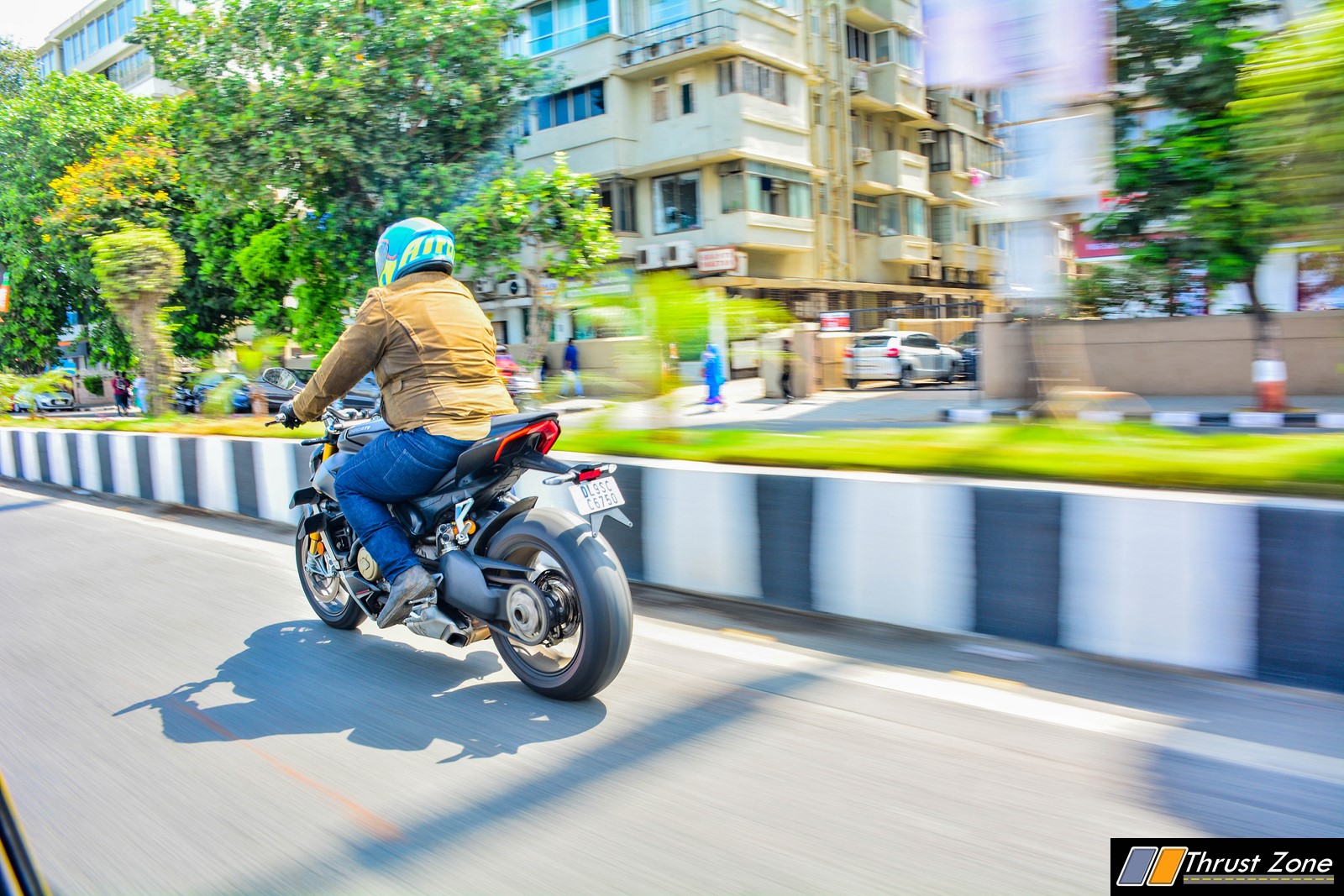 However, the moment you start pushing it, it excites you so much that you can get distracted. When people ask you to rev it, avoid doing so because the engine heats up quickly in traffic. However, if you ride it sanely and at 70 km/hr, the cylinder deactivation kicks in and provides relief from the cylinder head heat right below your seat. The top speed is 250 km/hr on the speedo and 0-100 km/hr takes under 2.5 seconds. The soundtrack, be it intake or exhaust note, is typical Ducati of the past with slightly lower decibels. Throttle response is precise and power delivery is linear as always. Fueling is sorted throughout the rev range and makes it easy to ride in the city at low speeds.
We were getting 12 km/l in the city and 19 km/l on the highway. All riding modes are liveable except for the race mode which makes things go crazy and helps you pull wheelies without a second to spare! Overall, we are impressed with the engine and all its parameters, making it an all-rounder. We tried premium fuel and normal fuel and found a substance in the way the throttle and intake note behaved and economy jumped by 1.5 km/l over the aforementioned numbers as well. 16-litre fuel tank only delivers 200 of range if you open the throttle all the time. That can be extended to 250 if you keep it under 140 km/hr.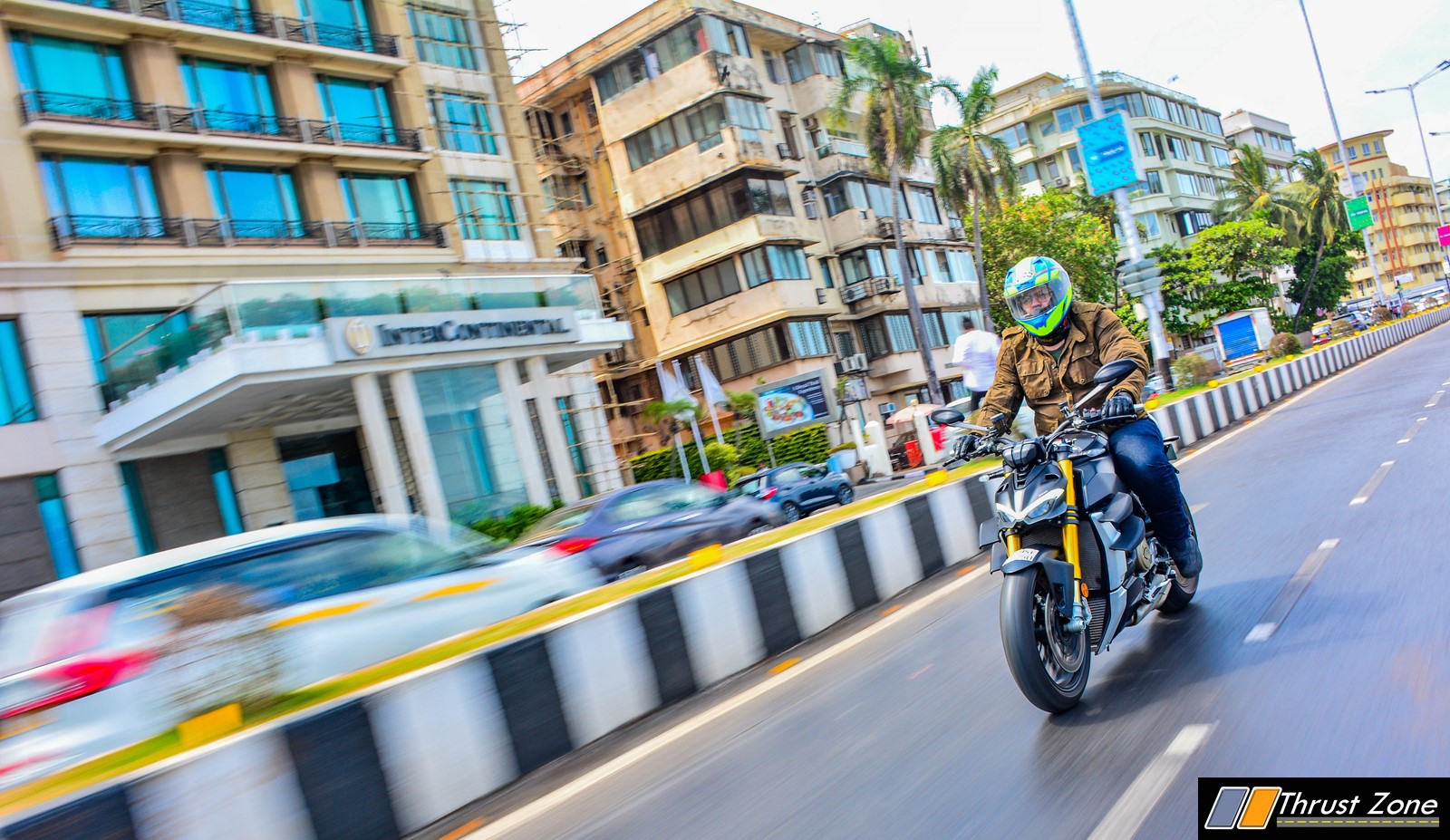 Dynamically, the front rake and trail are sharper, making it easy to chuck into a corner. Composure while cornering is great thanks to a solid chassis setup thanks to a large wheelbase on offer. The suspension is exceptionally compliant with our conditions. It is apt on our Indian roads. Despite that, it has excellent cornering and highway stability. The top drawer front forks are adjustable and so is the rear suspension. Feedback from the front is good enough from the Showa suspension.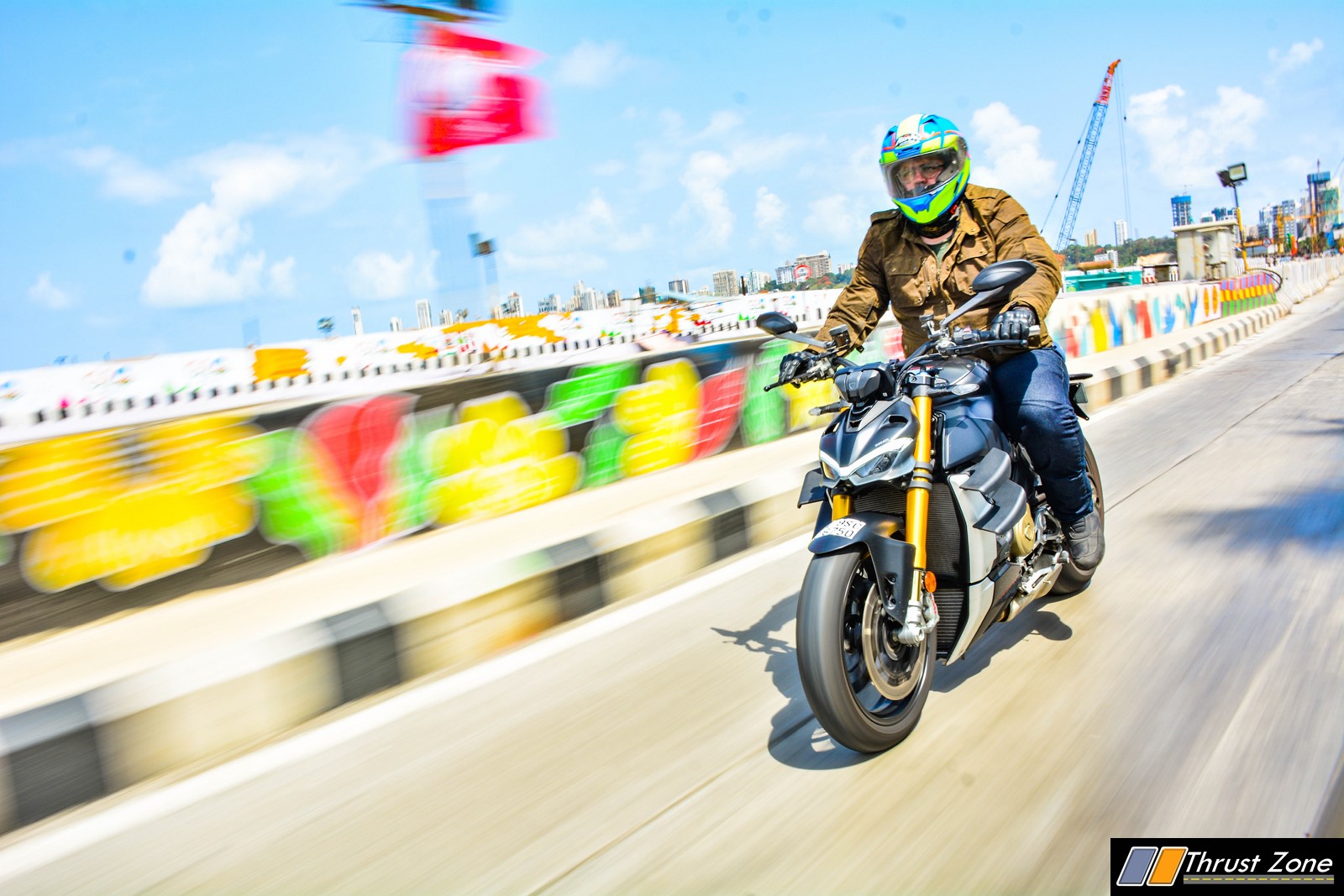 The rear Sachs suspension comes with electric adjustability, making life easier to adjust at a moment's notice. High-speed stability is good too with a light or heavy rider. The biggest light is the low-speed cornering ability of the Ducati SF V4, which makes it incredible for our conditions and the slow corners we have throughout the country. 120-section tires at the front and 200-section are on offer just like other Ducati and, they are grippier indeed! While braking, there was a good bite at the lever and solid performance from twin 320mm discs at the front and 250mm at the back with top-notch Brembo Calipers.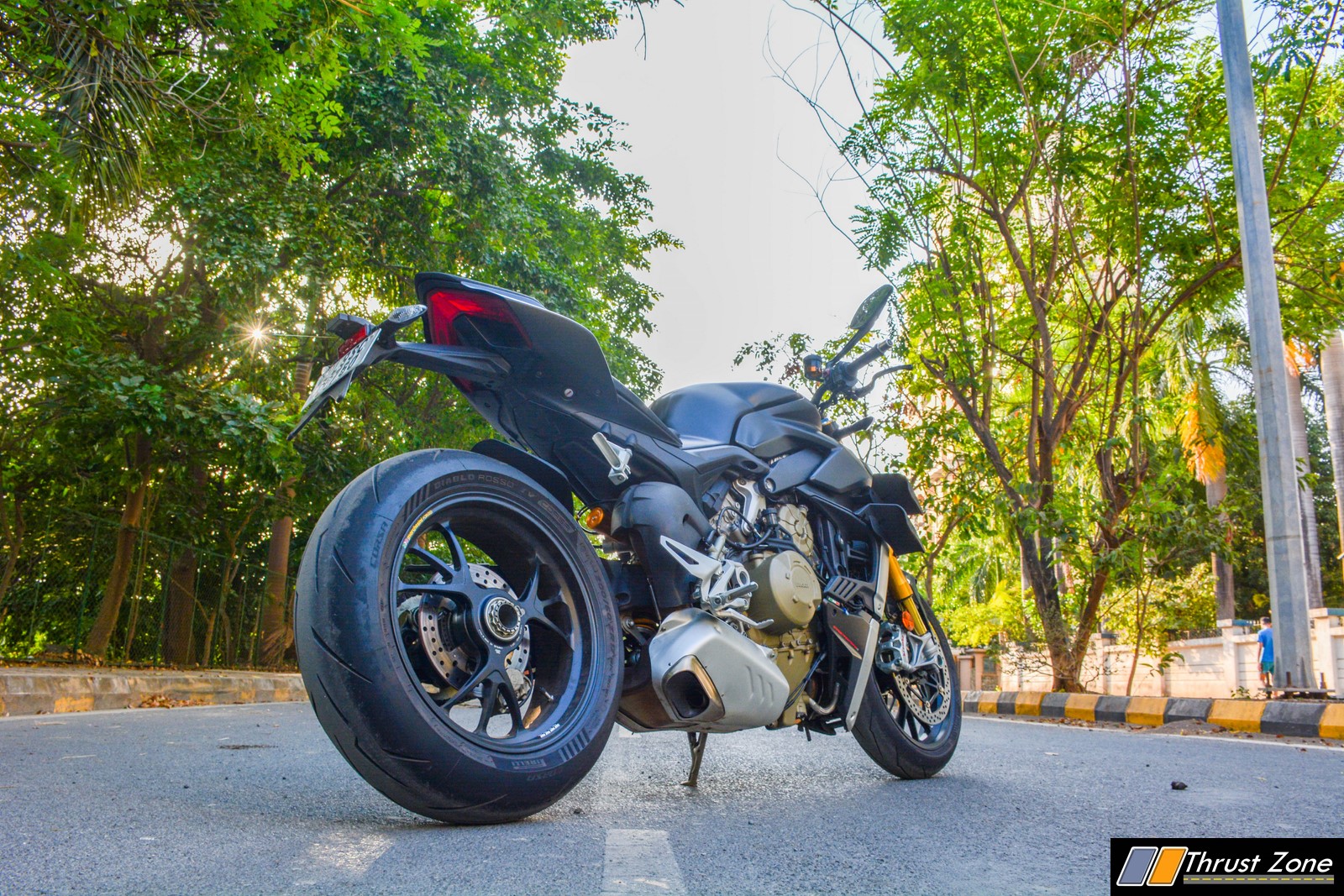 Ground clearance is a bit low but keeps speed steady (no matter how fast or slow) and you can avoid speed breakers well enough and they should be taken at speed while standing up to avoid contact. Maneuvering at low speeds requires less effort, including at parking speeds, thanks to forged magnesium wheels and other lightweight motorcycles. Overall, a motorcycle that you can live with considering its light 178 kg curb weight! A daily rider if you are as crazy as the motorcycle itself. One day when you realize that the bit of pain you encounter every day is the result of riding, you might make it your weekly ride instead of daily. The Adjustable suspension and well-tuned chassis are ideal than ever before for any Ducati we have ever encountered. We were getting the hang of it on day 5'th day before, but sadly, we had to give it back! Thanks to Ducati for extending it then the usual time we get with their motorcycles!
Ducati Streetfighter V4 India Review, Verdict
The Ducati Streetfighter is one of the few bikes that was bedroom wallpaper and then my computer wallpaper for as long as I can remember. Then came the Multistrada which I rode and was my wallpaper till today. Now, the Ducati Streetfighter V4 has been ruling my mind ever since I rode it. There are moments when you spend time with someone and suddenly, you know, you love them. This was the second time I felt something like that. Ducati Streetfighter is one hell of a machine, a borderline illogical choice I would love to make. Surely, it isn't a daily rider, but, to truly enjoy life behind the handlebar, you need a motorcycle and the Ducati Streetfighter V4 fulfills all those criteria. Honestly, I had no idea what I should expect from this except that it began a crazy motorcycle. It is that and also easier to live with than I expected. I would happily pay around Rs 30 lakhs for this if I won the lottery or worked super hard just to get this someday.
Ducati Street Fighter V4 India Review
Design

Features

Safety

Performance

Dynamic

Practicality

Value

Comfort