2017 Audi A4 Diesel Launched In India At Rs. 40.20 Lakhs joins the existing 1.4 petrol motor equipped A4 that came earlier
Audi A4 was once upon a time an entry into the brand when it comes to owning a four-ring badged saloon from the company. Blame the greed for volumes that Audi and other manufacturer had to go down. Audi went all the way till A3, Q3 and other cars along with SUV which are smaller and yet are very 'Audi' all the way. Blame that to well built interior, refinement on offer along with big engines in small cars, which made deals tempting for most buyers in the market looking for a fancy LED light equipped car in the front.
Audi A4 got sidelined because of these ambitions and years went by it did not get any substantial except for typical nip and tucks. German nip tucks also includes dropping bigger engines. In 2013 Audi A4 got the 2.0 liter 190 PS engine which replaced the 140 PS 2.0 litre engine.
New model finally was unveiled in 2015 and came to India couple of months back in 2016. The car was equipped with downsized 1.4 litre petrol engine found in Jetta, Beetle and other VW group cars. Audi told that they will launch the diesel engine and today here it is launched in India for Rs. 40.20 Lakhs.
The new Audi A4 2.0 litre diesel engine comes mated to a refreshed 7-speed dual clutch gearbox. Everything else is expected to be the same. Mechanically, the car is 7% more efficient and 120 kgs lighter making it more powerful and efficient than before. There are four driving modes on offer. 17-inch wheels, FWD layout, no Quattro on offer until unless the V6 engines make it to the engine bay. The 35 TDI badging at the rear is the new nomenclature and it can be seen here.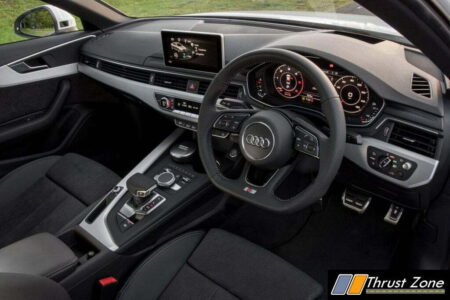 Features list include 2 display screens for Virtual Cockpit display, wireless charging, Apple Car Play, Android Auto, 10 speaker 180 watt surround sound system, parking sensors, reversing camera. Safety kit includes 8 Airbags and various electronic passive features. Audi A4 will compete with the likes of the segment leader Mercedes-Benz C-Class, the fun to drive BMW 3-Series and the new upcoming Volvo S60.