Exclusive! Aprilia SR125 vs Access 125 Review: Both these bare bones 125cc scooter compared for you to give you a definitive answer
Aprilia SR125, as we told you earlier in our road test review of the scooter that it is the most competent 125cc scooter you can buy and the performance is on par with its 150cc sibling, the SR150. It has a bit changes to make sure it does well on customer feedback, but that really completes its case? There is competition out there and in many types. The bare-bones SR125 has to take on bare bones rivals such as the Suzuki Access 125. The scooter which is known for practicality and performance. We ride them back to back to tell you which is best in every regard.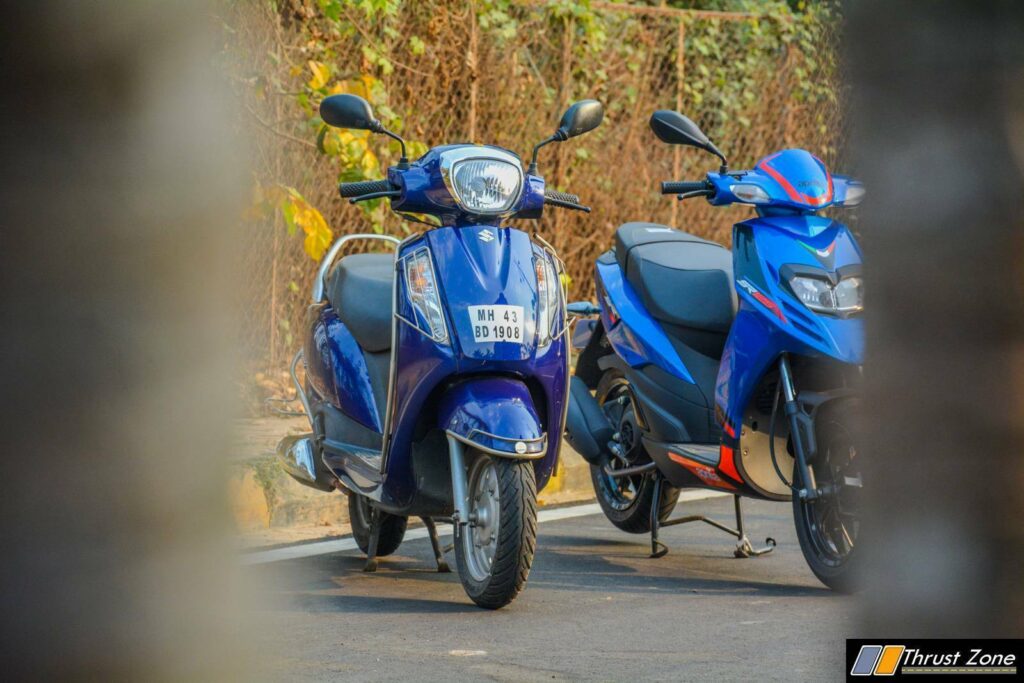 Design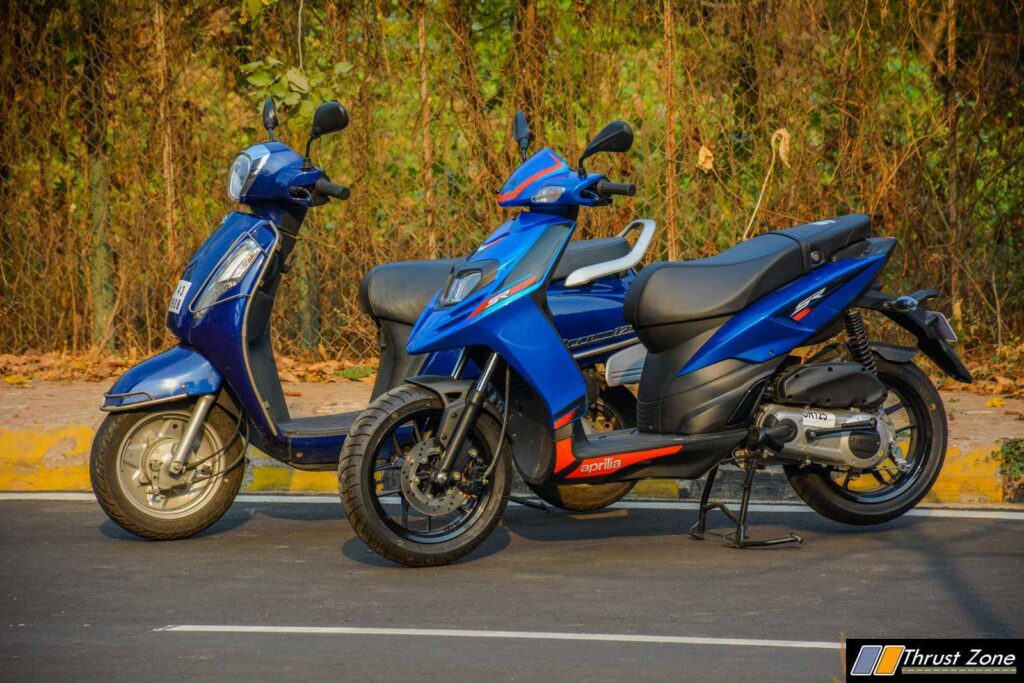 In terms of styling, the Access looks more premium with its conservative styling and good quality plastics all around. Good paint quality and subtle use of chrome make it a proper family scooter with the overall no-nonsense styling. The Aprilia SR150 scooter looks performance oriented in its styling and presence. The sharper body panels and edgy styling helps it stand out. Plastic quality could be better around the Aprilia SR125.
Practicality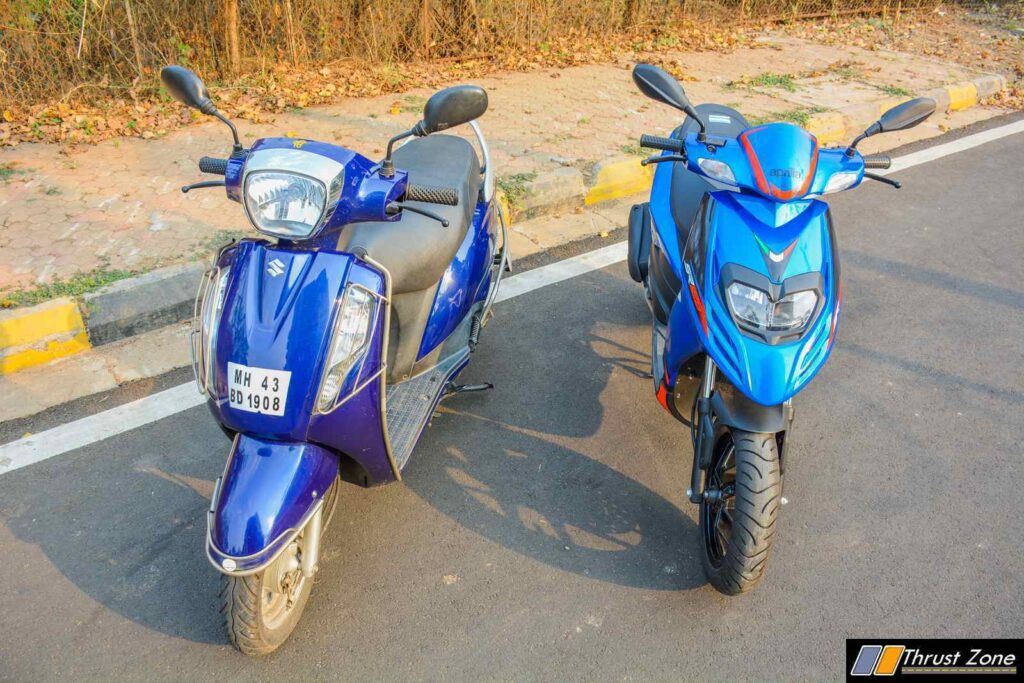 The features list is bare minimum because the Access offers a minimalistic digital meter which shows trip, clock, and service reminder while the Aprilia has a pass light button and a very basic odometer and a fuel gauge on offer. Ergonomics wise, the seat base is far bigger in the Access 125 and it has a very large and practical under seat storage which can keep a small full sized helmet. Both offer similar riding position but on the Access 125 you sit higher compared to the SR 125. The SR150 offers a lower seat height but the under seat storage is very less and is best for carrying small bags. Footboard is also narrow on the SR125 as the Access has a very wide footboard.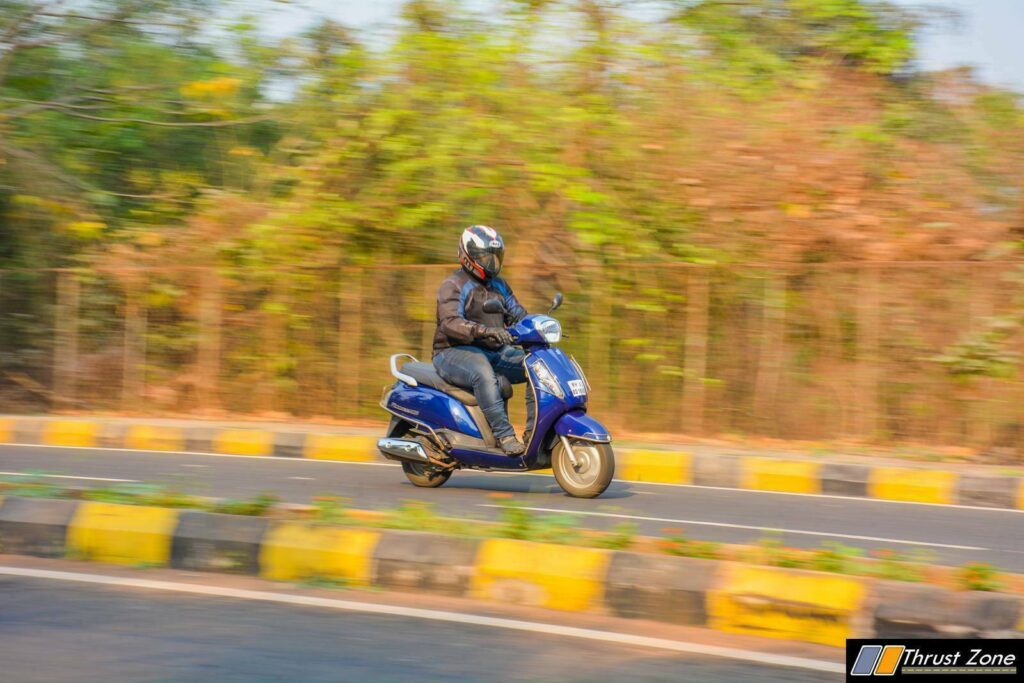 Engine
When it comes to the engine, the 2-valve Suzuki SEP 125cc motor makes more low and mid-range punch which launches of the line very swiftly and acceleration is quite brisk. SR125, on the other hand, isn't in its best mode till 40 km/hr. Post that it starts pulling all the way till a speedo indicated 120 km/hr and pulls very strongly from 70 km/hr. Access 125, on the other hand, doesn't reach the awe number of 100 km/hr quite easily as the SR125 does. NVH level on both scooters is impressive but it is the Access 125 which is quieter.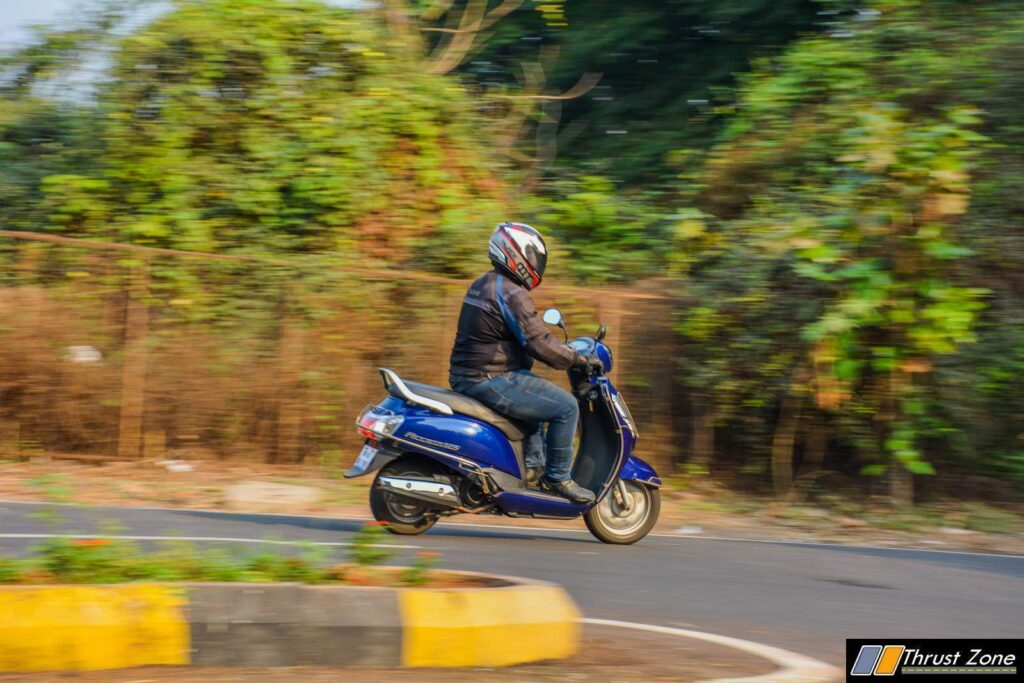 The SR125 does make 9.6 PS and 9.9 Nm of torque from its 3-valve motor. Meanwhile, the Access makes 8.6 BHP of power and 10.2 Nm of torque. Numbers are superior on the SR125 when it comes to horsepower, but the Access 125 is lighter (102 kg vs 115 kg of SR125) which shows in much superior fuel efficiency numbers and getting punchy low and mid-range punch. Access 125 is our long-termer and delivers over 43 km/l while the SR125 barely manages 35 km/l, if ridden sanely. Overall, both have performance and different range of the power band to suit every type of rider.
Dynamics
Clearly, the SR125 is far more superior with a very responsive chassis, stiff suspension and fat 14-inch wheels and tyres on both ends. The agility offered in corners while chucking it, the short wheelbase showcases its superior sportiness that this European scooter has to offer. The downside is that the just about bearable ride quality on our roads make it a little impractical but provide oodles of fun.
Access 125, when compared to the SR125, feels soft and slow to turn, but when you realize that this is an all-rounder scooter and since we are living with it for more than a year, we can tell you that it is not. The Access 125 is fun to ride with its stiff suspension, which is also slightly raised and nimbleness with the amount of agility on offer with a short wheelbase makes it fun to ride as the motor is quite peppy as well.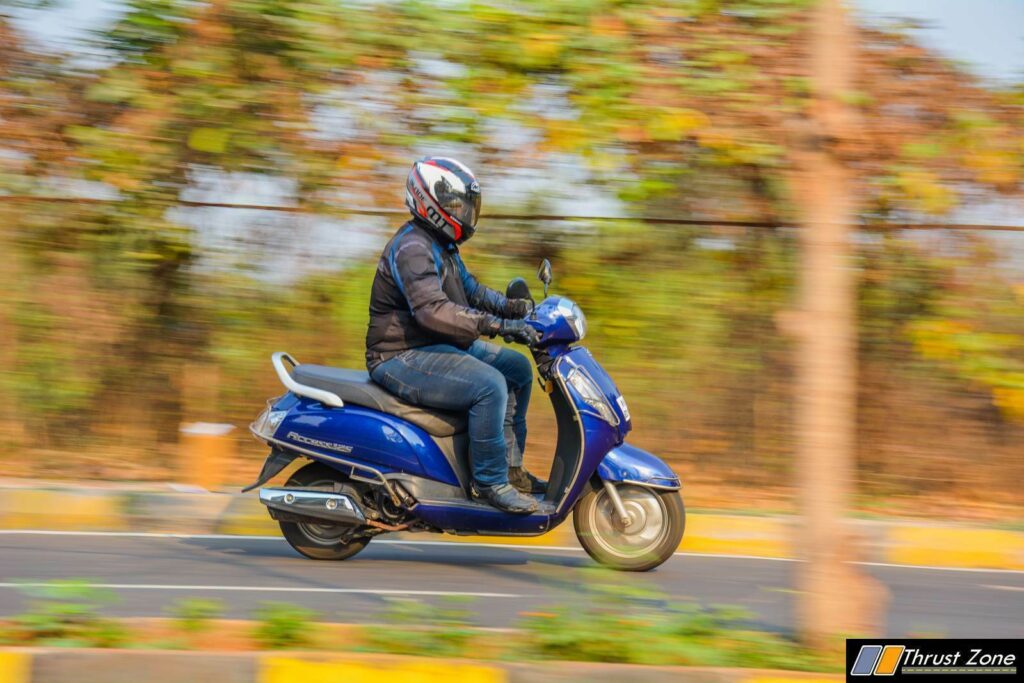 Ride quality is well judged and takes broken roads without crashing and absorbs well too. 12 and 10-inch at the front and rear respectively make it a fun package to ride on a daily basis. Brakes on both scooters are good with and without disc brakes.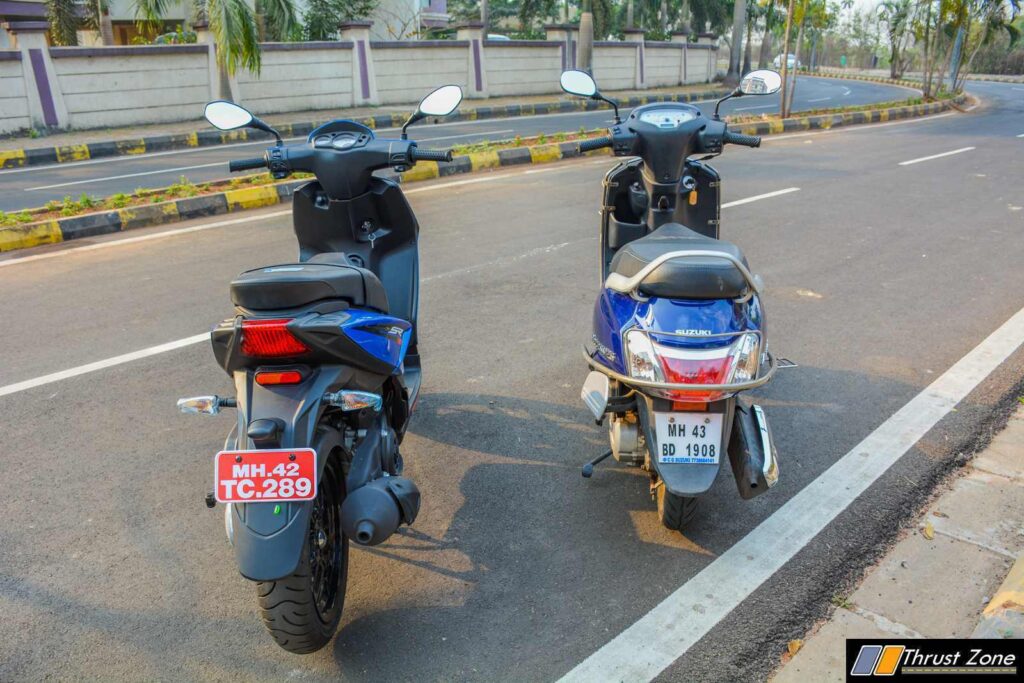 Aprilia SR125 vs Access 125 Review, Verdict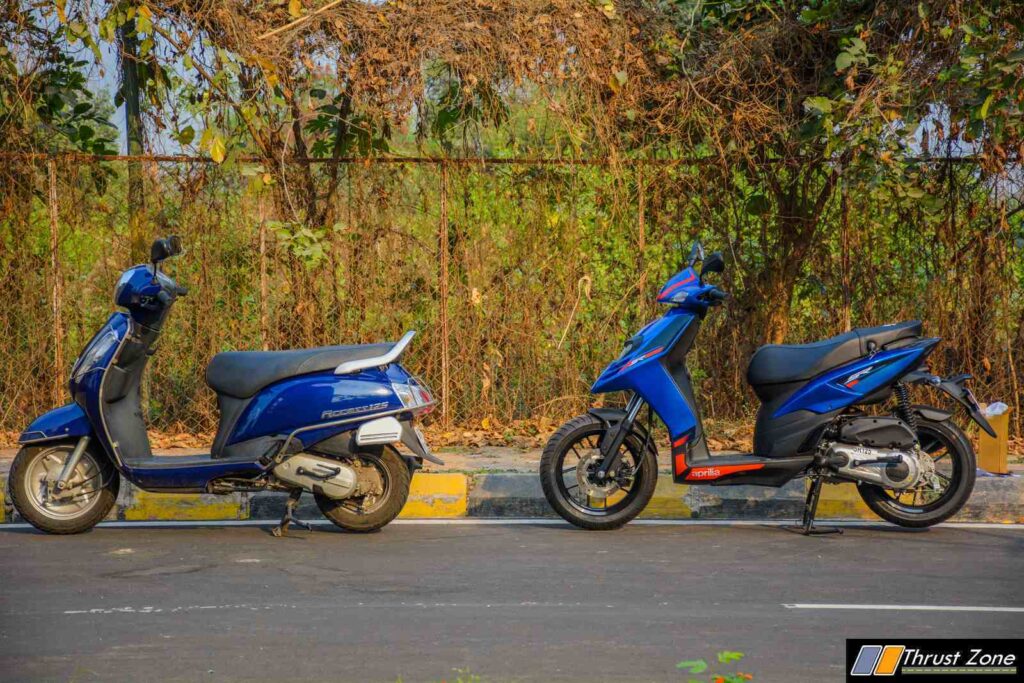 The Access 125 here is the most practical here by a big margin in every regard. It offers everything to its prospective customers in spades, which includes one of the most important factors, value. At Rs. 56,000 ex-showroom Mumbai vs the Aprilia SR125 which is Rs. 66,000 ex-showroom Mumbai, makes quite a steal, but still is far away from features which know its other competitor offers.
Since SR125 is also bare bones, the comparison makes way for a winner and that is the Access 125. SR125 will remain the choice for the youth on a budget and clearly, as we told you in the road test, the SR150 now feels a bit redundant with the fantastic performance and identical dynamics on offer in the SR125 at a marginal more value for money quotient.
Read this too: Aprilia SR125 Road Test