Fiat Punto Karbon and Fiat Linea Royale Limited Edition are one of the few tricks that the Italian brand is left to garner sales in the country
Fiat in India has to be the most spoken about brand in the market on both sides. That is critics and customers. Both sides discuss what's happening next with the brand as no one wants to leave it or let it go respectively. The number of cars that are being launched are on the same platform and don't offer much to the consumers. Abarth was an enthusiast wet dream, it is full filled and the numbers of enthusiast that believe in it are still buying it as we speak. The numbers of car enthusiast who buy cars like these are very less in the first place.
To keep the sales of the normal car going, Fiat has to do something, so it has come with cars such as Avventura, Pure Punto, Punto Evo and now Urban Cross. The manufacturer now is rolling in, very late, limited edition cars of their already existing since years models. Punto Karbon and Linea Royale are all set in your nearest showroom for either buying or just looking at.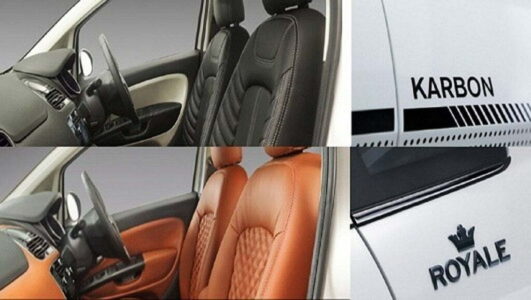 Speaking about the new limited edition models here, The Fiat Punto Karbon and Fiat Linea Royale come in New Pearl White, and feature unique touches never seen before. There is a contrast matte black roof and gun metal alloy rims. The Punto Karbon has graphics along the side profile, while the Linea Royale has a metal 'Royale' badge finished in matte black on the C-pillar.
Interiors has to be a better place and the Fiat Punto Karbon has an all-black interior with leather upholstery, contrast white stitching can be seen. There is white trim on the door panels too. The Linea Royale features a tan leather upholstery with quilted seats, and contrast tan plastic trim can be witnessed on the dashboard. The white car with black roof and cool color actually make it quite tempting this time around, much better approach than other limited edition cars of the past.
The Linea Royale is based on the top-end Fiat Linea 125 S variant that was recently launched. The engine is the 125 PS 1.4L T-Jet petrol engine paired with a 5-speed manual gearbox. The Punto Karbon is based on the 90 PS Punto Evo variant, which has the similar 1.3L Multijet turbo diesel motor that comes mated to a 5-speed manual gearbox. Expect similar pricing as stock units.