Ford Endeavour 3.2 litre comes with an extra handful of equipment, but most importantly, the bigger engine is a great surprise on the highway.
Range Rover, Jeep, are the few names in the industry that do really well in the SUV space worldwide. Then there are Indian manufacturers the do really well in the SUV space. Company such as Mahindra and Tata Motors have created iconic Scorpio and Safari. All these four manufacturers have tradition down the line and given us compact SUV. However they haven't forgotten the real SUVs that they have been making for decades. Incomes Ford who also has been known for making SUV is in every segment.
Popular worldwide are the pickup trucks, the seven seater vans, MPV and ladder on frame purposeful SUV. The Everest or as we call it here in India ford Endeavour. The Endeavour came sometime earlier in the Indian market and grabbed a lot of attention. All of this because Ford claimed it's vehicle to be the best in class and priced it competitively against its rival the Toyota Fortuner. We have already spent some time with the 2.2 litre motor equipped ford SUV so we will be specific with this sUV you can reed the first drive review in the link below.
There are no exterior changes or interior modifications to a large extent. What you get is couple of more features over the 2.2 engine. So the styling remains clean, brawny and very intimidating. Chrome grille and ORVM add bling to the package. Driver knee airbag, puddle lamp, heated side mirror, power folding 3 row seat, sunroof, terrain management, parallel parking, volumetric burglar alarm, hill descent control are the features that are added above the 2.2 litre variant in the Titanium 3.2 l variant.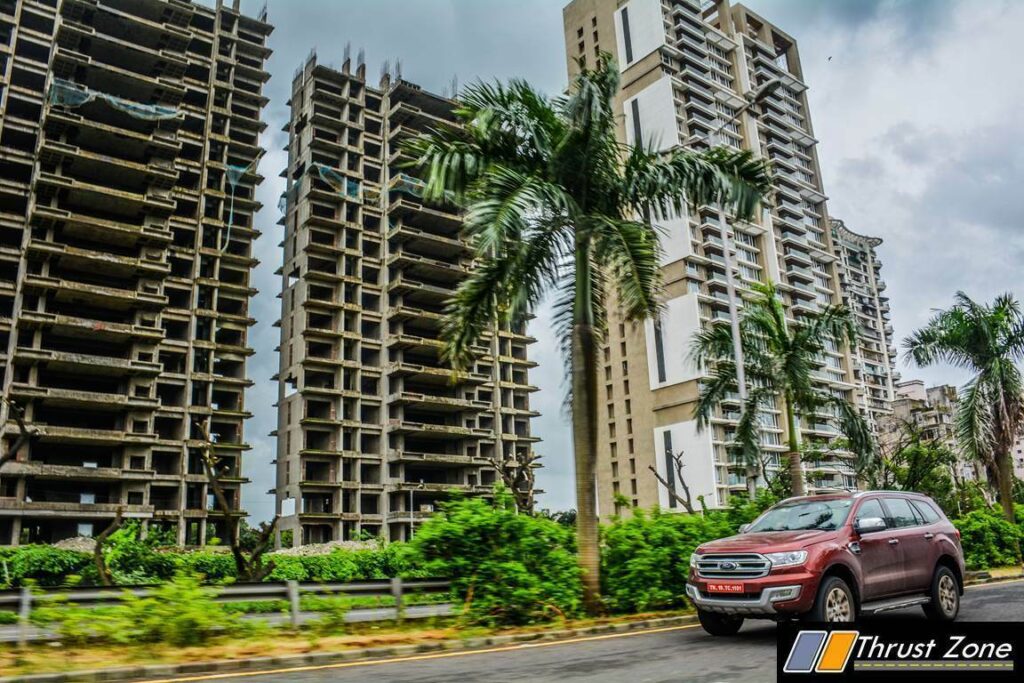 Space in all three rows is good with more than adequate leg, shoulder, knee and head room. Sure, it could have been better but then there is so much else on offer also to keep costs and balance of features and excellent suspension setup that helps it be a better SUV than its rival. Endeavour continues to offer a fully loaded cluster with all the MID stats you cannot possibly be seen on any SUV of this size.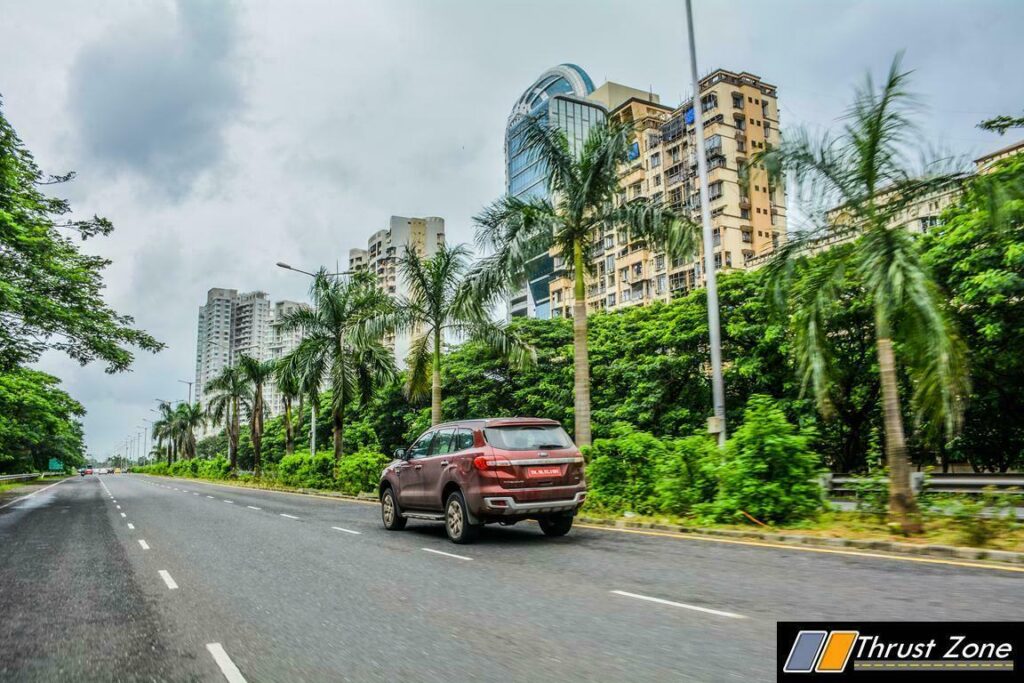 The 3.2 liter diesel engine makes 197 BHP and 430 Newton meters. The engine is refined and powerful. There is a bit of noise that creeps Into The cabin at higher speeds. The mid range is very powerful and there is a lot of top and power as well. Low-end torque can be described as sufficient but there is enough for city duties. Automatic gearbox offers seamless and smooth shifts it can be slow while downshifting. There is no sports mode on offer only manual take over the gearbox. 2.2 liter feels more sprightly in the city than the 3.2 litre but the 3.2 makes for a very engaging drive on a empty highway.
Dynamically SUV is quite sorted out. It has one of the best suspension setup in the market today. Ride quality is excellent at any speed. Highway stability is good even at top speed. There is hardly any body roll while cornering that upsets the and the passengers in the car, which is a rarity in this segment. Steering is very light at low speeds. The same steering weighs up of at Highway very well. Lock to lock ratio is perfectly calibrated and deserves a huge recognition because it makes the SUV very easy to park and drive. Brake pedal bite is really good is a lot of stopping power from all four disc brakes.
Ford Endeavour Review, Verdict
Clearly with more equipment on board, the SUV truly shines in every aspect. Powerful motor with 4×4 and Terrain management in this segment is one of its kind. Endeavour continues to impress with its clean styling, its flawless and excellent approach towards sales and after sales also makes a lot of difference when it comes to purchasing the vehicle. Endeavour has still some features missing and we expect them to come in the facelift which isn't far away either. Clearly in the present, past or future, there is no stopping Ford to dominate Rs. 25 Lakh plus SUV category as it is the ultimate choice in this class.
Read this too: 2.2 litre Ford Endeavour Review
Ex-showroom Delhi Price Rs. 29,59,000
Ford Endeavour Review
Design

Features

Performance

Space

Dynamics

Value

Interior

Safety