Enchanting –
One of a kind charming and attractive design language
Superlative chassis, brakes, engine
High on quality and reliability
Easy to ride, essential loaded motorcycle
Unsatisfying –
Priced a bit higher
Small fuel tank
Honda has finally bought into the Indian market a performance motorcycle that was highly appreciated when it was showcased at the EICMA 2018. The CB300R looked just right, offered the right specifications and was a Honda, so it was supposed to mean something. Honda took some time, but did decide to bring it into the Indian market after a drought of 8 years as in 2011, we saw the CBR250R came that had similar specs.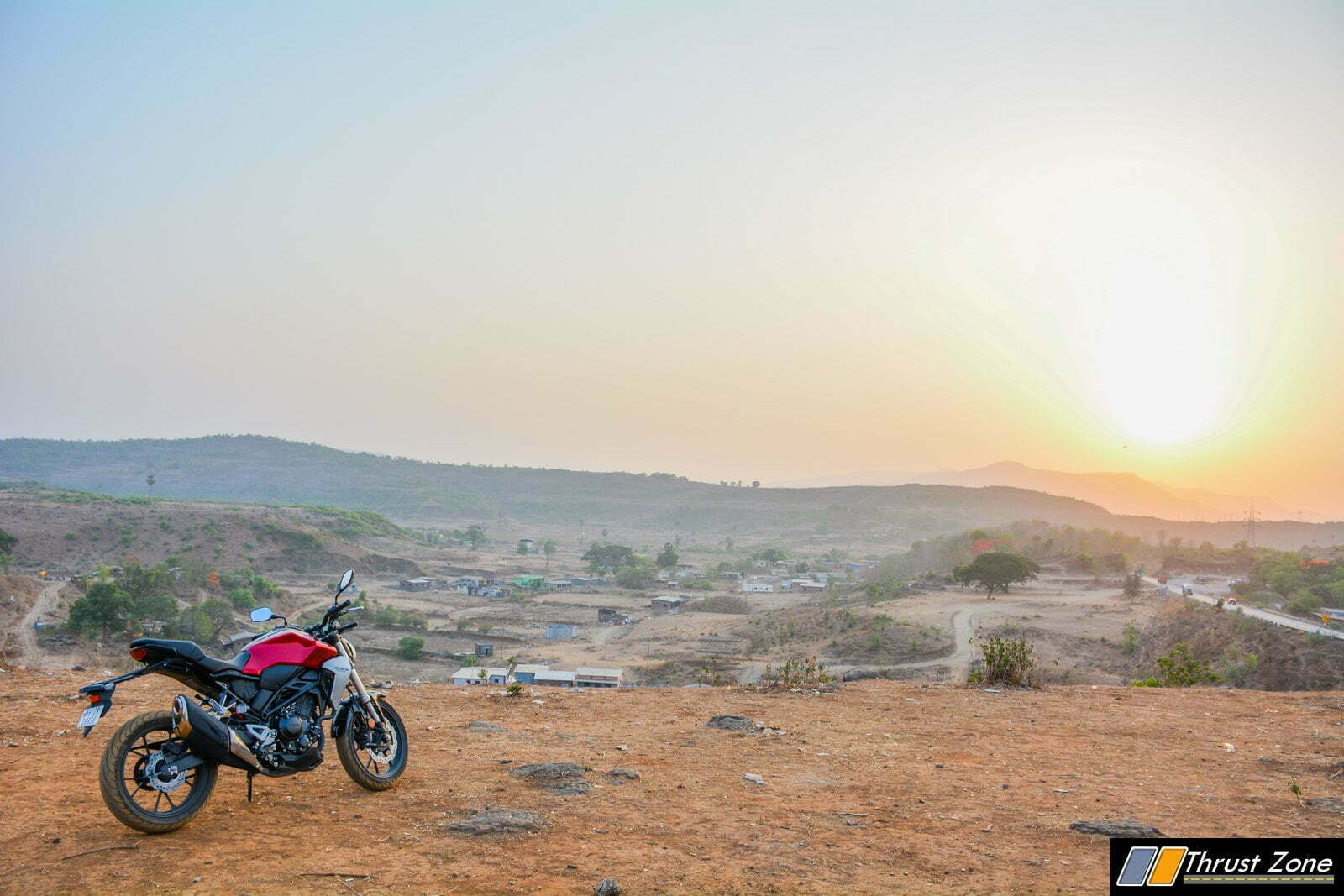 CB300R is a similar layout in neo naked form and suits are market despite competition from almost all manufacturers. Be it like premium manufacturer such as BMW and KTM along with their domestic partners such as Bajaj and TVS who also offer something on the same platform. Can Honda eat into this market? Honda has already 500 units and bookings have stopped. But, until now, we didn't have answer, now we do. Should you wait for the next batch to come? Let's find out!
Design is where the minimalist Honda CB300R scores high. The neo design which includes the silver headlamp cluster with LED lights in them look great. The small fuel tank, subframe and large seats make it look like a proper international roadster that Indian market has seldom witnessed. Chunky LED tail-lamps are generic though. However, the large wheels, tyres and chrome tipped big exhaust makes this bike stand out. The red color is typical of HMSI products in India. Fit-finish and quality were good all around and this is probably the best bike under Rs. 5 lakh mark that feels well build and is high quality from HMSI.
Ergonomics are extremely well taken care of with a lot of room to roam around as the seat is big and well padded for short and long distances. Legroom is good enough for tall and short riders alike. The pegs are mid set, not rear set for a comfortable riding position over long distances. Mirrors are good, but could have been better. Pillion seat is also good enough in size and padding for short to medium distances. Handlebar is mounted slightly lower, giving a sporty yet comfortable riding position.
Instrumentation has everything such as fuel efficiency parameters, clock, temperature gauge, two trip meters, lap timer, but no distance to empty or gear shift indicator. Switchgear continues to come from the CBR650R of the past which means that the horn switch is above and turn indicator is below, which is vice versa of every one is used to in our market. All of these things are high quality and work well.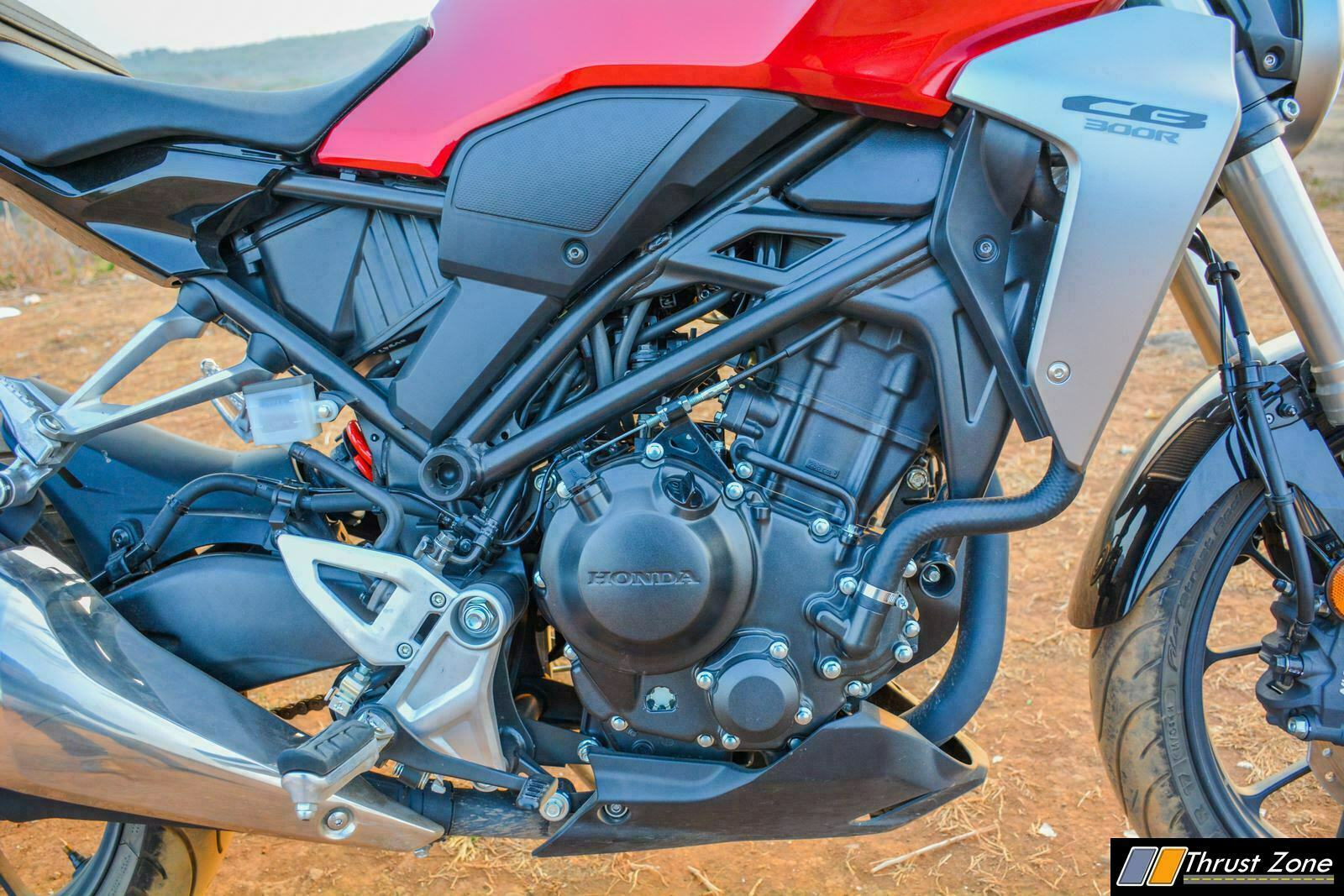 The engine, most awaited, 286cc engine making 30.4 PS of power and 27.4 Nm of torque from its single-cylinder liquid-cooled, fuel injected four-valve DOHC head. The motor is low on NVH, revs cleanly and almost quick enough to reach redline quickly. However, it is not KTM quick to rev. All that power and torque is available everywhere and the low and mid-range pull is great and because the engine redlines at 11,000 RPM and makes power there, this engine is an ideal setup for our market.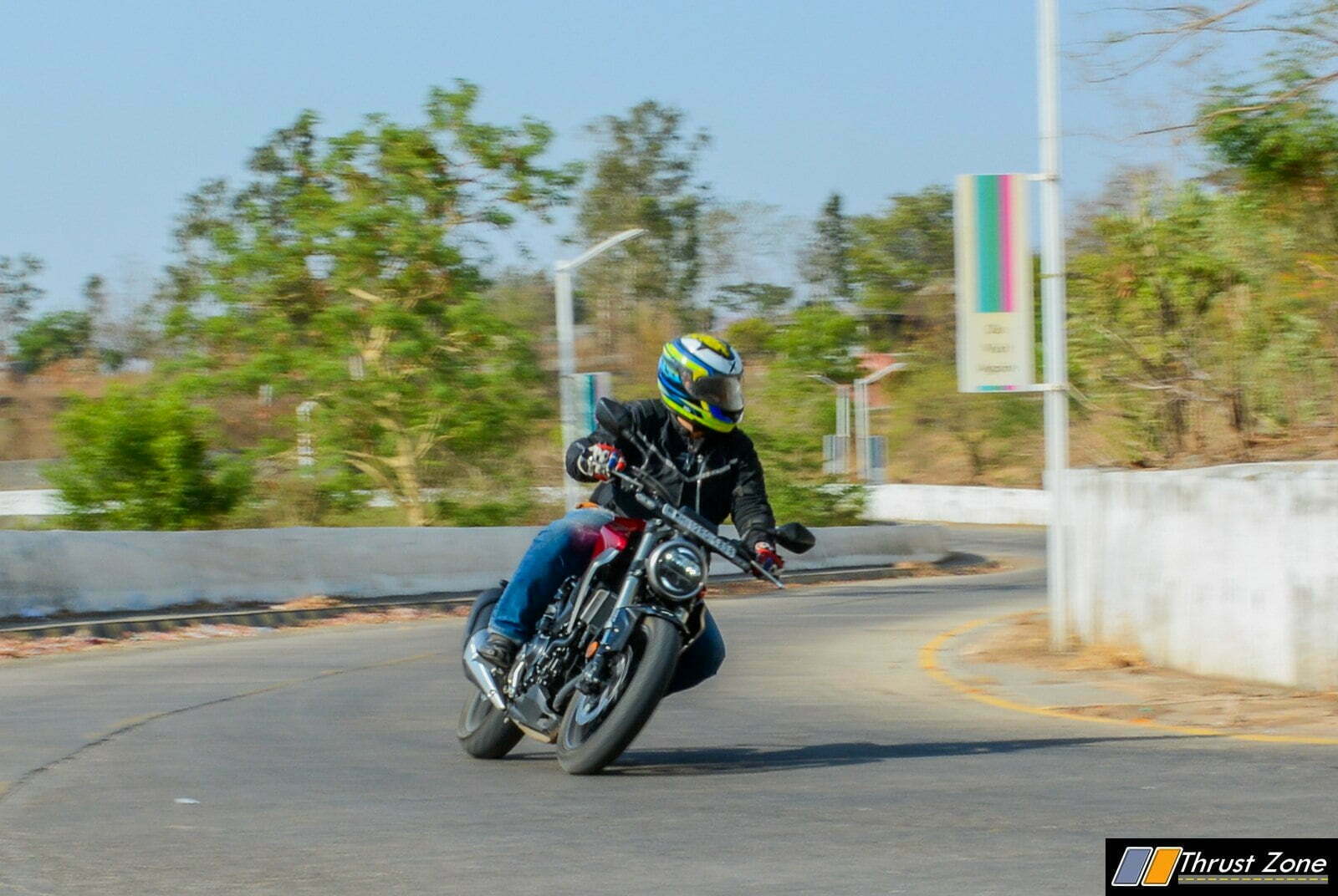 A single cylinder with power everywhere means it is ease to live with, should be good on the track and great for touring at the same time. You can either short shift using the light clutch and smooth gearbox and enjoy the torque or redline and extract performance. 5'th gear redlines and it reach 139 km/hr. KTM Duke 390 does the same but it is at 150 km/hr. A quick example on how these are matched. Gearing is taller but power being everywhere means this is the most flexible engines of all time. 0-100 km/hr in 7 seconds and top speed of 160 km/hr is what we achieved. These are good numbers despite lowest power figures in segment. Shows to go power to weight ratio is king in the motoring world.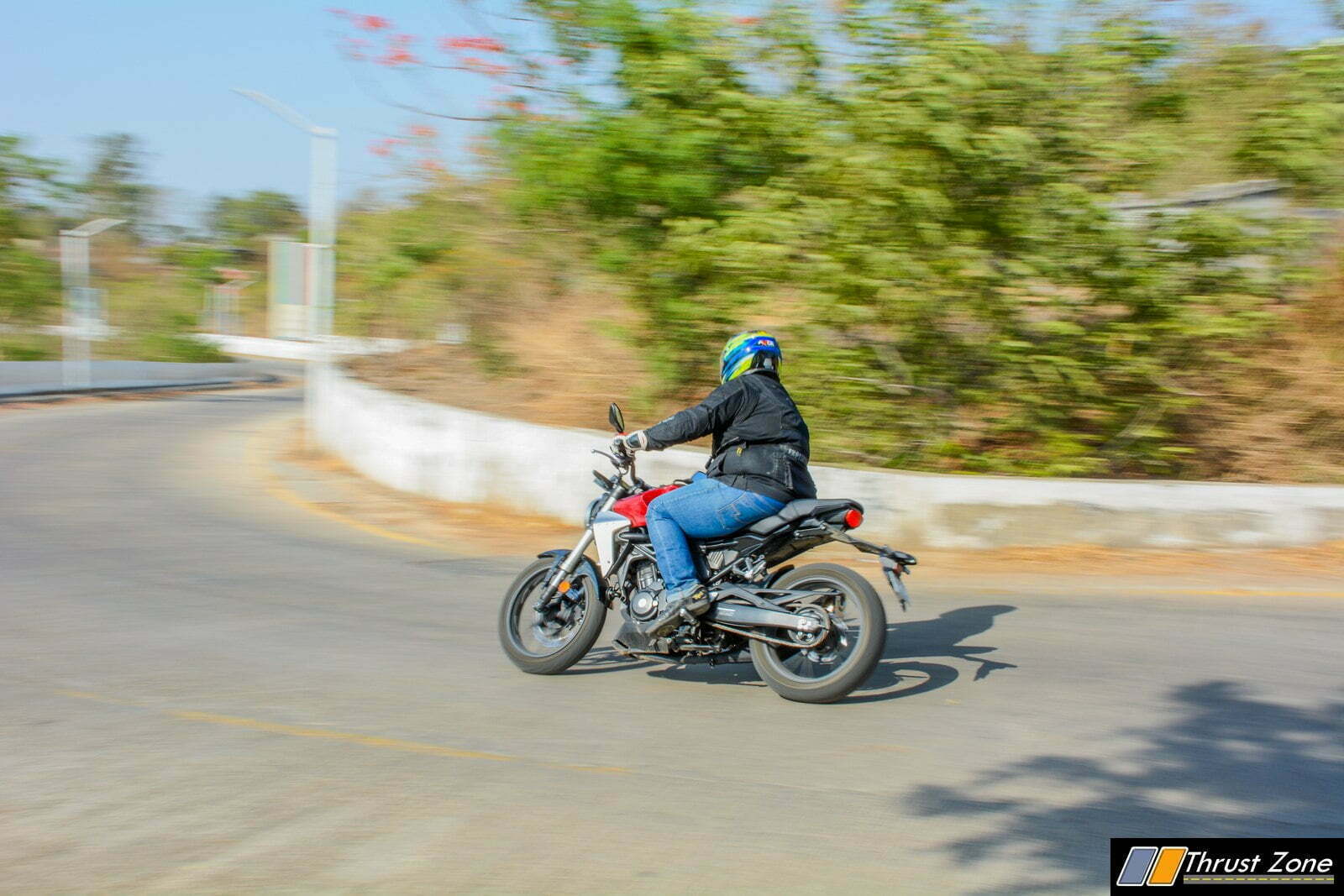 Dynamically, the CB300R highlight is the lightness. The motorcycle is downright nimble, agile in the corners there is good stability. Suspension is still tuned soft for the road, so it is a bit soft. Only rear is adjustable for pre-load. However, it is stiff enough to be playful and as a result, ride quality is excellent. Brakes offer good bite and power but come with rubber lines, this segment gets braided lines easily and Honda misses out on it.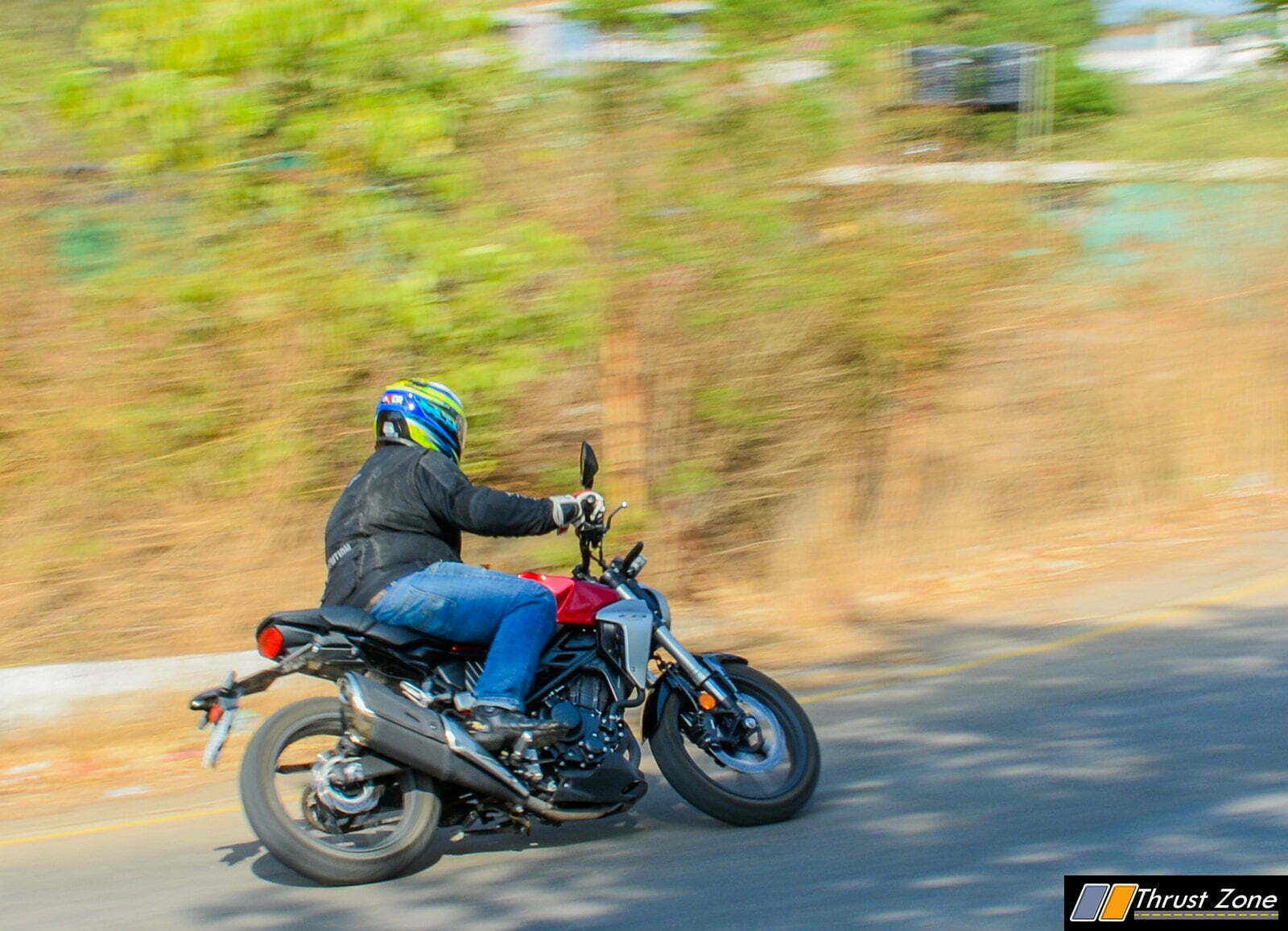 Turn-in is fast enough thanks to a short wheelbase, but at the same time the chassis is stable high speeds too. Tyres from Michelin are good enough as the sidewall is higher so it is great for our roads. However, stiffer rear suspension and stickier Pirelli or Metzeler will make this motorcycle a riot to ride thanks to lightness. It is already quite rewarding to ride thanks to light kerb weight of 147 kgs and a good setup for the suspension for our roads.
Honda CB300R India Review, Verdict
Honda has finally given us a true Honda performance motorcycle after a long time and its been almost worth the wait. It has everything you could ask for LED lights to LED turn indicators. A great console with information, a fantastic design along with quality and reliability is on offer. CB300R has come at the right time as the segment (250-300cc) continues to move forward in one way or the other.
However, Honda hasn't provided a lot in terms of value and motorcycles to speak off. We think a little less price tag and not a limited edition batch type unit allotment would make the CB300R more accessible. Nevertheless, almost, it does set a benchmark against its overpriced rivals and does give a fight to the segment leader, KTM, by a substantial margin. I think that is a big win for enthusiast and Honda together. Bring it on, Honda, we need more!