Honda Cliq is a utilitarian scooter for mostly rural markets which is why the design and mechanicals are entirely focused for the same purpose
This is was in the making, something we knew since many years now. The need for a more accessible scooter was necessary for Honda. The manufacturer was offering Activa at a very high prices. Scooter were getting popular day by day because of automatic option and luggage carrying capacity. Ease of use along with reliability on offer with the scooters made it attractive to the rural markets but still out of their reach. This is new Cliq scooter is based on the Navi, should offer more bang for buck, more mileage and most importantly, a conservative design that should appeal universally. This is the answer to the Hero HF Deluxe and other rural market targeted vehicles from other manufacturer. Let's look at what Honda has to offer.
Honda Cliq Design and Dimensions
The design is of a bare minimum scooter designed most likely for utilitarian purpose. Large floorboard, large fairing at the front with the headlight in the middle makes it look a scooter which won't win design of the years awards. The overall design replicates to the Navi with more clothes and a conventional look. You can see the handlebar popping out like the Navi. Patriotic Red with White, Black, Moroccan Blue with White, and Orcus Grey are the color options to choose from.
Honda Cliq Chassis, suspension and brakes
The scooters just weighs 102 kgs, come with the same underbone type chassis, cheap spec suspension which is known for harsh ride quality is on offer. Honda refuses to let go of this technology and offer Telescopic suspension. CLIQ's special block pattern tyres are used to make sure it appeals more to rural areas. Tyres are said to be the highlight as they will last longer. Tubeless tyres, maintenance free battery and viscous air filter adds to the convenience of the rider.
Honda Cliq Price and Launch
Launched immediately in the month of June 2017, the pricing is attractive at Rs. 42,499 ex-showroom Delhi. It should retail in all major cities in India under Rs. 50,000.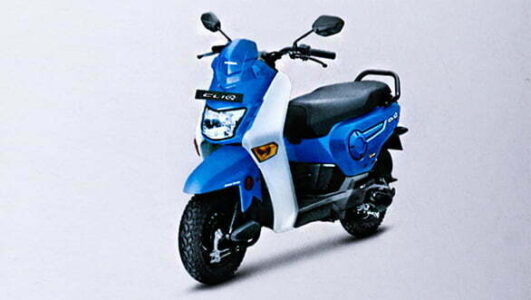 Honda Cliq Engine And Specification
The 109cc is the tried tested HET BSIV motor which makes around 8 BHP of power and 8 Nm of torque which is mated to an CVT gearbox Variomatic.
Honda Cliq Safety and Features
There is Equipped with Honda's Combi Brake System (CBS) with Equalizer technology on offer. Feature list is includes Mobile charging socket.
Honda Cliq Competition
Hero HF Deluxe, Bajaj CT100
Customers can choose from a variety of optional parts including Front Screen, Floor Cover, Box Center, Cap Cover, Rear Grip which would enhance both utility and aesthetics of CLIQ.