Enchanting –
One of a kind aesthetics/li>
Good chassis, brakes and engine
Fuel efficient and feature loaded
Unsatisfying –
No ABS or CBS
Could be more sporty to ride
When was the last time you thought that a motorcycle with a brand new engine and revised platform can spawn only one motorcycle? Almost 20 years back! Because that was the time when the Hero Honda CBZ came and stayed there for a long time. It got successors but it did not get existing siblings.
Today, siblings are the thing, in the automotive world. Honda has been one of them as it tries to get multiple bikes from the same platform to offer a wide range of choices to customers and use the platform well enough to generate profits. It all began with the Unicorn 160 and then we got the successful Hornet 160R. To slot in between the two and cater to an audience which loves high capacity but less power and more mileage, the X-Blade 160 steps in. How is it? Read on!
Design
In terms of styling, the robocop headlight and the T-Shaped tail-lamp along with new bodywork in the shape of a new fuel tank with smart extensions, a new tail-piece, well-executed grab rails and side panels which have textured plastic and black underbody makes it look good and the long and slim profile identifies itself as a typical Honda motorcycle. Dual port exhaust with chrome heat shield and a chunky design adds a bit of flare to the lower section. Tall visor at the front gels well with the design. Fit-finish is good, quality levels are acceptable and overall, it does look and feel like a good product at this price point.
Speedo and Switches
Honda has raised the bar in terms of quality switchgear as there is piano black buttons with a hazard light button which replaces the headlight button as this motorcycle has AHO. All digital cluster has a tachometer, odometer, two trip meters, gear position indicator, time, service indicator, fuel gauge, two trip meters and the usual tell-tale lights.
Ergonomics
The seating position is high and the bars are set lower, it reminds of the Hornet 160R at first impression but then you realize the tank is so wide that you are legs are stretched far away which lowers the reach of your legs to the ground as inseam reduces and makes it cumbersome to ride in the city. Seats are supportive for long and short journeys with the padding being on the stiffer side. Mirrors are positioned lower and they are smaller so big riders will find it mildly difficult to see what is behind.
Engine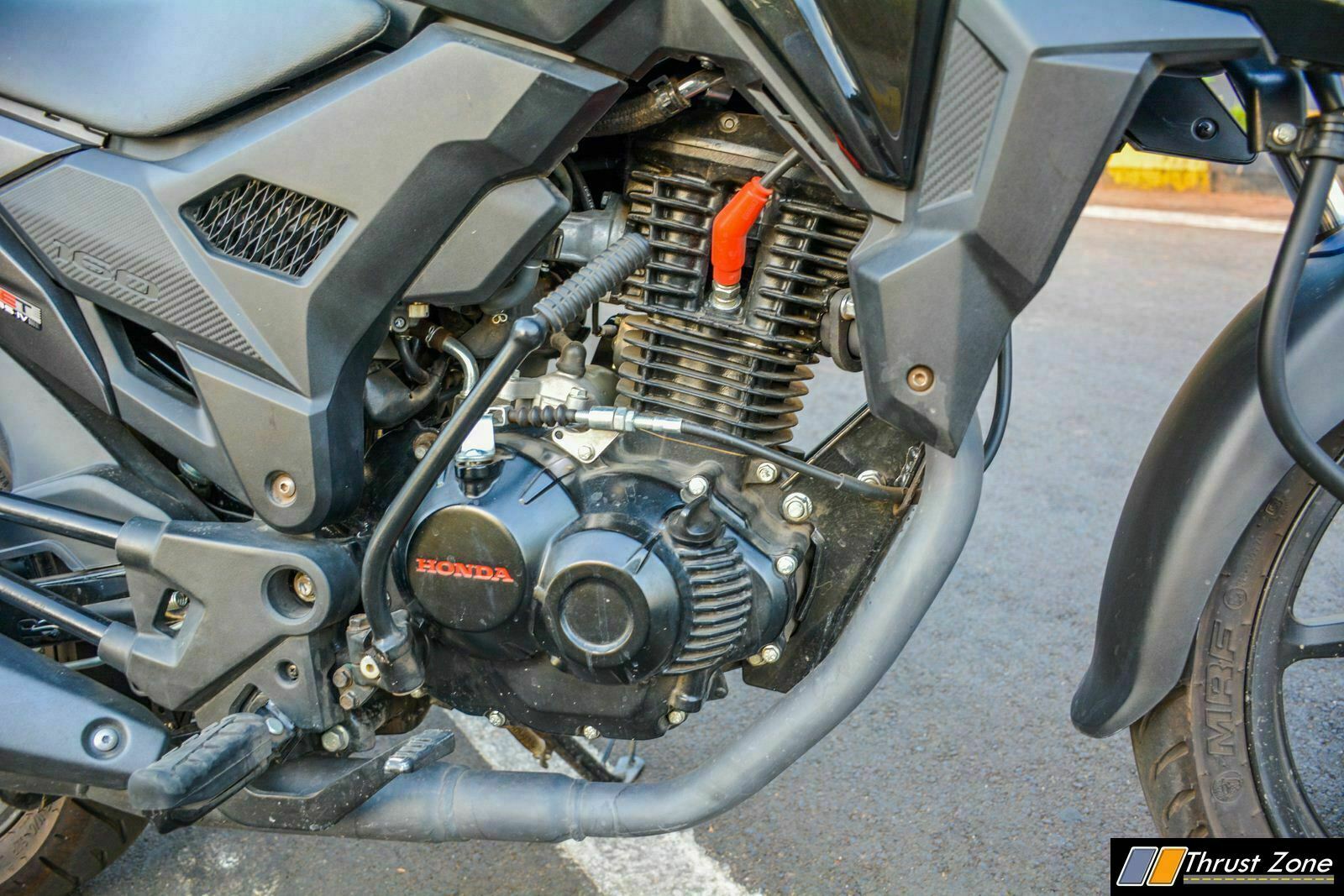 The 160cc engine continues with the 5-speed gearbox which has really tall gearing on offer. First gear maxes out at 52 km/hr which is a replicating the number that can be seen on the KTM Duke 390! However, clever tuning of the ignition and cam timing makes low-end torque impressive and offering good midrange and best in class top-end power and top speed of 115 km/hr.
Engine NVH levels are really impressive this time with barely any vibrations at any given RPM. The clutch is light, the gearbox is smooth. We got a mileage of 44 km/l which is quite impressive with heavy throttle and mixed city and highway usage. With the 13.9 BHP and 13.9 Nm of torque and the right tuning, the HET engine is in one of the best avatars till date.
Ride and Handling
Dynamically, the wheelbase feels a bit longer when turning in, the rake is on the steeper side which means it is meant for stability and not agile corner entry and exit. It is nimble enough in the city and rides quality is on the stiffer side as well, so it does get upset mid-corner. The tires offer just about enough grip physically and tire stickiness.
Honda tried to make the package engaging in a way where newbies and oldies can enjoy this motorcycle to a certain extent, but if they want something sporty, they can climb the chart higher in terms of an upgrade. 140 kg curb weight, the commuter tire pattern, and choice makes this a good commuter, not an outright sporty motorcycle. Brakes are really good with great bite on the lever and progressive power post that is really impressive.
Honda XBlade 160 Review, Verdict
X-Blade is a great attempt by Honda to strike a right balance of power and economy along with design and commuter aspect that it wanted to offer. The initial response for the motorcycle seems impressive and is a surprise to us. Customers do look something unique from Honda and since very recently, Honda hasn't failed to deliver. However, if this continues and X-Blade grows substantially, then the logical step should be interesting. What happens next in this cubic capacity segment and above it will worth the watch from Honda. For now, the almost well priced X-Blade with subtle performance and lot of goodies on offer makes it a worthy competitor, but does it win, that is a story for another day.
XBlade 160 Review
Design

Performance

Practicality

Dynamics

Value

Comfort

Safety

Features