Hyundai Ionic Revealed at The Auto Expo 2018 will be launched in the country within two years and fulfil the government dreams of electric cars
The 2018 Auto Expo is going in full swing. With a variety of car and bike launches, the show is a treat to like minded petrolheads. This year's also saw the rise of hybrid technology. Some of the major manufacturers showed their very own hybrid concepts, many of which were even production ready. Hyundai Motors India wasn't far behind in the game. HMI showcased their touted sedan, the Ionic hybrid. Internationally the Ionic is available in two variants – a hybrid and an all-electric variant.
The sedan follows Hyundai's characteristic 'Fluidic' design. The nose of the car gets a horizontal grille which merges into the pointed headlights. Along with turn indicators the headlights also feature 2 projector headlamps. Just below the headlights are the vertically placed DRL's which look very cool. The side profile is very similar to the Verna, with a sloping roof line. At the rear the neat looking LED taillights and the faux air vents make the car stand out.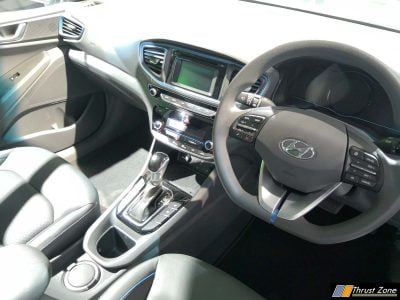 However, the small wheels do look out of place. The interesting bit is the forged aluminium boot and hood which make the car lighter by 25%. The hybrid and the all-electric version share the same body style, so there is very little difference in terms of looks. Although the car that was showcased was the all-electric variant, the hybrid version too has its merits.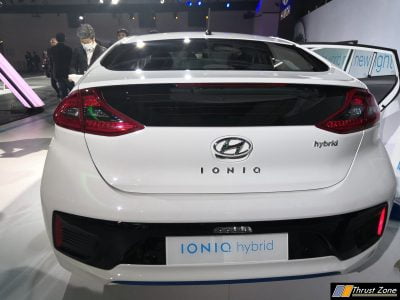 Ionic Hybrid –
The hybrid version comes with a 1.6 litre petrol engine that put down 105PS of power and 147Nm of torque. It is paired with an electric motor that adds 43.5PS of power and a massive torque of 170Nm. The motor is powered via a lithium-ion battery which is rated at 1.56kWh. The transmission duties are handled by a 6 speed dual clutch transmission. The engine and the electric motor give a fuel efficiency of 25 kmpl, as tested by the US cycle.
Ionic Electric –
The electric variant comes with a 28kWh for a range of 280kms. The car produces power of 120PS and a spinning force of 295Nm. This electric motor is mated to a single speed transmission which helps it to manage a top speed of 165kmph.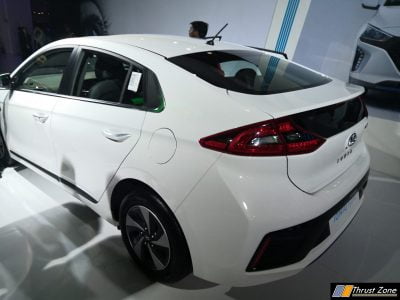 Being a Hyundai, the Ionic is blessed with a slew of hi-tech features which include a 7 inch touchscreen enabled MID instrument cluster that supports Apple Carplay and Android Auto, inductive charging pad for smartphones, seven airbags, lane change assist with blind spot detection, rear cross traffic alert, autonomous braking and adaptive cruise control. The launch of the Ionic in India is not yet confirmed, however with the rising fuel prices if launched, the Ionic could prove to be a god-sent to the Indian audience.