Hyundai today launched India's First Fully Electric SUV- KONA Electric. Hyundai KONA Electric will offer Youthful Design, Sporty Driving and Advanced Technology offering First long Range Green SUV with 452 Kms/Charge. The car is priced at RS. 23.5 lakhs ex-showroom Pan India.
KONA Electric is named after the idyllic west-coast region of the Big Island of Hawaii. The KONA region is famous among endurance triathletes and thrill-seeking travellers, and this energetic image is further reflected in the innovative and distinctive design of this eco-focused SUV. In keeping with its modern design demeanour, a number of extroverted color variations allow buyers to further express themselves by choosing colors such as Phantom Black, Polar White, Marina Blue, Typhoon Silver and Polar white with Phantom Black Roof.
Hyundai Kona Electric India model offers Electric on-board charger is capable of a 7.2 kW rate of charge for rapid recharging characteristics. KONA Electric estimated range is a segment-leading 452 kms/charge (ARAI Certified), meeting the varying needs of owner lifestyles. An 80% charge can be achieved in 57 minutes with DC quick charger (zero to 80 % charge @ 50 kW), using the CCS Type II charging port, while a 7.2 kW Level-II charger takes 6 hours and 10 minutes. For charging convenience, the charging port is located in the front grille area for head-in parking ease whenever charging is needed.
KONA Electric offers differentiated driving modes (Eco+, Eco, Comfort and Sport) optimize torque distribution, tailoring KONA Electric to a variety of driving preferences and purposes. In Sport mode, there is a greater emphasis on acceleration, while Eco+ and Eco modes progressively prioritize range over performance with more conservative power-delivery and deliver maximum Electric Range by brake regeneration.
KONA Electric's exclusive Shift-by-wire drive controls are supported by a center console upper bridge element with an integrated open-access lower storage bin for convenience. The audio/navigation display incorporates advanced infotainment features and the available floating 17.77cm seamless touchscreen infotainment includes standard Android Auto™ and Apple CarPlay™ capability.
The floating infotainment further adds, HVAC (heating, ventilation and air conditioning) controls are surrounded by soft, fluid details that enhance the comfort-focused environment. The KONA Electric platform has been developed to give customers ample ground clearance and an elevated, command seating position to provide better visibility and comfort on long journeys, as well as easy ingress and egress.
Hyundai Kona Electric India model powertrain employs a 136ps permanent-magnet synchronous electric motor powered by a high-voltage 39.2 kWh advanced lithium-ion polymer battery. The motor develops 40.27 kgm of torque distributed to the front wheels giving an impressive acceleration of 0- 100 kmph in just 9.7 seconds. The battery system has liquid-cooling technology and battery pack has high energy density.
The front suspension features a MacPherson strut system using an innovative sub-frame bushing design for enhanced comfort and reduced NVH. The MacPherson strut design uses gas-filled shock absorbers and a hollow stabilizer bar for lower weight and enhanced responsiveness. Standard 17-inch alloy wheels with 215/55R17 tires.
Hyundai Kona Electric India models employ a sophisticated multi-link rear suspension design for overall agility, ride comfort and stability with minimal ride vs. handling compromises. Its geometry was specially designed for refined body movement on a variety of surfaces. Rear suspension control arm design also minimizes camber and toe changes throughout the suspension travel range.
KONA Electric's motor-driven power steering is more efficient than traditional hydraulic systems, reducing typical parasitic losses from ancillary belts and their continual drag on the powertrain. Further, the steering system is engineered and tuned specifically for KONA Electric's precise and rapid adjustments in steering feel with changing driving conditions. The steering wheel itself offers a wide range of tilt and telescopic adjustment for greater driver comfort.
The infotainment system offers various advanced connectivity features, including standard Android Auto™ and Apple CarPlay connectivity. The standard 17.77cm touchscreen infotainment includes AM/FM/MP3, auxiliary input, voice-command recognition and Rear View Monitor.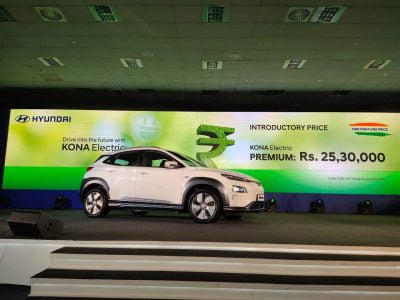 Hyundai Kona Electric India specific model offers digital cluster with supervision, power driver's seat, leather ventilated seats (Front), automatic air conditioning and Smart key with push button start. In a first for the segment, KONA Electric offers smartphone wireless charging. To charge a device, simply place a compatible smartphone on the wireless-charging interface located in the center console storage, recharging without the need for cables.
The Customers will be provided with two Chargers along with the car – A portable charger and an AC Wall Box Charger. The Portable charger can be plugged into any normal 3 Pin 15 Amp socket and charge the vehicle. This charger can top up daily running of 50Kms in less than 3 Hours. Whereas AC Wall Box charger (7.2 kW) can top-up charge the vehicle within 1 hour for running 50Kms.
Hyundai Electric Vehicle selling dealers will support the customer for installing the sockets at customer's premises and also provide charging demo to the customer. The Installation support for customers will be provided through our partner Allianz Worldwide.
Allianz Worldwide will provide support to customers on Consultancy on the installation by doing a pre-installation survey that will assess the residence type, power connection & upgradation requirement (if any), procedure to upgrade the power supply, consumables required for installation etc. Allianz will also provide dedicated telephonic support for the complete process.
For providing Fast Charging facility, Hyundai is working along with IOCL to develop infrastructure at select Fuel Stations in select cities (Delhi, Mumbai, Bengaluru and Chennai). HMIL will invest on the equipment and installation of these Fast Chargers (CCS Type – Single Port). These chargers can charge 80% of the battery capacity in less than an hour.
Moreover, all Hyundai Electric Selling dealerships are equipped with 7.2 kW AC Charger to support customers for KONA Electric Charging. Additionally, in select cities (Delhi, Mumbai, Bengaluru and Chennai) a Special KONA Electric fleet (KONA Electric to KONA Electric) fitted with power converter will provide emergency charging support to the customers. Also, for the convenience of customers, HMIL has tied up with MapMyIndia, to display KONA Electric compatible EV Charging Stations in HMIL Website and in Mobile App.
Hyundai Kona Electric India specific vehicle would be available with a Warranty for 3 Years and unlimited Kilometres, along with a Warranty for 8 Years and upto 160,000 Kms for its High Voltage Battery.