Despite tough two years in the auto industry, major manufacturers have stepped to help in. Started with Bajaj donating Rs 100 crore to many other stories that are unfolding now. Mahindra is making ventilators.
So, so proud of our Kandivali & Igatpuri teams who confined themselves to the factories & without sleep produced this in 48hrs. With humility, we will seek guidance from specialists on the usefulness of the device. Whatever the outcome, they have shown India fights back… pic.twitter.com/LrVXm4Acku

— anand mahindra (@anandmahindra) March 26, 2020
Three prototypes are ready and awaiting results from ICMR. The manufacturer just announced it will make face masks and face shields for the front line health workers. The manufacturer will provide PPE equipment to hospitals around the country.
Tata as a group is donating 1500 crores. Tata will be focusing on giving a large part to health care facilities and front line workers such as police, fire brigade, municipalities for etc to make sure they safe and protected.
At the request of the Government of India, Maruti Suzuki India Limited (MSIL) examined its ability to assist in the production of ventilators, masks and other protective equipment. An arrangement has been entered into with AgVa Healthcare, an existing approved manufacturer of ventilators. MSIL would work with AgVa Healthcare to rapidly scale up production of ventilators. The intention is to reach a volume of 10,000 units per month.
AgVa Healthcare would be responsible for the technology, performance and related matters for all the ventilators produced and sold by them. MSIL would use its suppliers to produce the required volume of components and use its experience and knowledge to upgrade systems for the production and quality control of the higher volumes. Any other assistance required would also be provided. MSIL would also help, to the required extent to arrange financing, and obtain all permissions and approvals required to enable the higher production. MSIL would provide these services free of cost to AgVa Healthcare.
Krishna Maruti Limited, a joint venture of MSIL with Mr. Ashok Kapur, would be manufacturing 3-ply masks for supply to the Haryana and Central governments. Production is expected to start as soon as all approvals are received. Mr Ashok Kapur will provide 2 million masks free of cost as his own contribution. Bharat Seats Limited, a joint venture of MSIL with the Relan family, would be manufacturing protective clothing as soon as all approvals are in place. All manufacturing units would take maximum care to protect the safety and health of the workers in accordance with the government recommended practices.
The group led by JAYAHIND INDUSTRIES and its subsidiaries like FORCE MOTORS, JAYA HIND MONTUPET has earmarked Rs. 25 Crores to support COVID-19 Relief activities. Jaya Hind Industries, established before independence, has been engaged in nation development activities, including charitable activities in the fields of healthcare and education for over 7 decades.
We have earmarked Rs 25 Crores from our companies Force Motors and Jaya Hind Industries for supporting the fight against the pandemic COVID-19 by NGOs, medical establishments, citizens and by industry platforms.The deployment will be aimed at supporting upgradation of health care infrastructure, enhancing blood collection capability, and facilitating mobile clinic/testing capabilities. We shall be working closely with bodies like Maratha Chamber Foundation, eminent private hospitals, and Select NGOs, to maximize the effectiveness.
TVS Motor have announced spending of INR 30 crore to support the nationwide efforts to curb the spread of COVID-19.
The funding will come through Srinivasan Services Trust (SST), the social arm of TVS Motor Company and Sundaram-Clayton Ltd. and will include measures ranging from manufacturing and supplying supportive equipment such as masks, to providing cooked meals to those in the frontline – from healthcare workers to police officers.
The first phase of the program is underway and SST has supplied 10 tractors fitted with disinfectant spray along with about 30 personnel to the Hosur Municipal Corporation in Tamil Nadu, and municipalities in Krishnagiri and Mysuru. The streets and villages in and around these towns are being sprayed with disinfectant as an ongoing process. SST will also manufacture and distribute 1 million face masks to those delivering essential services from healthcare to food supplies.
TVS Motor Company and SCL are using canteen kitchens in Hosur, Padi (Chennai) and Mysuru to make cooked food which is being distributed to police, healthcare workers and essential services workers in and around Hosur, Chennai and Mysuru. In Baddi, Himachal Pradesh, the company is distributing daily, dry ration kits to daily wage workers who have been displaced, and also to villagers who need food supplies.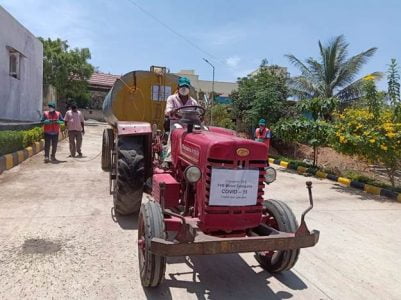 In addition, they are evaluating collaborations with 3D printing companies to make ventilators that will help support hospitals which lack the necessary life support systems to cope with patient care for COVID-19 victims. TVS Motor Company and Sundaram-Clayton Ltd. have shut all offices and manufacturing facilities as per the guidelines. This is a difficult time for all stakeholders and the company is exploring various methods to mitigate the financial duress and also appeals to all countrymen to do their part by observing the lockdown and maintaining hand hygiene and social distancing.
TVS Motor Company, TVS Credit Services Ltd., Sundaram-Clayton Ltd., and others today announced their commitment to donate Rs. 25 Crores to the PM's Relief Fund (PM-CARES) to aid the battle against COVID-19. This is in line with the company's continuous endeavour to ensure prosperous and sustainable communities. It is in addition to the ongoing activities being already undertaken through Srinivasan Services Trust, the CSR arm of the group.
"The COVID-19 pandemic marks an unprecedented time in modern history and it will require the best of humanity to overcome the battle. We applaud the Govt's strong resolve and numerous actions to fight this. Now, more than ever, it requires all of us to cooperate and support each other as a nation,'' said Mr. Venu Srinivasan, Chairman, TVS Motor Company.
Srinivasan Services Trust (SST), the social arm of the group is implementing various measures ranging from manufacturing and supplying supportive equipment such as masks, to providing cooked meals to those in the frontline — from healthcare workers to police officers. Some of the key initiatives that have already begun include:
Making and supplying 1 Million protective face masks for essential service providers
Deploying vehicles and disinfectants to municipalities and helping produce medical equipment
Employing factory kitchens at the manufacturing units in Hosur, Padi and Mysuru to make pre-packed cooked meals. These will be supplied to all essential care workers in the vicinity, from police personnel, municipal staff to healthcare workers
In Baddi, Himachal Pradesh, dry rations will be supplied to daily wage workers who have been displaced and to villagers without food supplies
The company is evaluating collaboration with 3D printing companies to make ventilators to support the hospitals
The Hero Group has pledged Rs 100 Crore as aid for the ongoing COVID-19 relief-efforts in India. Half of this sum, Rs 50 Crore, will be contributed to the PM-Cares Fund and the remaining Rs 50 crore will be spent in other relief efforts. The Hero Group (BML Munjal family) companies contributing to this fund include Hero MotoCorp, Hero FinCorp, Hero Future Energies, Rockman Industries and Hero Electronix. Hero Enterprise and AG Industries have also contributed to this fund.
Ashok Leyland, flagship of the Hinduja Group, is actively working with the Government authorities and supporting them in tackling the Covid-19 crisis.
Ashok Leyland has aligned itself with the Department of Health and Family Welfare for the below mentioned initiatives:
· Supplying protective items like 3 ply masks, N95 masks, disposable gloves, liquid handwash, sanitisers, body suits for health service personnel.
· Providing disinfectants, protective chemical guard suit (pant, shirt, and hood), and chemical protection goggles for sanitation staff.
· Deploying ten vehicles (8 Dost and 2 ICV) with drivers for emergency logistics operation for use by the health department.
Other initiatives by the Power Solutions Business of Ashok Leyland include:
· 250 KVA genset shipped to Tiruvallur General Hospital, 62.5 KVA genset to 150 bed special ward of Madurai Medical College to treat Covid-19 patients
· 250 KVA commissioning at Chromepet Government Hospital