Jaguar F-Type SVR Silently Launched In India at a cost of Rs. 2.45 crores ex-showroom Pan India. It is the most focused F-Type till date
India has made Jaguar's top ranging F-Type SVR to bear a price tag of rupees 2.45 crores, whilst the convertible loss accounting up to 2.63 crores as the ex-showroom price.The vehicle has been recently launched in the desi market. The SVR badge means that JLR's Special Vehicle Operations division has taken the conventional V8-engined F-Type and fine-tuned it further.
The 5.0-litre supercharged V8 motor has been engineered to produce 575hp at 6,500rpm and 700Nm of peak torque at 3,500rpm, in addition to showing an increase of 25hp and 20Nm over the F-Type R.
Power is evenly distributed across all four wheels through an eight-speed automatic gearbox. The Coupe, weighing in at 1,705kg, can gallop up to 100kph within a short span of 3.7sec and on to a high speed of 322kph.
The marginally heavier Convertible, weighing 1,720kg, posts the same time for the 0-100kph sprint, but has a claimed top whack of 314kph. In terms of equipment, the SVR Coupe possesses a lightweight titanium and Inconel exhaust, fresh 20-inch forged alloy wheels, recrafted aerodynamics, a funky carbon-fibre rear wing, SVR performance seats and a heated SVR-branded leather steering wheel with shiny aluminium gearshift paddles.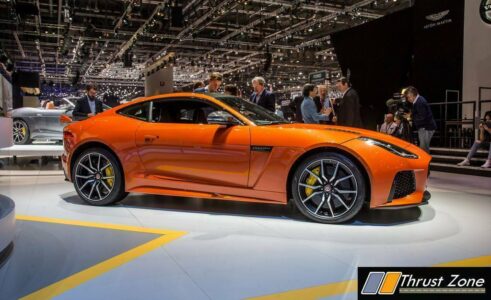 The Jaguar F-Type SVR Coupe is combative against the Porsche 911 Turbo S, Mercedes-AMG GT R and the Nissan GT-R, while the Convertible faces off against the Porsche 911 Turbo S Cabriolet.Jaguar in India has been receiving orders for the two-seater coupe and convertible. The deliveries are anticipated to be performed well within the next 5-6 months, depending on the customization.
Jaguar has also expanded the F-Type line-up in India. The range is now inclusive of the all-wheel-drive versions of the 550hp F-Type R launched in both coupe and convertible body types in addition to the British Design Edition for the F-Type V6 S.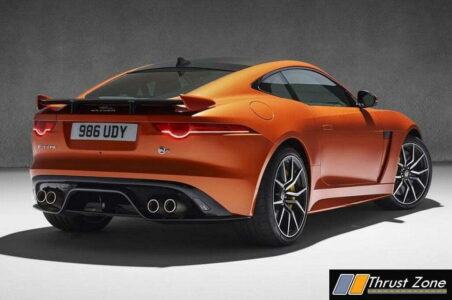 The British Design Edition is a unique version of the F-Type V6 S that is machine wise the same conventional model, putting out 380hp and 460Nm from its power packed V6 engine, but gets decorative changes on the inside and outside. The F-Type Convertible actually arrived at India with 495hp, though the facelifted edition which was revealed for international markets in January 2017 brought the power figure on par with its coupe sibling's 550hp.