Jaguar Ingenium Petrol Engines Now Produce 300 BHP, the highest tune for now is 240 BHp, expect it to make the cars more fun to drive
Jaguar has a new Ingenium petrol engine which produces a massive power of 296 bhp and a torque of 295 lb (133.81 kg) feet. The availability of this engine has been extended to the XE, XF, and the F-Peace. This is also the first time this engine has been available in car, following its entrance in the four cylinder F type, which was revealed at the motor show in New York earlier this year.
Jaguar claims that this new engine will have an outstanding fuel economy of 37 mpg (15.73 kmpl) for the F Peace, 40 mpg (17 kmpl) for the XF and 41.5 mpg (17.64 kmpl) for the XE which is pretty impressive. This CO2 emission for the Jaguar XF is 163g/km and for the XE is 157g/km. The CO2 emission for the F peace is yet to be confirmed.
This new engine has the best pickup in the XE which is 0-100kmph clocked at a time of 5.5sec, while the XF takes 5.6sec and the F peace takes 5.7 sec.
With a massive horse power of 296 bhp the XF will have a unique place in the market. The only car that can come close to this car is the Audi A6 which is also the warmed up S6. The other rivals (other than the S6) closest cars in terms power are either the diesel ones or the more performance oriented ones such as the BMW 5 series 540i xDrive and the Mercedes Benz E 350 d.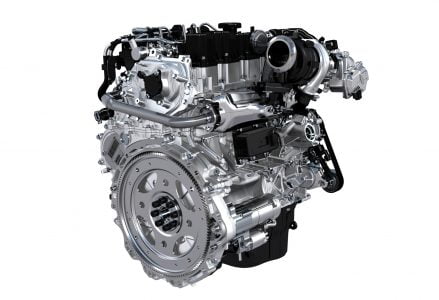 In February this year, Jaguar added to the ranges 3 cars with 197 bhp and 247 bhp petrol engines and making this the 3rd 2.0 petrol Ingenium variant in these ranges and hence sitting above the 250 bhp unit. Jaguar Land Rover has also planned to replace its V6 engines with 3.0-litre petrol engines. That means it will have a straight-six Ingenium petrol engines.