JK Tyre & Industries Ltd is a leading tyre manufacturer in India and amongst the top 25 manufacturers in the world with a wide range of products catering to diverse business segments in the automobile industry. JK Tyre is the only tyre manufacturer in India to be included in the list of Superbrand in 2019, the seventh time the honour has been conferred upon the company.
JK Tyre has global presence in 100 countries across six continents, backed by production support from 12 plants – 9 in India and 3 in Mexico. Currently, the capacity across all its plants is about 35 million tyres per annum. In April 2016, JK Tyre acquired Cavendish India Limited from Birla Tyres. While acquisition added three modern plants to its portfolio taking the total count to 12, it helped the tyre major foray into the two/three wheeler segment as well. In 2018, the company inaugurated its state-of-the-art Raghupati Singhania Centre of Excellence (RPSCOE) at Mysore.
Pioneers of radial technology, JK Tyre produced the first radial tyre in 1977 and is currently the market leader in Truck Bus Radial segment. With over three decades of technological innovation, JK Tyre offers tyre for entire range of passenger and commercial vehicles, starting from a 3 kg two-wheeler tyre to a 3.5-ton OTR tyre.
JK Tyre & Industries Ltd, today launched the new V-Compact R3 tyre at EXCON 2019. The 23.1-26 V- Compact R3 is designed especially for soil compactor application. This new tyre comes with non-directional tread pattern and broad tread buttons to provide better & even pressure during compaction.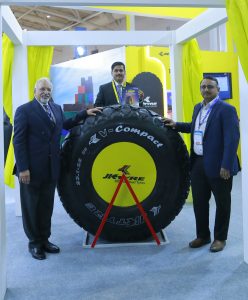 While the tread compound provides resistance to cuts, scratches, abrasions and punctures giving high load carrying stability, tread contours ensure self-cleaning advantage along with maximum contact area for better flotation and minimal soil disturbance. The tyre has heavy-duty nylon carcass construction using high denier fabric gives exceptional casing strength and reliability during operation.