KTM Duke 390 Quick Throttle Cam Review, After clocking 4,000 Kms suggests that this is the need of the day as it adds even fun more fun to the package
It should not be a surprise to most of you out there that we have a KTM Duke 390 Long Term motorcycle with us. Bought in July 2014 it finishes two years of unparalleled fun, adventure and a few sad stories that we have collected along with it. Duke 390 is the obvious choice in the market today when it comes to the budget which is around Rs. 1.5 -2 lakh. The time of a budget of Rs. 1 lakh has now stretched to Rs. 2 lakhs and hence the Duke 390 made perfect sense.
400cc [roundabout] motorcycle with 45 BHP and 35 Nm with the weight of a Pulsar 220 means ferocious acceleration, top speed and a lot of adrenaline when driven at its peak. The chassis, suspension and tyres are even bigger highlight making it a package hard to ignore. More so, when the moment you think about it for months and then you see it in the showroom and book it despite you came for 'window shopping'.
However, there are flaws with the motorcycle that we want to discuss, but let's keep that for a long-term review that will follow shortly. Let's focus on just one problem that I found a solution too. I have ridden three bikes before I bought the KTM Duke 390 that I owned, testing aside.
Three of them Pulsar's and had the same problem which we encountered after a year-long of riding. An annoyingly large throttle action. This is always done in performance motorcycles, at least our country-bred made motorcycles. Reason? To keep the new performance motorcycle enthusiast comfortable and safe. Once he matures out he has the option to get this 'thing'. I never changed it on the Pulsar's but this time i was sure, i needed it.
Going through social media allowed to witness a person who makes these kind of things. I contacted him and got to meet him shortly later. I asked whether it will fit the bike or not since he made it for the Pulsar 200 NS. With the bolt on grip cover ready that had the short throttle cam it was real use to install. We quickly met up and got it installed. I had to change the grip cover to the 200 NS one, but since I had already soft grip covers that I like, I bolted mine on it as well. I went for a quick test ride and noticed a subtle amount of response in low-end and that I don't need to wait for throttle now, but it to reach the power band so I can make progress.
Something that starts around 3000 RPM and then 6000 RPM. I wasn't taken back with the response, but I was happy with it. The guy said there isn't much responding because my chain sprocket was loose and filter needs cleaning. Got all of it done and then again, I could witness more responsive than before. Overall, if I can compare my 1.5 years behind the handlebar with the bike and now, I can see the response is pretty large.
The top-speed is achieved quickly as well too. Before 145 km/hr used to come quickly and now the same happens with 150-155 km/hr on an empty stretch of road. Launch it even moderately off the line and there is a bit of wheelie now and if you are a light rider, I did notice wheel spin in slow speed corners, coming out fast on not so perfect roads and smooth roads as well. The spin can be bigger for lighter riders.
So, is the Rs. 1,000 for it well enough? Absolutely. It is just a small bolt on, so it's done in less than 10 minutes or so. The response is better, but it doesn't push you back in the seat. At least, I witnessed the same because I am a heavy rider. Is it a problem in traffic? Nope, it isn't.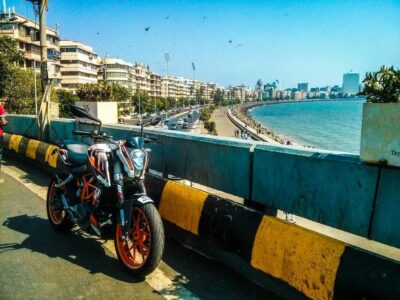 In fact the shorter throttle makes thing better, closing gaps quicker were primary need and this does it just fine and hence i am satisfied with the product and what it offers to me. Should you get it? Give it a try, I am sure most of you will like it only if you have witnessed this stock throttle delay and hate it. Overall, this isn't a thing to fault with and there are other solutions out in the market, which are way more five times more expensive as well if you look it up some e-commerce websites. Another reason the one seen here makes a compelling case for itself.
[review]
Read this too: KTM Duke 390 Review also live!
Read this too: KTM Duke 200 vs Duke 250, Ridden! What should you buy? Sibling Comparison review!
Read this too: KTM Duke 250 Review also live!
Read this too: KTM Duke 250 vs all its rivals in a spec comparison
Read this too: KTM Duke 250 launch report, features list
Read this too: 2017 KTM Duke 200 launch report, features list
Read this too: 2017 KTM Duke 390 Adventure, all the spyshots
Read this too: 2017 KTM Duke 200 Gets New Tyres
Contact Mr. Dhaval Mahidharia for this and other various KTM bits and bobs