Lexus India Entry Confirmed! RC-F Coupe And RX SUV Imported, Launch in early 2017. Saloons and SUV with petrol and hybrid engines incoming
Ever since the Qualis times, Toyota's success has been its rivals envy in the Indian market for years. Now, Toyota is preparing for a new chapter in India by bringing its premium Lexus brand to the country officially. The arrival of Lexus in Indian market has been in the rumours since long now, however, it always got delayed. Now, good news has arrived for the lovers of the premium ultra luxury Japanese subsidiary of Toyota in India. In a short period, two premium Lexus models have been spied on the Indian roads, the Lexus RC-F and the RX SUV. The latest spied model is the very interesting Lexus RX 450H, a Hybrid SUV shared by Car&Bike. The company is set to start its Indian foray early next year, with one dealership each at Mumbai and Delhi.
The Lexus RC-F that was spied just a while ago is a Japanese rival to the stunning BMW M4. This gorgeous authentically Japanese sports saloon has a 5.0-litre V8 VVT-i petrol engine producing 460 BHP and 527 Nm of torque. This rear wheel drive car comes equipped with an 8-speed Sport Direct-Shift transmission. With these figures, the car can do 0-100 km/hr in 4.4 seconds and can hit a top speed of 270 km/hr. Styling on the car is typically Japanese, thus unique and much different from its European rivals. However, we are not sure if the RC-F will be the part of the first batch of launches in India for Lexus or not, as the market for the BMW M4 and its rivals is fairly limited here.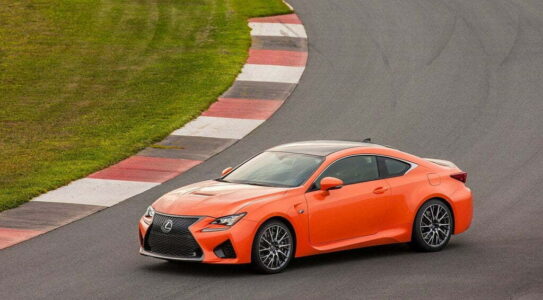 The other model that has been spied at what looks like a stockyard is the Lexus RX 450H. You can think of it as a Mercedes-Benz GLC, BMW X3 rival. Interestingly, the spied model being a hybrid one suggests Toyota will go the Camry Hybrid way for the SUV, which we reckon is a good step by Toyota as Camry Hybrid is already getting the company really good numbers in the Indian market. The Lexus RX 450H is a sharp looking SUV with the trademark huge Lexus grille. It is powered by a 3.5-litre V6 VVT-i petrol engine paired to an electric motor and churns out a combined output of 304 BHP. Later as per the reports, the RX 450h might also get the standard and F-sport variants. Stay tuned for more updates on the same.