The XUV 300. It is already doing rounds the country and is a clear winner of our comparison test when we did a shootout with its main rival, the Ford Ecosport. Both back then were diesel options. This is the first time we have the petrol XUV 300 with us. A segment which requires petrol and somewhere Mahindra hasn't done anything in the past, forget about being good or bad. However, on paper this motor seems very potent. We did our road test to find out how is it like.
The design and interior are identical, there isn't even a badge outside which signifies whether this is a petrol or a diesel to begin with. The front is subtle and loud at the same time thanks to clean layout of the grille and huge DRL respectively. 17-inch wheel alloy wheels grab attention, so does the long wheel base and chopped of rear with large tail-lamps grabbing attention for right or wrong reason, which is upto to you to decide as styling is subjective.
That large wheelbase lends it a lot of space on the inside but lacks boot space. It has front parking sensors, steering modes, heated mirrors, cruise control, auto start-stop, traction control, 7 airbags, auto IRVM, dials with changing lights, eco sense extra over the usual features found in other cars in the segment.
The petrol 3-cylinder motor makes 110 PS of power and 200 Nm of torque which is class leading by a subtle margin. The motor is terrifically refined and NVH levels are the lowest even when considering road and wind noise. Engine even at redline doesn't make its presence felt much and you can barely hear the muted exhaust note. The engine revvs freely and cleanly all the way till redline and is almost quick revving too. 6-speed gearbox is smooth to slot and gates are almost well defined. The long and light throw of the clutch and gear lever takes some time getting used too.
Low and mid-range is spot on and progress till 150 km/hr is good, post that it struggles as the kerb weight is higher at 1200 kgs. Top-end power isn't the engine's forte but it extremely high on driveability and has adequate performance which makes it a common man's delight and enthusiast can enjoy the mid-range or just opt for the diesel. Surprisingly these high-tech engines do not have driving modes. We got 9.5 km/l in our overall testing on the highway and dense city driving.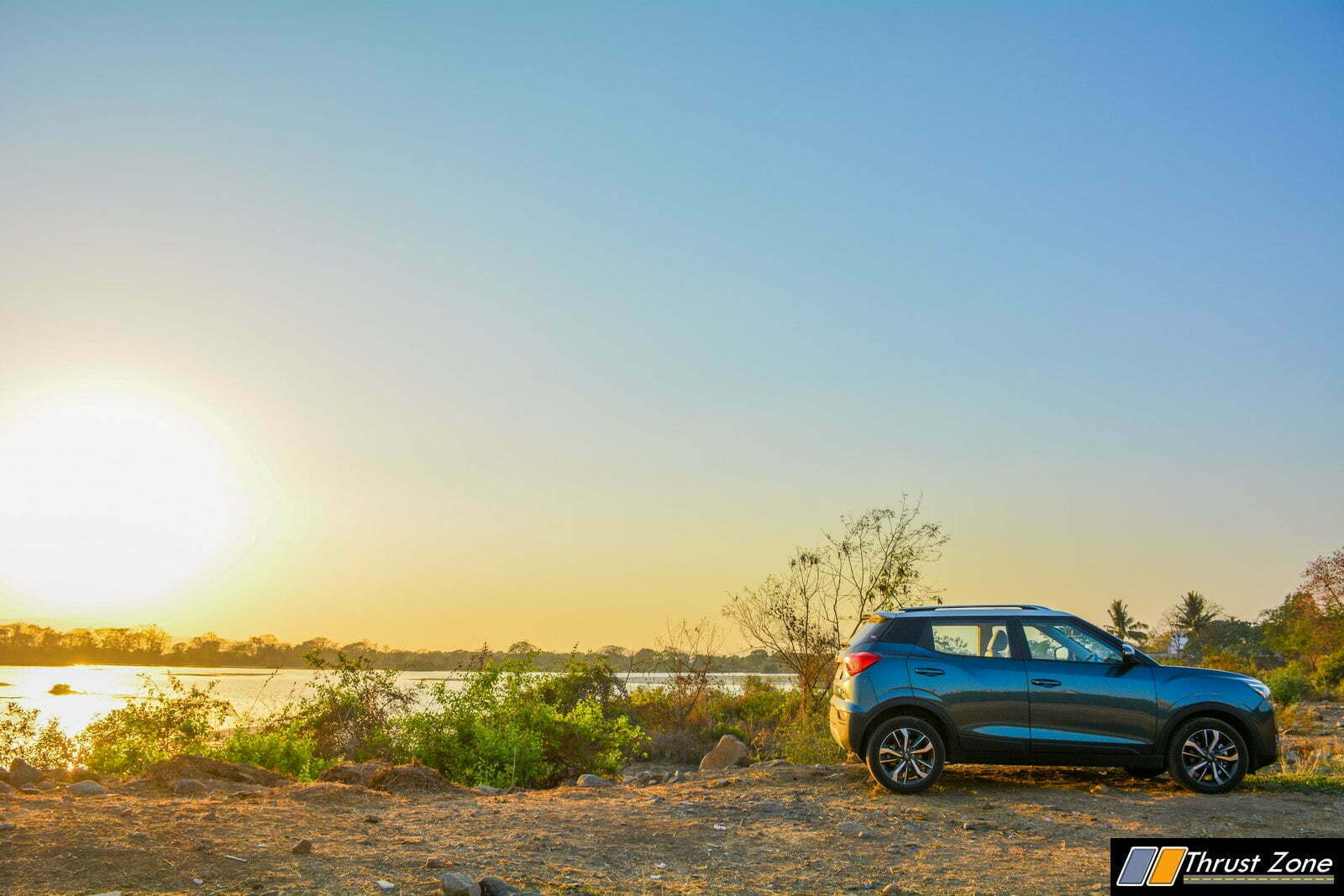 Dynamically, the car feels much lighter than the diesel and the same suspension setup means it agile and nimble in the city and in the corners. It is poised till medium speeds and in straight lines. However, quick lane change displays body roll and car has a fair deal of vertical movement.
Both of them are well controlled though. Grip is excellent when it comes to compound and physical limit of the tyres. Steering weighs up at center but still feels artificial. Feedback is alright but precision and lightness makes this car easy to drive. Brakes are excellent with disc brakes all around and so is the pedal bite for city and highway run.
Mahindra XUV 300 Petrol Review, Verdict
Overall, a likeable petrol engine with adequate power and performance means both sides of the driving fraternity can be happy with this motor for a long time. XUV 300 petrol makes more sense because it is cheaper than the diesel and comes with identical features set. If your driving style and commute distance requires a petrol, there is no other option in the market which gives you a turbo petrol at flexible price point which also establishes the fact that the XUV300 is the best packaged Mahindra till date.
Read this too: XUV 300 Diesel Review