The competition in the luxury EV market has heated up thanks to the entry of the Mercedes AMG EQS 53. Pitted against Audi RS e-tron GT and Porsche Taycan, this new entry has offered prospective buyers one more credible option that can be considered before making a final purchase decision. We compare all these three offerings on paper to find which one of these comes out on top.
Dimensions
Mercedes comes out of the top on the crucial parameter of space as the luxury electric sedan is the longest car and has the longest wheelbase in this comparison. AMG EQS 53 is over 5-meter and features a wheelbase of 3210 mm while Audi and Porsche have a similar wheelbase of 2900 mm as both are developed on the same platform. That said Porsche has the widest cabin and lowest stance among the three which makes it sportiest in the lot.
Features and Equipment
All electric luxury sedans in the comparison are very well equipped and feature air suspensions, large touchscreen infotainment, multiple screens, panoramic sunroof, automatic climate control, and luxury speaker sound system among others. From the safety perspective, all sedans boast solid credentials and feature multiple airbags and ADAS technology. Porsche is the most driver-centric in terms of its layout and cabin although only Mercedes in this comparison comes with the proper 3-seat rear bench while Audi and Porsche feature sporty rear seats capable of holding only two persons at the back.
Power and Performance
Taycan Turbo S is the most powerful car in this comparison and it is also the quickest in its sprint of 0-100 kmph. Porsche also has the highest 1050Nm of max torque which is 30Nm more than Mercedes and a good 220Nm more than Audi. All three sedans have got the Dual-Motor all-wheel drive (AWD) arrangement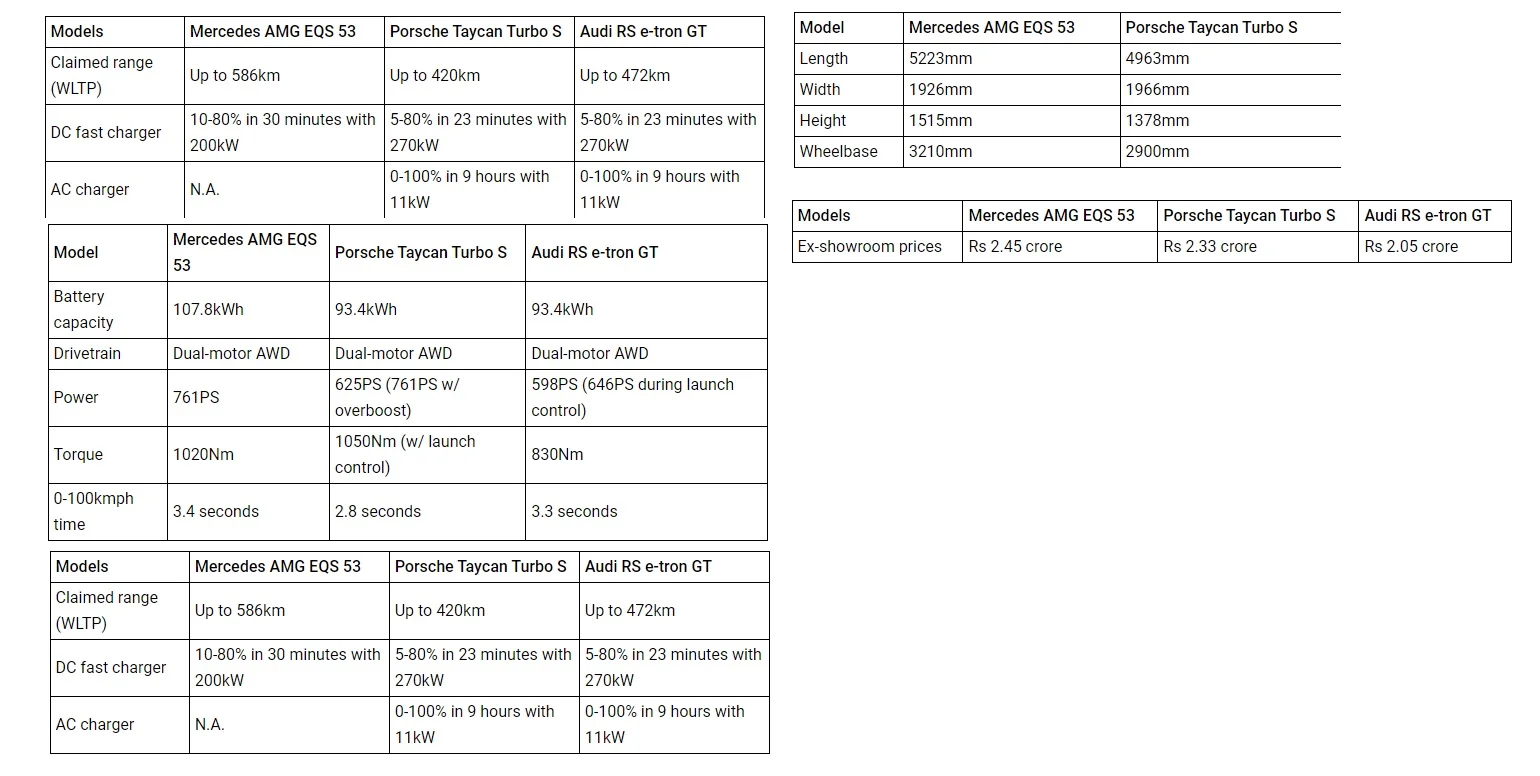 Battery and Range
The larger capacity battery of Mercedes manifests its utility in terms of offering the longest range (up to 586 km) which is way ahead of the ones offered by Porsche (up to 420 km) and Audi (up to 472 km). The charging time with the help of a DC fast charger is almost similar for three sedans although Audi and Porsche can handle up to 270kW of fast charging while Mercedes can accommodate only 200kW of fast charging.
Price
In terms of the price, the Mercedes AMG EQS 53 is the costliest in the lot with a price of Rs 2.45 crore but it does offer the most thoroughly equipped cabin with the convenience of maximum travel range to customers. Porsche Taycan Turbo S is a bit lower in terms of asking price (Rs 2.33 crore) although it's the Audi RS e-tron GT that comes at the lowest tag of Rs 2.05 crore. All three sedans are imported to the country via the CBU route which partly explains the high price points they are stacked to.