MotoRoyale Offers SWM, FB Mondial and Hyosung will be sold through one dealership nationwide through many outlets
Motoroyale, Kinetic group's venture of multi-brand superbikes, today announced three further global brand tie-ups and the launch of seven new superbikes in what can be termed as a historic event. As the country's first multi-brand superbike manufacturer, Motoroyale endeavours to be the one-stop shop for bike enthusiasts and will provide Supersports, Street Nakeds, Cruisers, Hipsters, Off Roaders, Tourers and many other motorcycle segments in India through world-class showrooms in the 6 top cities in India in phase 1.
The company announced their first brand association with MV Agusta, an iconic Italian brand in May 2016, followed by an international joint venture with Norton, a legendary British motorcycle brand in November 2017.
Now, Motoroyale announced their tie-up with three additional international brands – SWM, FB Mondial and Hyosung.
SWM and FB Mondial are both Italian heritage brands, while Hyosung is based out of South Korea and was first launched in India by the Kinetic group and has a base of 7000 customers. The Hyosung's are built for comfort, speed, quality and a value for money proposition.
Today, Motoroyale unveiled 7 new products from different categories and brands giving justification to its concept of being a one-stop shop for all bike enthusiasts.
MV Agusta Brutale 800 RR:
From the street naked category, the Brutale 800 RR offers the best power to weight ratio in the market, with 140 BHP making it a real monster.
Limited Edition Norton Commando and Dominator:
Norton makes the popular Commando and Dominator motorcycles, which are 961 cc, all British marquee classics. Motoroyale announced the 37 units limited edition Norton Commando and Dominator exclusively for India.
SWM SuperDual:
Motoroyale launches SWM based in Italy with its first product, the SuperDual which is a true on road-off road motorcycle making it one of its kind.
FB Mondial HPS 300:
Motoroyale also announced an all new category of the Hipster, with the FB Mondial's HPS 300, which is a modern retro motorcycle for people with taste.
Hyosung: Aquila 650 and GT 250 R
The Aquila 650 and the GT 250 R completes the range of Motoroyale by offering cruisers and sports bikes at a very attractive price point.
These brands will now be available through Motoroyale, which is part of the legendary Kinetic group, a name that has resonated among Indians for the last four decades, having launched iconic products like the 'Luna' and 'Kinetic Honda'
The motorcycles will be assembled in India at Kinetic's plant in a dedicated space for Motorcycle stretched over 52 acres in Ahmednagar, that holds a capacity of assembling 30,000 vehicles annually.Motoroyale has set up world class facilities for engine and vehicle assemblies for its various brands taking into consideration the product quality and service.
Motoroyale shall revamp its entire dealership network and has planned launches of all new dealerships in the coming months in October, Thane – Mumbai, Hyderabad, Chennai, Delhi
Followed by Cochin and Bangalore showroom launches in November.
Motoroyale is also looking for the correct dealership applicants and plans to open another 6 in the coming 12 months in cities like Pune, Indore, Chandigarh, Ahmedbad, Jaipur, Kolkata and other important markets.
Annexure
Given below are some of the key features of the brands and their products launched:
MV Agusta:
Based in Varese, MV Agusta is considered the holy grail of all motorcycles, touted as the most premium and exotic motorcycle of all times. MV Agusta has made some legendary products such as the F4, F3 and Brutale RR800. MV Agusta is the only brand that has won the MotoGPchamiopnship 37times, the grand Prix 270 times, with as many as 3028 champions on the podium.
Brutale RR
• Arguably the Best Looking Street Naked with beautiful dual tone colours
• Raw unadulterated power of 140 BHP
• Weighing in at just 175 Kgs Dry it is one of the lightest streets Naked's on road.
• Loaded with state of the art electronics package.
• Full ride by wire.
• 4 Riding Modes – Normal, Rain, Sport and Custom.
• 8 Level Traction Control.
• Bosch 9 Plus ABS with RLM (Rear Wheel Lift Up Mitigation)
• Slipper Clutch, Brembo Brakes and many more features
Norton:
Based in Donnington, England Norton was founded in 1898, making it one of the world's first motorcycle manufacturers, with a legacy of 117 years.
Norton specializes in hand built, all British classic motorcycles with the Commando and Dominator series. Norton has entered into a joint venture and plans to make India one of its manufacturing base.
Commando:
The Norton Commando is a twin cylinder motorbike, with an engine volume of 961 ccs and a maximum torque of 90 Nm at 5200 rpm and power of 80 PS @ 6500 rpm. Every Norton bike is painstakingly handcrafted instead of being churned out of factories at intervals, which means that it commands great respect in the motorcycle industry.
Norton Dominator:
The Norton Dominator is a twin cylinder superbike with an engine volume of 961 ccs and a maximum torque of 90 Nm at 5200 rpm and power of 80 PS @ 6500 rpm.
Limited Edition Norton:
The Commando Norton India editions – come with an all black finish, and with a special gift from England – the British flag handpainted on the tank by the talented artists at Norton. The dominator Limited edition comes with an aluminium tank.
These 37 Norton's shall have the customer name embossed on the bike and a special number allocated to them
SWM:
SWM Stands for SironiVerganiVermacate Milano also known as Speedy Working Motors, is an Italian brand started in the 1970's, specializing in the off-road segment. SWM is currently based in Varese near Milan, having acquired the BMW Husqvarna factory and is one of the fastest growing manufacturers of on-road off-road motorcycles.
SuperDual 650:
• Single cylinder 600 cc engine
• 54 BHP & 53.5 NM of Torque
• Great ground clearance and extremely lightweight, weighing only 169 Kgs
• Brembo front and rear brakes with Switchable ABS.
FB Mondial:
Fratelli Boselli also know as FB Mondial is a legendary brand from the 1950's in the 125cc category. It has won 10 grand Prix championships; between 1949-1957. Recently, Count Boselli, the owner of the brand has tied up with Caesar Galli to relaunch globally the FB Mondial with the HPS 125 and HPS 300 products.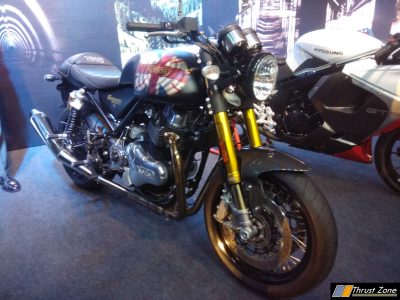 HPS 300:
• Powerful Single Cylinder 250 cc Liquid Cooled Engine
• 24 BHP & 22 NM of Torque
• Ultra lightweight motorcycle which weighs only 135 Kg, making it a breeze to ride
• Front floating disc brake with Bosch ABS Modulator
• Full stainless steel double barrel exhaust system with a great throaty exhaust note
• Unique and beautiful Hipster design with a dual tone fuel tank.
Hyosung:
Korea's biggest motorcycle brand now part of the Kolao group has been in India since 2003. It specializes in cruisers and 250cc sports bikes. Hyosung has a customer base of 7000 customers in India and has tied up with Motorcycle to expand further.
GT 250 RC:
• Twin cylinder sports bike with a 249 cc engine
• Produces 28BHP at 10000 rpm and a torque of 22.07 Nm at 8000 rpm.
• It has five gears and holds true to the official tagline of "Big on Attitude. Big on the Road."
GV 650 Aquilla Pro:
The GV 650 is the biggest and one of the most powerful in the Aquila series.
• It has a 647cc 8-valve engine that produces 74bhp and 62Nm of torque.
• It is belt driven and has a five-speed gearbox.
• The cruiser is built on a perimeter tubular steel cradle and boasts of upside-down telescopic front suspension and hydraulic double shock absorbers at the rear.
About Motoroyale by Kinetic
The motorcycle is a part of the Kinetic Group of companies, a pioneering automotive group in India. Kinetic has been in the automotive business since 1972 and is widely known for its innovative products. Kinetic has always been known for introducing advanced technologies in India and has extensive experience in retail as well as in after-sales service for two-wheelers, and Motorcycle envisages persisting with the same.
Motorcycle launched MV Agusta in 2016 followed by NortonJoint Venture announcement in November 2017, with an overwhelming response in the Indian automobile market and award-winning product range. It now has 5 brands and 9 products in its range starting from 250 ccs to 1000 cc and price range of Rs 3L to 60L making it true to its concept of a multi-brand store for one and all.
Motoroyale will launch 6 new dealerships in Thane – Mumbai, Delhi, Hyderabad, Chennai, Cochin and Bangalore in phase 1 and 12 new ones are expected in the next one year.