New Honda Civic Revealed At The Auto Expo 2018
The new Honda Civic is revealed and we can't wait to get our hands on it.
Honda promised us in the recently concluded Tokyo Motor Show that it will be storming the Indian automotive market with the introduction of six all new cars in the next three years. Now the good news is that Honda India has showcased some of the new cars in the much anticipated Auto Expo 2018 in Greater Noida.
The car which that is the highlight of the Honda stand is the new Honda Civic. When Honda first launched the Civic in India it's sleek design, low bonnet line and luxurious interiors were instant attention grabbers and Honda priced it right too, if slightly on the higher side. With the Civic discontinued, Honda had a huge gap in the line-up which the Japanese manufacturer wants to fill with this new avatar of the Civic. The new Civic makes a surprise appearance in the Auto Expo 2018 and if the gods permit, Honda could even launch it by the very end of 2018 or thereon.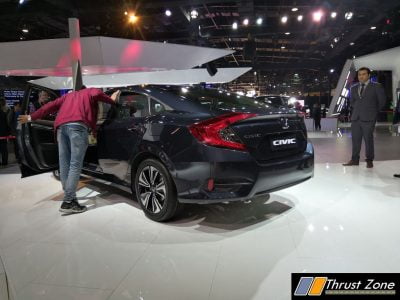 The new car with its sporty looks and a pseudo hatchback-like rear is sure going to be a head turner. However the Civic that will launch in India will be different than the one displayed at the Auto Expo. Expect the new Civic to come with some India-specific changes like taller ride height, differently tuned suspension and new interiors. Just like the previous iteration, Honda may slot the Civic in between the City and the Accord. The expected candidates in the powertrain department are the naturally aspirated 1.8 litre petrol V-TEC and the 1.6 litre diesel engines, the latter will power the new generation CR-V as well.
Make sure you stay tuned to Thrustzone so that you'll be well updated about all the action and drama on the 2018 Auto Expo. Go to our homepage now to get all the latest updates.