Enchanting –
A modern evolution of the Thunderbird in terms of design
Superlative chassis, brakes, engine
Quicker and fuel efficient by a substanial margin over the previous version
Good quality and essentinal features offered
Unsatisfying –
Royal Enfield has been the most proactive motorcycle manufacturer in the country. However, it wasn't like this in the decade that went behind us. In the latter half, it became proactive when it comes to product. Earlier it was mostly activities. It updated to BS4 and then bought a lot of limited editions of the same motorcycle. Some were controversial too. Things appear to change dramatically once the 650 twins came.
The men at RE said this is just the beginning. We didn't doubt that and now they are delivering. We are looking at a lot of launches lineup and the Meteor 350 is again the start of a new chapter. RE is using a platform like how a customer chooses customization for its motorcycle at a dealer. Picking various things for its motorcycle to look cooler while RE is doing that on a larger scale (of course) making a motorcycle that attracts the audience to that showroom itself. Meteor 350 is a start and hence we started analyzing it after spending a lot of time road testing it. How is it? Let's find out!
Design
It does look like Thunderbird returning from a long stay in a foreign country. It has become sophisticated in appearance with swanky new colours chosen for its clothes and subtle amount gym in both upper and lower part of the body to make it look beefy without being shouty. The Thunderbird was taller and longer, but this is now shorter and hence it looks beefier than before. The teardrop design from the tank to the seats mounted on the rear subframe is the highlight. The cowl on the rear subframe is very old school and could be shorter, just like the front tyre hugger.
The rest of it, including the classy design of the crankcase, alloy wheels and retro-modern headlight makes it look the business and attract the cruiser crowd along with making other biking enthusiast stand up and take notice of this design and go "hmm, not bad." What also makes the Meteor 350 grab notice is the good quality materials and great fit-finish on offer for a price point and given its mega departure from its previous way of screwing a motorcycle together. Now it is done neatly and cleanly.
Ergonomics, Switches and Cluster
The switchgear is all-new with switches that look like mini toggle switches and is a welcome addition as it breaks the monotony of the age-old switchgear. However, it still isn't lit up as its rivals. Talking about convenience, the seat height is very low at 765mm and is a well-bolstered seat with soft cushioning means weekend and everyday rides should be good.
Touring should be fairly ok for all body types as well. Our Mumbai-Pune runs have quite comfortable, but we think there is room for adjustment. The front set pegs are debated but then again, that is how cruisers are made. It is just that we are getting used to the roadster format more often now. The dial on the left side comes with an analogue speedometer and a digital readout for mileage, trip meters, fuel gauge, service indicator, and a clock. The tripper offers a navigation feature once you connect to your device via Bluetooth.
Engine
Riding the Meteor 350 with the new OHC engine which is devoid of pushrods has not made it entirely lose its character. The soundtrack remains the same at the exhaust end, but now considerably muted. However, the sound is similar to the past 350cc engine equipped motorcycles. The upside to the new engine is the fantastically well-controlled NVH level, which is very low. The smooth engine loves to rev and makes torque in the mid and low-end. Top-end power isn't in ample supply and that means you can cruise at 90-110 km/hr at max. It can max out at 130 km/hr and that too takes time.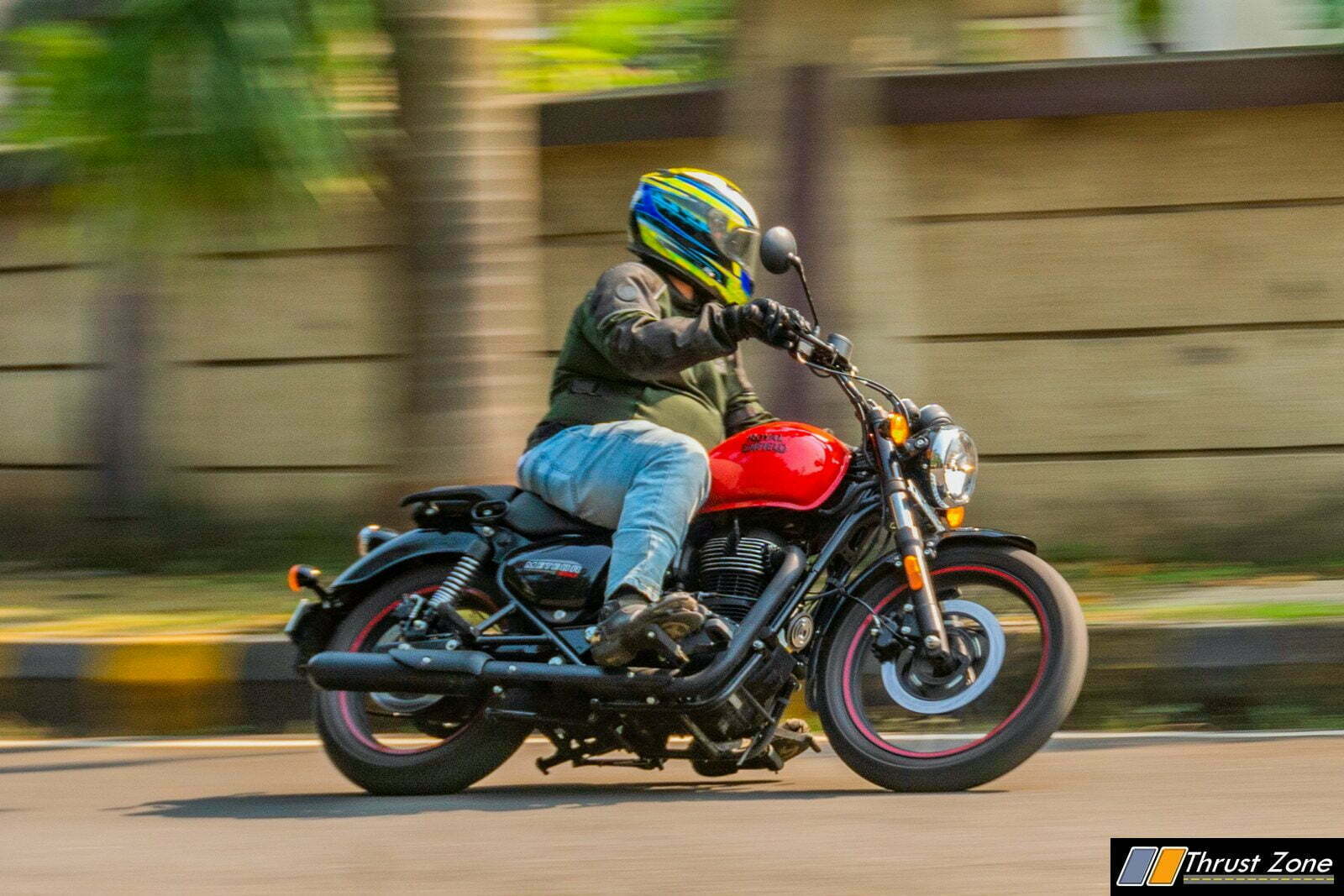 So, this makes it a RE of the past but far easier to live with thanks to the engine, light clutch and much better gearbox than before, which can be clunky momentarily. The 20.2bhp and 27Nm numbers along with kerb weight just under 190 kg, give it just about ample performance, which is at least 8-9 seconds quicker than the Classic 350 and that makes it a revolutionary change. We have been getting 32 km/l in the city and 37 km/l on the highway, making it an impressive bike when it comes to fuel economy and tank range of 550 kms.
Riding
Dynamically, the ride quality is stiff for the riders who are below 80 kgs of weight. While riders higher than that felt that suspension is just right and even heavier riders felt that it is on the softer side. The low seating, however, doesn't help both types of riders as most prefer motorcycle ergonomics to cruiser ergonomics, which transmits more rough roads to the rider. Suspension at the front is quite well-calibrated and it provides good feedback despite it dives slightly at hard braking.
The braking is also good with enough power from the brakes but the lever bite is on the commuter side which means it isn't sharp and it isn't meant to be on a relaxed cruiser format motorcycle. Ground clearance is good but cornering clearance can be bothersome if you push it quite hard. Tyres provide a good grip for the role of the motorcycle with enough grip for safe braking and moderate speed cornering. Turn-in is quick enough and the motorcycle feels agile and nimble in the corners and in the city. Highway stability is also good as it ends up providing more than enough confidence while cruising near its limit.
Royal Enfield Meteor 350 Review, Verdict
The cruiser is another beacon of light for the manufacturer which creates a path to more motorcycle likes this because this one, as you guessed it, creates a new benchmark. A roadster format could see this platform gaining even more traction from the enthusiast of that segment, which accounts for a large number out there, as much as the cruiser segment does. All of that makes this a win-win situation for Royal Enfield not just in the present but in the future as well. As if it didn't have the same situation in the past either. Royal Enfield has had a large market share irrespective of criticism or dated products. With the lineup now going smoothly and with the platform having more gravitas then ever, a legacy is being charted and we cannot wait to document it.
Royal Enfield Meteor 350 Review
Design

Features

Safety

Comfort

Performance

Dynamics

Value

Practicality