Skoda Kamiq SUV model has been spied. This could be the name of sub four meter SUV or could be bigger and be the cousin to the VW Tiguan
There is a new Skoda Crossover that was revealed for the Chinese market years back and we came to know that it was India bound. The perfectly sized SUV is headed for the Indian market. Launched was delayed time and again. Skoda Kamiq SUV India-specific model was caught testing months back in India and now testing has begun again in India. Fully undisguised with the nameplate on the tailgate means this is last-minute testing. We can expect the launch in the next two months. Let's look at what the car could get.
Skoda Kamiq SUV India Design and Dimensions
From the information, we know that the Skoda Kamiq is 4,390 mm long, 1,781mm wide, and 1,593mm tall. It also has a wheelbase of 2610mm. On comparing with the Karoq which is sold in the international markets its dimensions are less. To be exact it's 8mm less in length, 60mm in width, and 12mm in height. Even the wheelbase is shorter by 20mm.
Coming to the design and the styling the Kamiq looks a lot like its larger SUV siblings although there is some tweaking been done on the headlamps, tail lamps, front and rear bumpers, and also the tailgate. The interiors of the crossover are of a 5 seater SUV with good quality and Karoq/Kodiaq inspired interior. Features list could include the usual bits along with six airbags, Apple Car Play, and Android Auto along with a sunroof could be on the cards. LED lights at back and front, electric mirrors, and a lot more are expected too.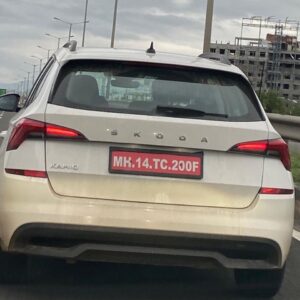 Skoda Kamiq SUV Engine And Specification
Under the hood it will get the 1.5 liter TSi brilliant motor, to begin with. Making around 150 PS and 250 Nm of torque. Diesel will be missing from the hood for at least two years. 7-speed DSG will be mated to this car. 1.0-litre motor can also come with a 6-speed manual and 6-speed torque converter. It will be a front-wheel drive variant for now. All-wheel drive can come later.
Skoda Kamiq SUV is coming as the third SUV in the Indian market from the manufacturer. Karoq was launched in June 2020 and Kodiaq will be re-introduced as a petrol-only variant shortly. Something that was done in June 2020. What remains to be seen is how the pricing is going to be like. Volkswagen equivalent of the SUV will be the all-new Taigun showcased in early February 2020.
Read this too: Skoda Kliq is Skoda Vision IN
Read this too: Skoda Rapid petrol vs rivals
Read this too: Skoda Superb Petrol India launch
Read this too: Skoda Karoq India launch
Read this too: Skoda Rapid Turbo petrol launch
Read this too: Skoda Karoq digital buying experience
Read this too: Skoda Kodiaq Octavia VRs 245 launched
Read this too: Skoda Kodiaq petrol India launch
Read this too: Skoda Enya India launch
Read this too: Skoda Octavia RS next gen 2021 launch
Read this too: Skoda Kodiaq diesel review