Tata is on a roll and so is the CNG market. The launch of CNG twin models which are already popular models for the brand when it comes to sales should help them deliver more to customers. Nothing like combining all of this together and make it available in times when fuel prices are high, demand is changing and so is the need to clean up the environment. CNG helps in every way and it has always been on the radar of the consumer. Waiting for the warranty to get over so CNG can be fitted are things of the past now. Factory-fitted CNG is the number one agenda for manufacturers. Maruti and Tata are on it and we found a lot for you after road testing both cars thoroughly over 900 kms for you to tell you what they are like.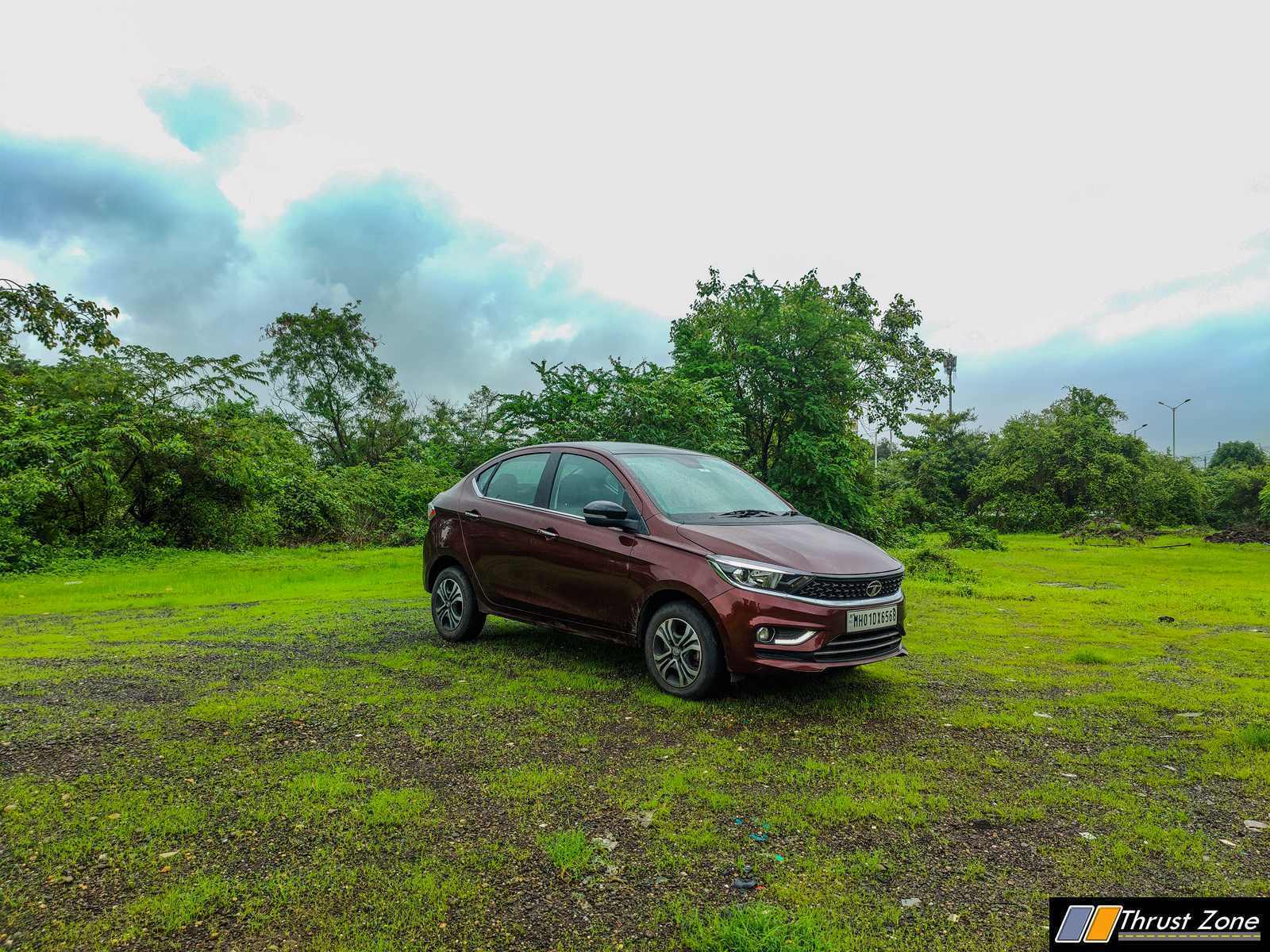 On the outside, the 3.8-meter hatch and 4.0-meter sedan have the silhouette of a modern car. The elements on the cars such as the grille along with the head and tail lamps make the twins fresh, muscular, and contemporary. The side profile of the Tiago is our favorite. Tigor meanwhile has the best sedan notchback design we have seen in a new sedan. The build quality on the outside seems good enough and it gets a four-star GNCAP rating.
On the inside, the build and quality are quite good. Texture plastic makes way for a very good feel-good ambiance. The stowage is good, charging points are in plenty, and overall a very practical cabin. The feature list, we have explained time and again in our launch reports. You get a touchscreen with Android Auto and Apple Car Play. The sound system is excellent considering the segment. The dials are lifted of premium cars of Tata's portfolio. The horn button is really confidently placed, unlike its rivals. Projector lamps, steel wheels, halogen lights, LED DRLs, a slightly old school instrument cluster, manual IRVM, parking sensors, electric ORVM, armrest and start-stop button in the Tigor make up as the feature list on the twins.
Steering-mounted controls, a very good infotainment system, and enough features make the SUV a great purchase in this segment at this price point. The space is quite good too. The shoulder, head, leg, and knee rooms are segment standard and better as always than all its rivals. The boot space is compromised on both cars with little space to spare for a laptop bag. Road and wind noise inside the cabin is also well controlled, but road noise can get intrusive and wind noise also does after 120 km/hr. The safety kit includes ABS and EBD with two airbags that come as standard.
The only option is a petrol 1.2-liter engine making 73 PS and 95 Nm of torque is almost a free-revving engine. However, the engine is low on NVH. The 3-cylinder boom is well-contained unless you are pushing it like a rally driver. The clutch is light and so is the gearbox to operate. The twins deliver spectacular fuel economy on the highway and city. We saw the claimed number on the Mumbai-Pune highway of 22 km/l on the CNG mode and petrol delivered 16 km/l.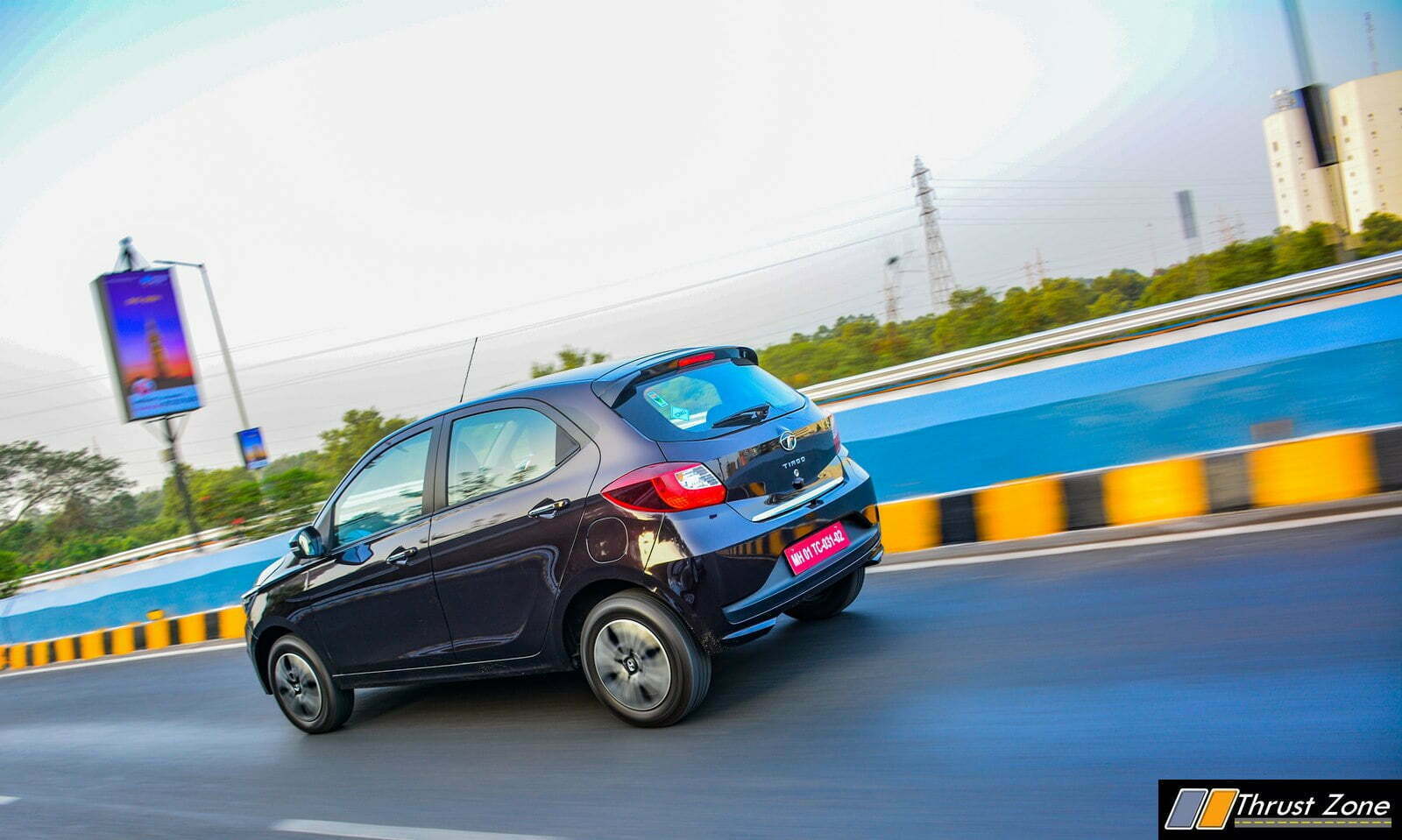 Switching to CNG and petrol mode was convenient and helped us achieve a good tank range which showcased that the combination of both these is an ideal replacement for diesel. Not entirely economical but driving far off with filling up less. Our moto with the CNG twins was how much they could do with one tank of CNG and petrol and they reached 580 km with a bit of careful driving.
Low and mid-range are good in CNG mode and the top-end is not that great. Switch to petrol and then you can rev it higher to get more power to the fullest. The twins can cruise at legal speeds easily and overtaking is not a big issue, unless you are fully loaded which can be a bit of a struggle on inclines of hills and not city flyovers. This makes it good enough for city duties. Tata claims CNG fills faster and we can only see a small change over other cars which was confirmed by other CNG car owners at the pump.
Like most Tata cars, the low to medium ride quality is stiff which lends great body control at low speed. However, the compliance is enough that we can rate this ride quality, excellent! Ground clearance was also well-matched for our roads despite it isn't close to being an SUV. The suspension setup is spot-on in many ways thanks to a very sophisticated setup used in both cars over the petrol counterpart and way ahead of its peers. The high-speed ride is rock solid on any given highway.
Body roll increases as speeds get higher while taking a corner or changing lanes at high speeds. The car continues to be stable in the situation regardless of the road or corners. Steering is light, precise, and has great feedback on offer which makes the car fun and 100% confidence-inspiring to push harder. The brakes are good with a well-done pedal bite. Overall, very easy to drive and quite fun to drive by far compared to all their rivals.
Tata Tiago and Tigor CNG Review, Verdict
There is no denying Tata cars have come of age. Everything felt just right in both cars over a prolonged amount of testing. Never have Tata cars been this good, consistent, and fun to drive. CNG and petrol combination offers a very good range which fills the gap physically for the diesel that has gone by. Fun to drive, contemporary looks, and solid pricing strategy which include offering a bit more premium to consumers with CNG as well have helped the brand do well since its launch. Numbers continue to increase and to date, Tata has a much stronger hold in the market than ever before thanks to these two. Clearly, you can choose any in your budget and won't regret this package which is done just right.
Tata Tiago and Tigor CNG Review
Design

Interior

Space

Features

Performance

Dynamics

Safety

Value

Comfort

Practicality