The last time i remember getting a lot of glances, non-stop staring, being followed around, both genders smiling after looking at the car happened when we were testing a Rs 3. crore supercar. Surprisingly all of this happened again when i was in an entry level Japanese luxury saloon, the Lexus ES in its new generation. Above all, a smile from a small girl sitting on her fathers British motorcycle fuel tank saw the grille and made surprising gesture followed with a smile clearly shows where this car is heading. It is head turner by a long shot.
I don't think that is going to ever happen to me again. A blue color sedan with a massive grille up front, sharpened edges all around, a long and low roof line with perfectly cut window line at the C-Pillar with 18-inch brushed chrome wheels is a contrast done as right as your mother picking your clothes for that very first interview.
There are also incredibly good looking tail-lamps on offer that can get you attention from the corners of the country and from all ages and genders of this world, is clearly saying something. Lexus cars have been always attention seekers. Their radical approach towards design, sleek stance and elements that pop out is extra special indeed.
One look and shockingly the next expression is just a wide smile. I think that is because they once imagined a car like this in their dreams and they were delighted to see it in flesh. Lexus is a new brand in the country, the cars are sparse on the road and whenever one passes by, even by me and when i am not driving the fancy press car from Lexus themselves, i end up staring and rejoicing my moments with it.
I don't think that has happened with me in my carrier of 8 years and 5 years of being behind ordinary and extra ordinary four wheels. While on the outside it makes people's eyeballs gleam with joy and pops out a ear to ear smile, the inside of the car is also something that wows its driver and passengers.
There is an aura of serenity inside the cabin, i have no clue why. May be it is maroon-purple colors chosen for this specific car emit regal-ness and opulence. Japanese do know a thing or two about royalty. I think it has do with the fact (one of infinity) is because i am big audiophile. The Mark and Levinson sound system that we tried out was clear and crisp.
The quality at any level of decibel was surreal. What also is impressive is the sound insulation in the cabin along with this. The wheels have a channel inside them which flushes out all sounds that can enter inside the cabin. Chassis has insulation material all around to make sure the intrusion of any sort, which exists, is bare minimum. Those sharp looking headlamps are form and function as illumination and spread is immaculate.
We won't run into technicalities much this as our first ride covers most of it, which includes feature list and other bits. However testing back at home and talking to other fellow colleagues in our office and in the automotive industry reaffirmed my standing that despite the Lexus is not all lot of things when it comes driving, in short, not a BMW, it still puts a smile on the face.
CVT gearbox is jerk free, the naturally aspirated engine is gem to ring all the way till redline and it sounds rather good too. It is a relentless pull from 0 to 189 km/hr where it is limited electronically. Since its a hybrid we got out standing, hatchback number of 16 km/l in our driving condition, which is stellar indeed.
Any of those speeds, the chassis remains composed with minor vertical movement which is in the interest of ride quality over broken roads which Mumbai displayed while we tested this car. The absorption levels were quite high and made the experience, comforting. All of this makes things relaxed and as the rich millennial influencer would say on Instagram, "chilling is easy in this car".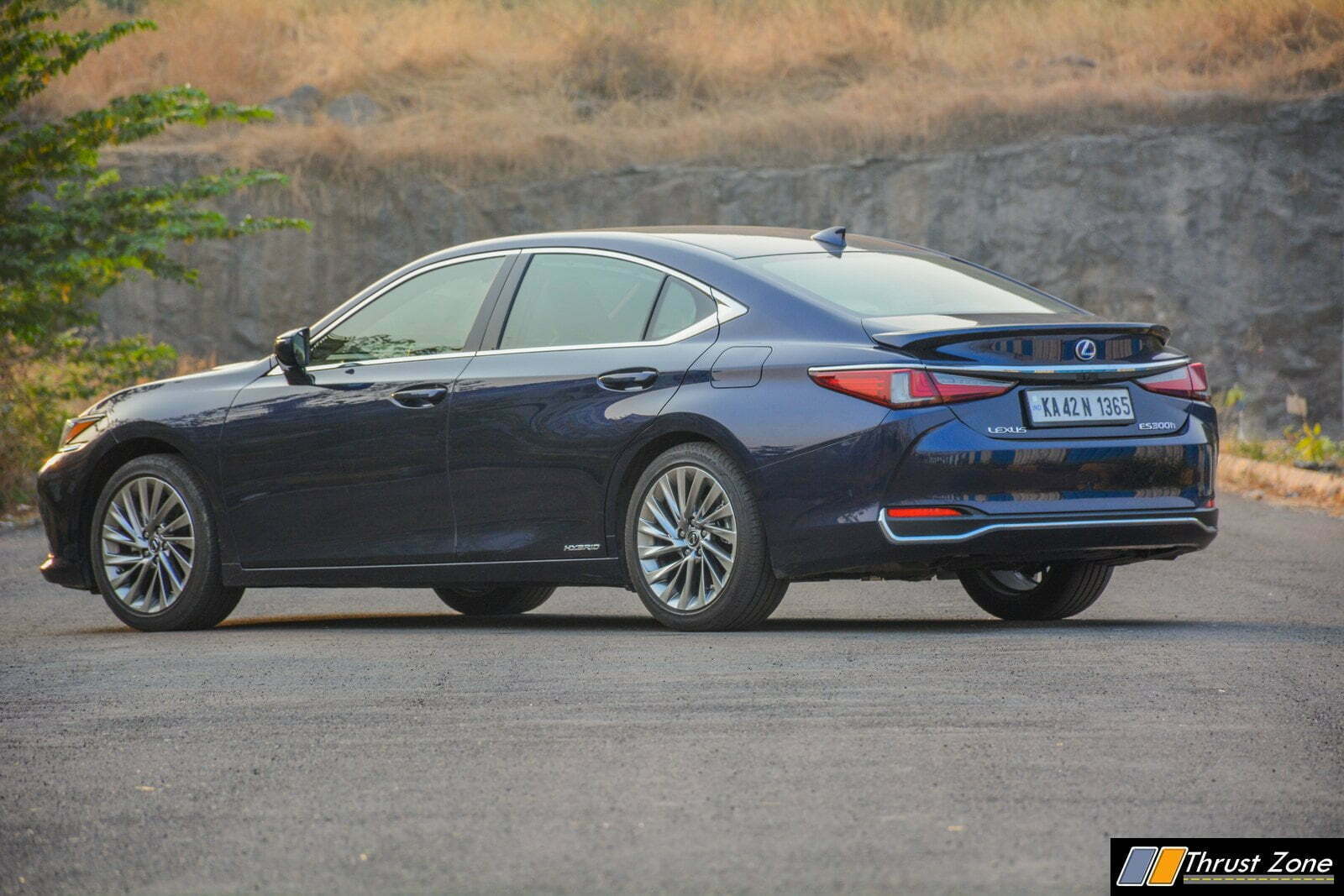 The New 2019 Lexus ES300h Review, Verdict
Overall, we think the Lexus ES has what it takes for you to run to Lexus's unique showroom location and layout that can found inside. This is one of the two Lexus cars in the country which we think are almost appropriately priced. Given, the fact that the Lexus ES is brand new and comes to the Indian market just after couple of months of its international unveil at a good price, shows dedication from the manufacturer towards its client and this country as an important market. Clearly, the ES stands for extra special in our books, all you need to decide whether this is your kind of special or not. Give it a moment, we surely think you would, one fine day.
Read this too: Lexus ES300h detailed review