Twenty Two Motors Flow is a scooter with electric motor that has been launched at the Auto Expo 2018
At the 2018 Auto Expo, an Indian electric two-wheeler manufacturer has unveiled something exciting for the masses of the nation. Twenty Two Motors has launched the Flow, an electric scooter at Rs 74,740 (Ex-Showroom, India).
The pre-bookings of the Flow has already commenced and the deliveries are expected to be taken place somewhere between the mid of 2018. Twenty Two motors will be introducing the Flow from their first dealership which is situated in Delhi-NCR. Following this, Twenty Two Motors will be introducing the Flow to the rest of the cities in India.
So what powers the Flow, let's have a look at it. This electric scooter is offered with a lithium-ion battery which powers a DC motor. With a full charge on the battery, this electric scooter can be ridden upto a range of 80km with a speed of 60kmph. In order to double the range, the manufacturer is also offering the Flow with additional batteries. These batteries can be charged with within a short span of five hours. The DC motor is capable of churning out 90Nm of twist and the Flow is offered with various modes such as reverse mode, cruise control, drag mode for making it easy to manoeuvre and cruise on it.
The Flow consists of fibre body, making this scooty very light and has a kerb weight of 85kg. Stopping this electric scooter is dual disc setup and it also comes equipped with Intelligent Electronic braking system (EBS). This tech helps to ensure better braking performance and it also helps to generate power to charge the batteries each time the brakes are applied.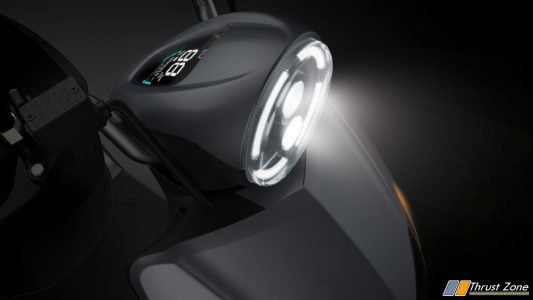 Twenty Two Motors has equipped the Flow with an all-digital console, LED headlamps, and it also comes with an option of wireless charging. In addition to this, it gets an SOS button on it, upon clicking it the smart scooter will send a message and the location to the registered numbers As we all know that this an electric scooter and does not consist of a combustion engine, so it boots of a spacious boot of 24L. This also provides a provision to store two helmets in it.
In terms of technology, the Flow comes equipped with Artificial Intelligence (AI) in combination with various sensors and real-time connectivity in the scooter. So all the data collected are analysed through the servers with complex analytic algorithms. This helps to notify and suggest the user about any upcoming service requirement. Well, there is more in terms of Tech, Twenty Two Motors has also offered the Flow with Geo-Fencing technology. The user can define his territory and if this electric scooter moves away from the territory the user gets notified about.
As for now, Twenty Two Motors has set a target to sell two lakh units of the Flow in three years. Twenty Two Motors will be producing this electric scooter at their Bhiwadi facility in Haryana. Do let us know, what you feel about the Flow from Twenty Two Motors in the comments section below.