The segment of adventure (ADV) bike is slowly and steadily climbing up the ladder of popularity both in India and across the globe. The reason behind the heightened interest in the ADV segment is its ability to strike a perfect balance between off-road adventure and practicality aspects of riding. In the Indian market, we have witnessed the number of propositions making their presence felt in the 300cc ADV segment with the likes of KTM and BMW Motorrad receiving an enthusiastic response from prospective buyers.
This positive response hasn't gone unnoticed as Yamaha is also looking into the possibility of venturing into the ADV segment, given the market continues to develop and there exists a sufficient demand for the product. It is important to note that the company doesn't have any ADV bike in the 300cc category but it can easily conceptualize the one from its very popular and capable Tenere 700 ADV bike. Tenere 700 enjoys a solid reputation in the international market and although it is not available in India, a case for the 300cc ADV based on it is very much in the reckoning.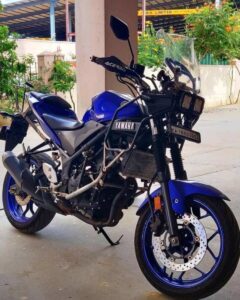 The intent in this regard is expressed by one of the top executives of the company who claims that the company is ready to fulfil the demand if it finds sufficient interest from customers in this category. Given the fact that it is doing quite well with Tenere 700, there is a solid case for the launch of ADV in the 300cc segment.
As of now, Yamaha Tenere 300 is just a possibility but if it indeed comes to the market then it might share the powertrain with MT-03 which displaces 321cc and puts out 41.4PS and 29.6Nm of raw performance. The pricing is also going to be important and if Yamaha gets it right, the likes of KTM and BMW Motorrad will have a formidable rival to contend with.