The 2017 Force Gurkha Facelift adds more butch to the SUV that has a cult following for a reason
The Force Gurkha has always been a brilliant off-road monster with capabilities unmatched by its rivals. However, even all the legends and the cult it enjoys, the Gurkha is an extremely rare sight on roads. Much to blame for it is Force, its financial strength and may be the very precise expertise of this hardcore SUV. Now hoping to fare better in the world of sales numbers and get the mythical legend of the Gurkha into more garages, Force Moors has just updated the Gurkha.
The 2017 Force Gurkha finally sheds that horrendous front fascia of the predecessor and channels its inner G-Wagon brutal-ness to once again become handsome. This time around Force has given the Force Gurkha EOV with enough aesthetic and mechanical changes to make it a brilliant proposition. For the ones not in the know, EOV stands for, Extreme Off-Road Vehicle and it more than clarifies the genetic build up of the Force Gurkha.
2017 Force Gurkha Facelift Design and Dimensions
Like already said the 2017 Force Gurkha gets in line with its no-hold barred off-road spirit and gets a bullish makeover which now makes the SUV look meaner, madder and very angry. Needless to say, we absolutely love it and there is no denying the fact that Force has managed the previous models aesthetics debacle fabulously well with this one. The Gurkha has returned to its older generation models design ideology and it work like a (very manly) charm.
The SUV is now being offered in two designs, called the Expedition and Explorer. The Explorer is the much cooler much brawnier 3 Door model while the Expedition comes with a 5 door arrangement. You can also have both variants in either soft or hard-top forms as well. And then you also get that super cool and functional snorkel intake for high water wading capability. There are steel bumpers with fog lamps to let you wander almost anywhere.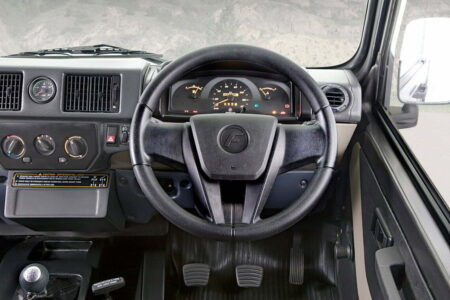 2017 Force Gurkha Facelift Interior and Features
On the inside, this all rugged all purpose build extreme off-roader gets a new 4-spoke steering wheel with a significantly redesigned floor console that now arrives with cubby holes. The gear knob is also new while for the first time ever, the SUV gets a manual HVAC system. The Chassis has always been the most astonishing part of the Gurkha and the 2017 Force Gurkha keeps its legacy alive with a new C-in-C Chassis frame that is welded using robotic welding technique. This means that the Force Gurkha offers even better strength during bending and torsion as compared to the old car.
2017 Force Gurkha Facelift Price and Launch
The SUV was launched at a price tag starting from INR 8.38 Lakhs (ex-showroom Delhi).
2017 Force Gurkha Facelift Engine And Specification
The 2017 Force Gurkha not just has an appearance that channels out the G-Wagon feel, it also gets its power from an engine based on the Mercedes OM 616 unit. This 2.6-litre intercooled Turbo Charged direct injection diesel engine can produce 85 BHP @3200 RPM and a peak torque rating of 230 Nm while being mated to the new G-28 5-speed all-synchromesh gearbox. In keeping up with the norms, this new engine is now compliant with BS-IV emission norms.
2017 Force Gurkha Facelift Competition
You can say that Mahindra Thar in its entire full-on off-road avatar competes with the 2017 Force Gurkha, but then, knowing the Gurkha, we would safely say that it is a beast of an absolutely different kind.
The 2017 Force Gurkha Facelift Review