2017 Moto Guzzi Audace Carbon with naked carbon fiber is the new black as seen with many models these days.
Moto Guzzi Audace Carbon is one of the few cruisers which stood out at Intermot despite less changes. The crusier has been carbon fibre finish and boy it looks menacing. The cruiser here can be seen with a host of changes on it. The 2017 Moto Guzzi Audace Carbon receives a few more updates in addition to the Carbon finishing. First things first, we need to note that the 2017 Moto Guzzi Audace Carbon is now Euro 4 complaint motorcycles. From April 2017 onwards, it cannot be sold in Europe, which, you know, Italy is also part of. Hence the first big change.
The other changes to the 2017 Moto Guzzi Audace Carbon include a cover to protect the radiator. It is mounted low and it is location is right behind the front tire. The handlebar receives a new bend that places both the grips lower and more rearward towards the rider for more comfort and control. Something that was clearly lacking with the old Audace we pointed out in the review. We think the cruiser will be more rideable in the city and taking u-turns shouldn't be an issue.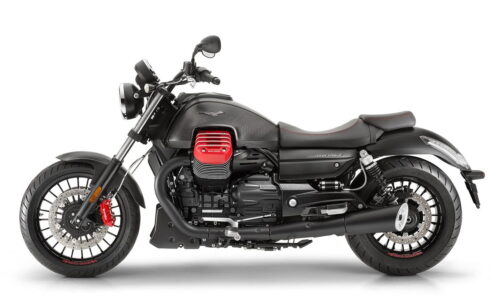 2017 Moto Guzzi Audace Carbon styling has always been something very special. The red paint on offset machined aluminum of the Brembo calipers and valve covers makes it stand out. The all black theme that is more stuck on it visually with the new carbon finish. 2017 Moto Guzzi Audace Carbon also gets new front fender and the panels on either side of the fuel tank are constructed of carbon fiber, giving the Audauce Carbon a more purposeful and an idea of custom design reflects easily with this new scheme.
Mechanically, 2017 Moto Guzzi Audace Carbon remains the same. It produces the same horsepower and torque numbers from the massive 90 degree v-twin 1380cc engine. The engine makes 96 PS of power at 6500 RPM and 121 Nm of torque at 3500 RPM. The 299 kg weight should be lower now thanks to carbon fibre. The cruiser should feel more sprinty and quick.
Read this too: More and detailed analysis of the Ameo, Here!