Millennials would call the the 2017 Volkswagen Arteon "Stylish AF" and we couldn't agree more with them, Audi move over, daddy is here!
Volkswagen decided to have a low key 2017 Geneva Motor Show, but that hasn't stopped them from bringing the all new and stunning 4-Door sports car cum fastback called the VW Arteon. This latest addition to the VW line-up is a combination of a traditional sports car design meshed up with that of a fastback. Whatever, way VW explains it, we would say that the VW Arteon looks absolutely stunning. To be launched as a 2018 model, the VW Arteon will be placed above the hugely successful and pretty gorgeous Passat sedan. This means that the VW Arteon is indeed the replacement of the Passat CC in the German car maker's portfolio. Saying this, for most markets it will be sold in, the VW Arteon will be VW's flagship car.
For the global unveil of the VW Arteon, head designer Klaus Bischoff, VE had said, "The Arteon combines the design elements of a classic sports car with the elegance and space of a fastback. It's an avant-garde business-class Gran Turismo that speaks to the heart and head alike,". The car is slated to go into production this summer and has somehow managed to reach the production lines without losing out much from the stunning VW Sport Coupe Concept GTE on which it is based on; the concept was showcased in 2015.
The basis of the new 2018 VW Arteon is the well received VW MQB platform that forms the base of many models throughout the VW group. The MQB can be found underpinning the likes of the VW Golf, the Audi TT and even the new Atlas SUV. When launched, the VW Arteon will be made available in a choice of six engine options. The choice will be among TDI and TSI gasoline engines that will make power outputs in the range of 148bhp to 276bhp. Both engines will have VW's seven-speed DSG twin-clutch gearbox.
As for the interiors, the 2018 VW Arteon has VW's Digital Cockpit instrument cluster with a heads-up display. There will also be the new VW Discover Pro infotainment system on the VW Arteon, it will run through a 9.2-inch screen with gesture control. The VW Arteon will also get the latest driver's assistance technology such as adaptive cruise control, second generation Emergency Assist system. More tech arrives for the Arteon's LED headlights that feature predictive beam control enabled by a GPS. Expected pricing of the new 2018 VW Arteon is around $35,000 while Indian market launch is not yet sure.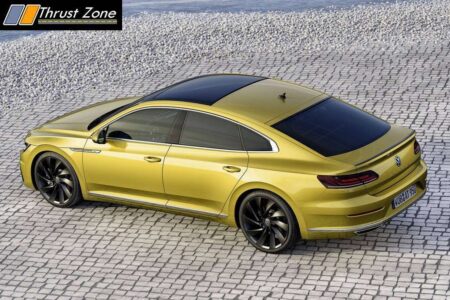 2017 Volkswagen Arteon Review
Comments Rating
( reviews)