Enchanting –
Muscular-Modern Looking SUV
Superlative chassis, brakes, engine
Surprisingly spacious and a 7-seater
Priced Well
Unsatisfying –
The Mid Size Luxury SUV market, quite a mouthful, is gaining traction around the world. The manufacturer participating in this segment have all brought in upgrades, brand new cars and new entrants that have shaken up the market radically in the past 5-6 months. In India, the market grew when the Volvo XC60 came and then its arch-rival Audi, with an entirely new Q5. The entry of Lexus in the market saw the NX300h being available and then the age-old Mercedes-Benz GLC was just standing right there all along. This doesn't end here, there was the BMW X3 that came in a brand new avatar.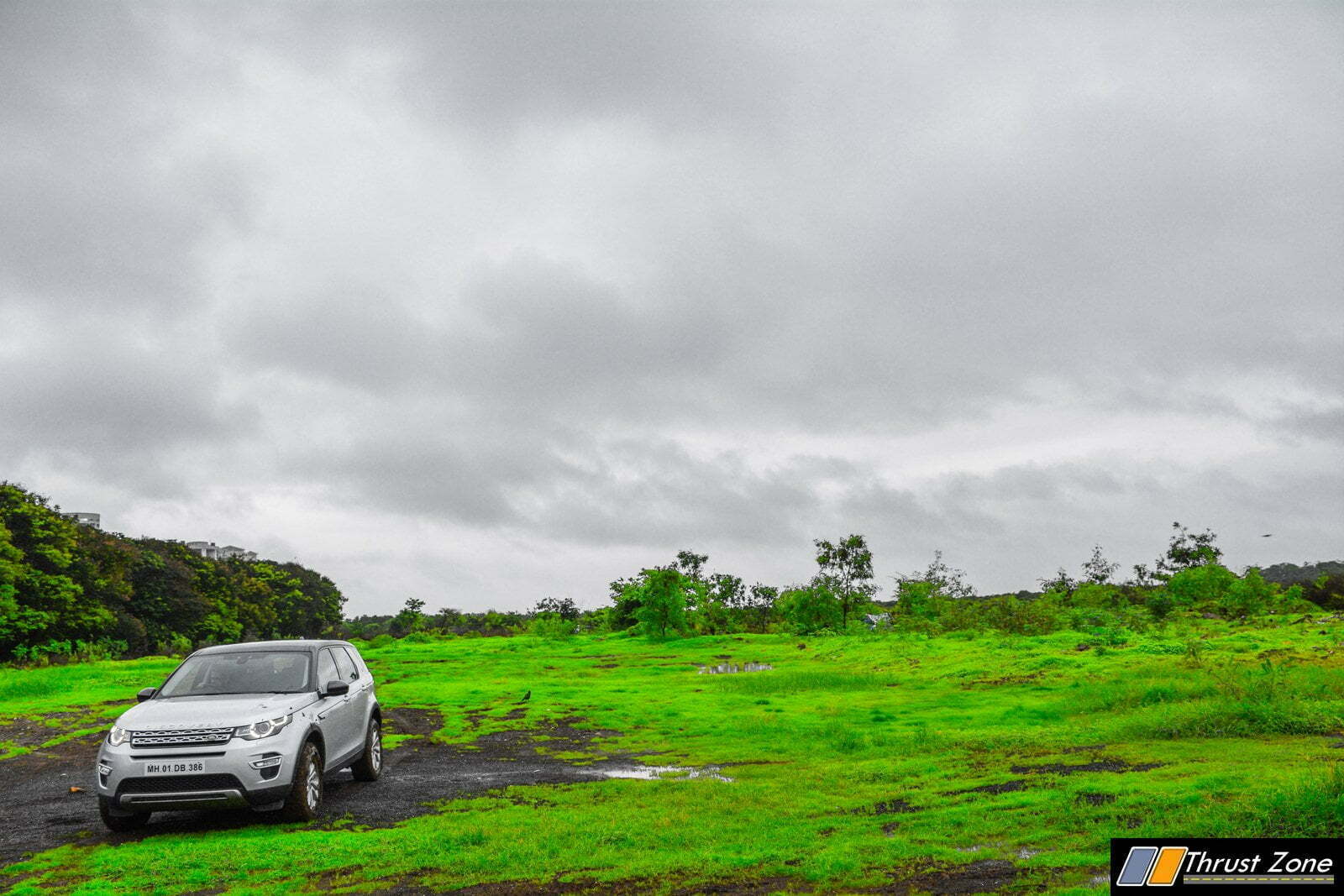 Being a handful of options to choose from, Land Rover decided to fill the shortcomings to a certain extent of the Discovery Sport and give it to us to spend some time with it. A new drive train and handful of changes to the feature list makes it quite attractive. We did everything possible with the Discovery Sport which includes playing around muck, fast and slow highway stints and crawling in Mumbai city over its road that have started to deteriorate after just three spells of rain in two weeks. Will Land Rover's heritage roll over these obstacles with ease? Read on.
Styling
The design is rather interesting in its approach. Sure, the stance and size is large and boxy but the elements flow well and aren't intimidating or in your face. The dual tone roof, the large wheels, the huge slab of metal below the glass all makes it an SUV, but which has a tonne of subtle character of its own. Something that reminds of James Bond. Surprisingly, both originate from the same land. Hmm, coincidence.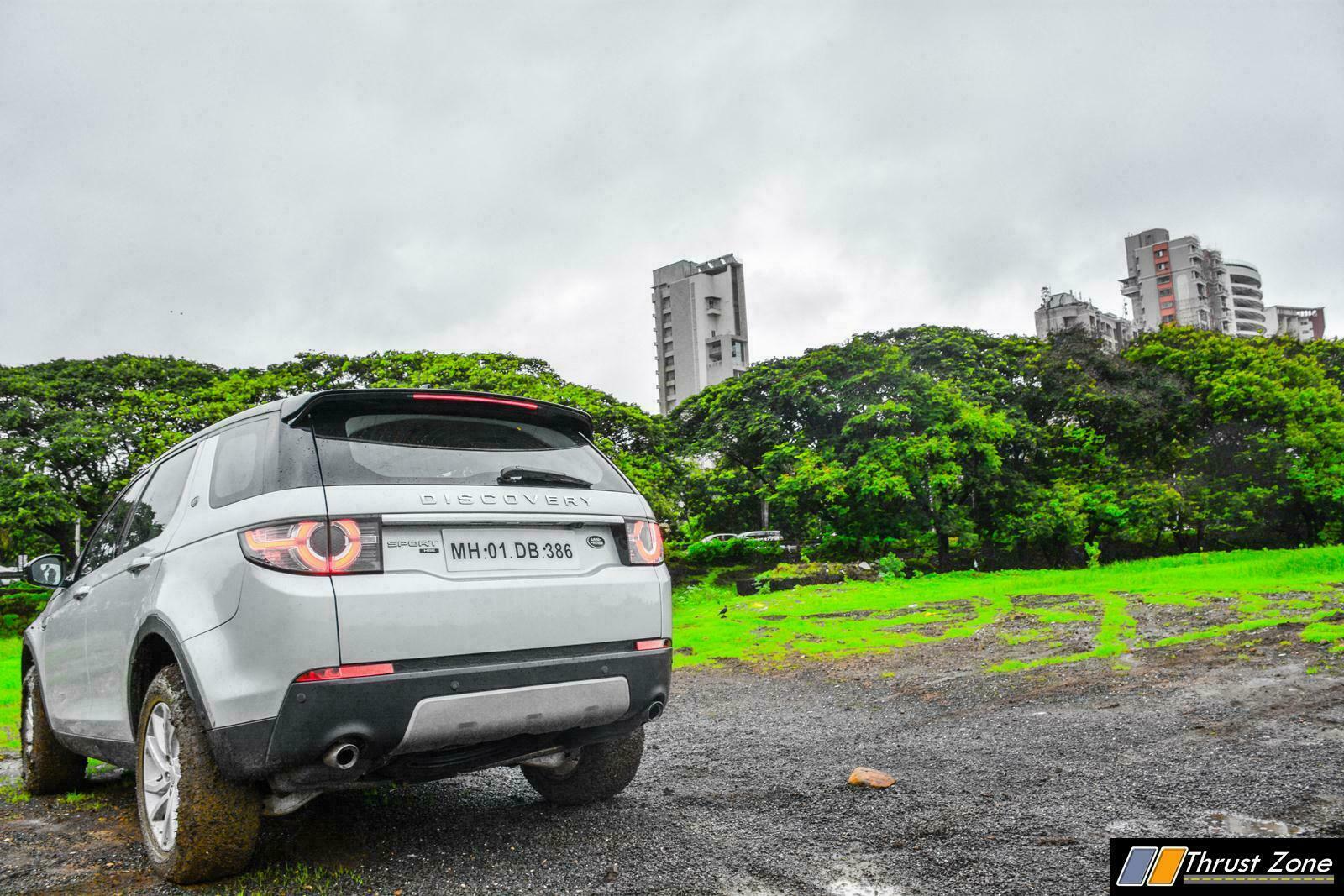 The LED DRL and tail-lamp design are quite similar to each other and are round in shape which gives it a unique appeal as the sun goes down. The shoulder line makes the SUV quite sporty and the lines flow quite well making it an appealing design language to the young and old crowd at the same time.
Interior
Interior quality is good, but there are plastics which do not belong in the cabin. The dashboard is mounted quite well and sitting in the SUV is very car like. The cab-forward driving position and commanding driving position is unmatched. The superb front seats make it an extremely comfortable place to be while the ease of driving coming from a good view of everything all around you. Center console controls everything. Cruise control, HID lights with projectors and HID lights in fog lamps make things easier on a daily basis. Safety kit and electronics are in abudance including 8 airbags and ABS, EBD and traction control.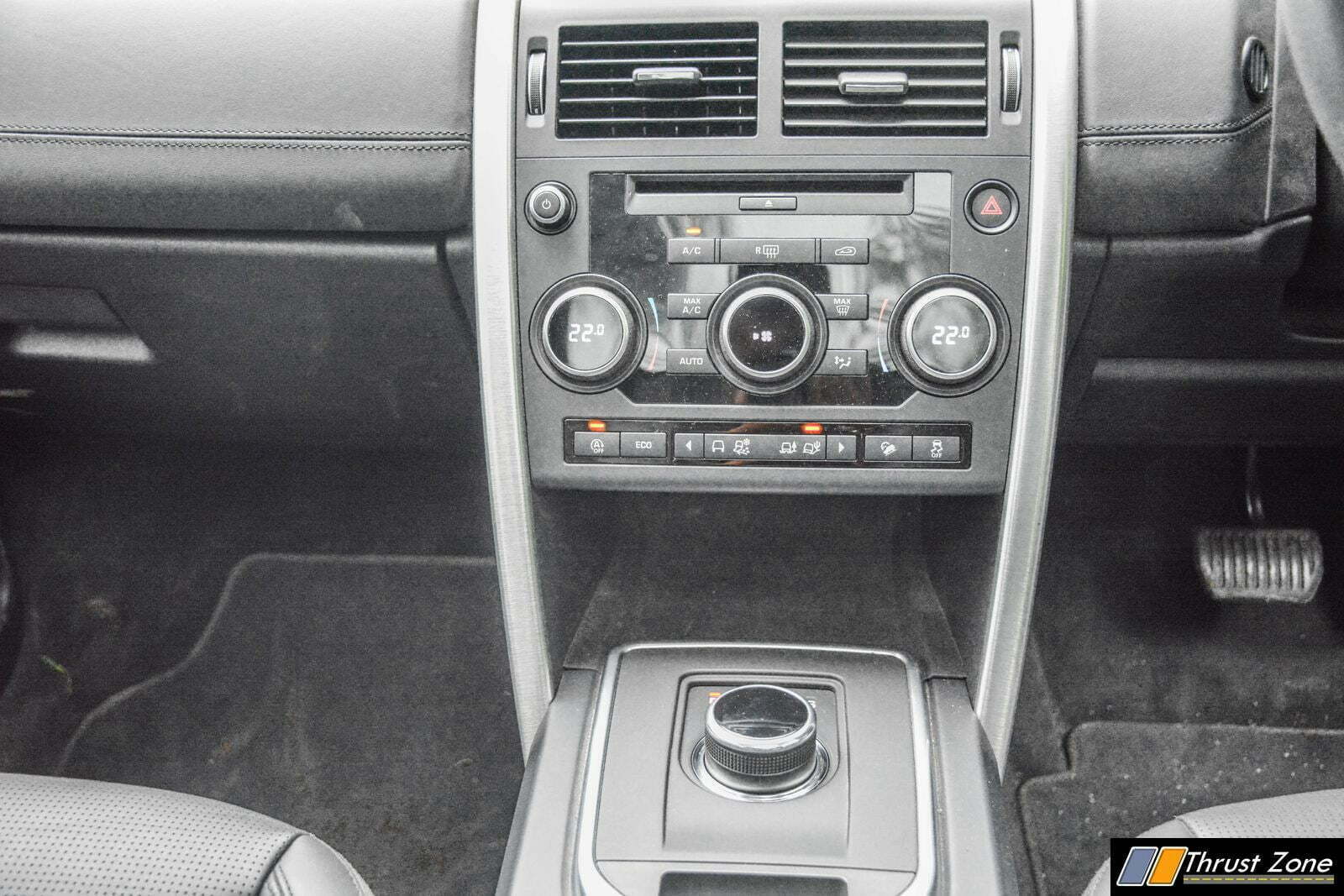 Terrain response, dual zone climate control, gear lever which pops out from the centre. Electric parking brake, the touch pro screen with the new InControl App which isn't of much use since Apple Car Play and Android Auto isn't on offer. Touch sensitivity is good enough and the screen doesn't lag much to touch.
However, it could do with a bit more responsiveness to make it crisp. Sound quality is good from 16-Speaker Merdian sound system. The large panoramic sunroof doesn't open but provides a lot of light, especially while we were testing in gloomy conditions. Space in the back seat for passengers is good enough by segment standards and seats are adjustable for recline too. Discovery Sport is offered as a 7-seater, but again, it is best suited for kids.
The boot, however, is the biggest in the segment if the seats are kept down as it liberates 900 litres which is far better than the competition. The all-black interior of our test car should be a hit a or a miss for most consumers as they would prefer beige because it won't be used as a full-time off-roading machine. Parking sensor, with driver aids, reversing 360-degree camera and the Wi-Fi Hotspot provides a 4G hotspot via customer sourced SIM and can connect up to eight devices are on offer.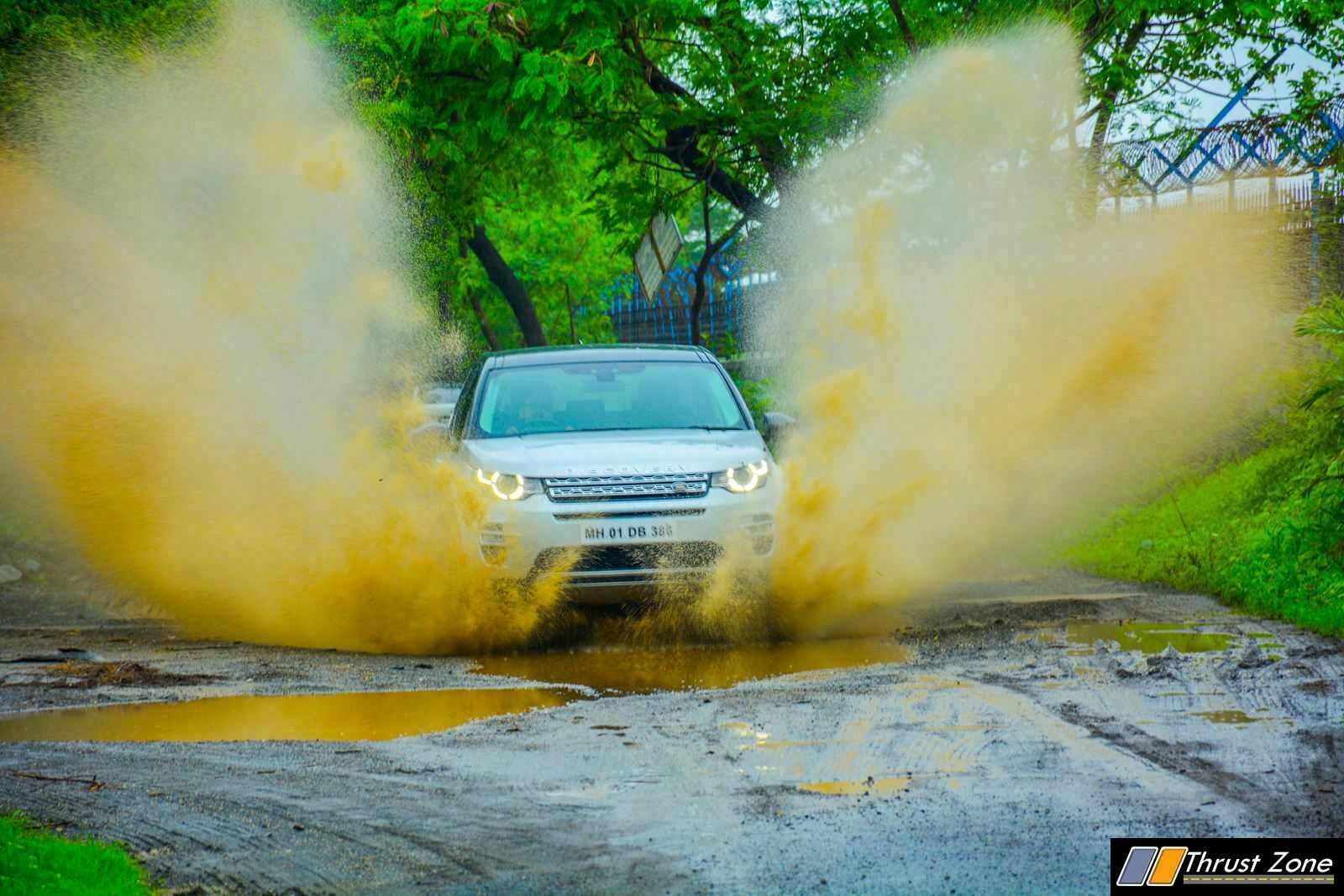 Engine and Gearbox
Powering the SUV was finally the 190 BHP engine with a 9-speed gearbox. Earlier there was the 150 BHP variant which was seen on the SE variant. The engine is smooth and refined and you can bearly hear at any given speed in the cabin. It doesn't sound gruff or corse. It redlines freely and is revv friendly, we wish it was a bit faster and the engine, despite all aluminium could feel a little lighter.
Our usual criticism isn't seen much with the engine this time as 190 BHP and 430 Nm of torque pulls the car well from the low-end and mid-range rather well. The SUV attains triple digit speeds in no time which is surprisingly impressive. The car feels very homely and easy to drive thanks to torque available whenever you at low speeds or want to make a quick overtaking manoeuvre. We got a mileage of 10.6 km/l which is also quite impressive in overall driving conditions. 0-100 km/hr in 9 seconds is also not bad for a car what weighs 2 tonnes.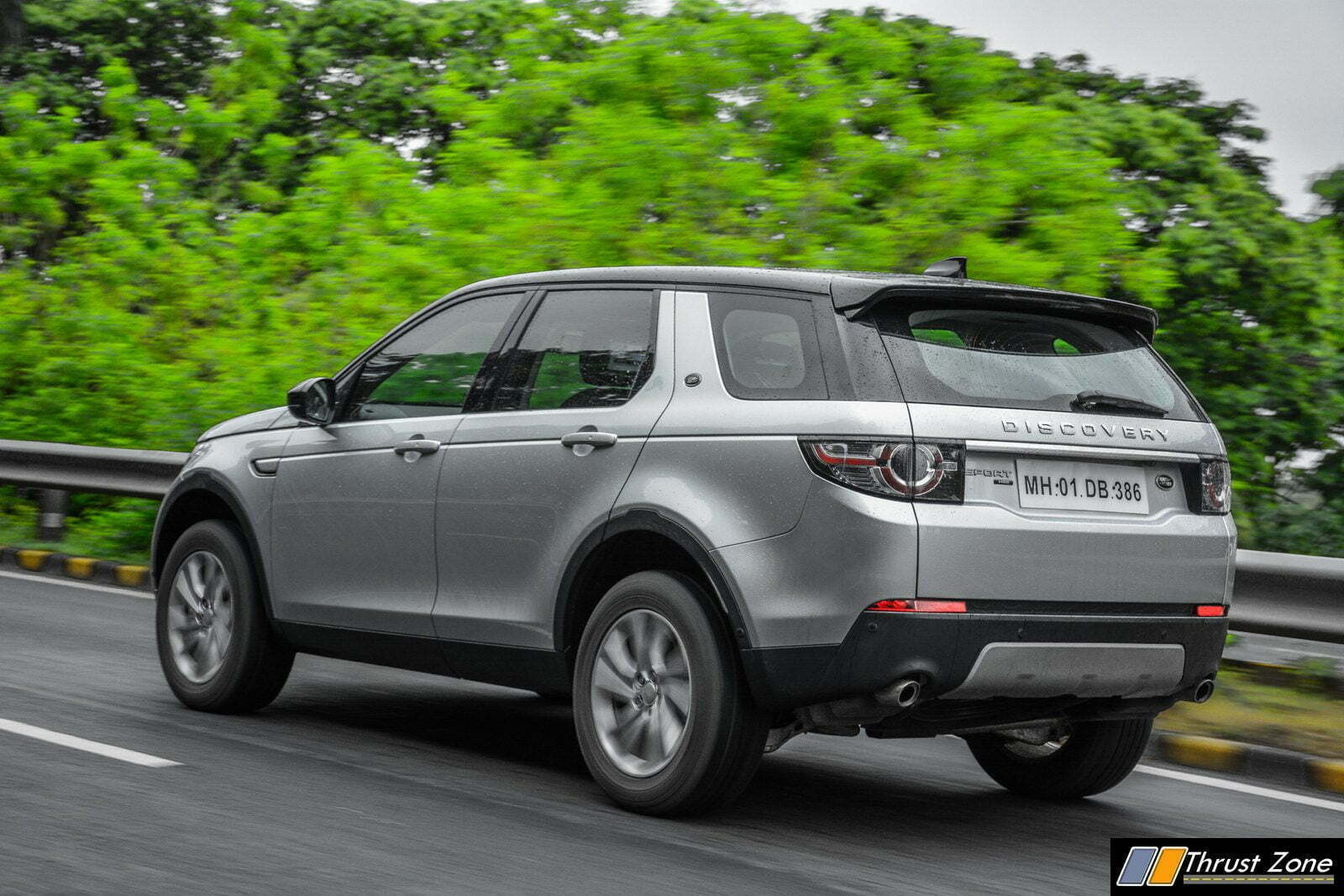 Ride and Handling
The dynamics also surprised us to a large extent. The suspension setup hides its two-tonne weight well as the firmness of the suspension at low speeds is quite high. This also makes the SUV not feel heavy to manoeuvre in the city at low speeds. The steering though, because of this, feels, quite vague at low speeds. The steering is light and precise and weighs quite well at high speeds and feedback is good too as speeds go higher. Ride quality is stiff at low speeds but the suspension becomes compliant as speeds go higher. The 18-inch wheels and high profile tyres make things better.
The body roll is well contained and as you push harder, it does feel confidence inspiring in the twisty section or maintaining high speeds on highways as top speed stability is spot on too. We did a bit of off-road and found tyres to be very road focused. All Terrain did get us out of a 'sticky' situation which required effort because of the road going tyres. Overall, a capable SUV for all condition and can do both things rather well. Brakes are really good with great pedal bite on offer.
2018 Land Rover Discovery Sport India Review, Verdict
Honestly, we weren't set to be this impressed with the Discovery Sport and the SUV crossed those limits with its attention to detail in the drive train and on the overall quality of the car has left us spellbound. The mid-size luxury segment is treating the Discovery Sport as an underdog. If you plan to go for something different and want pure SUV qualities with all the goodness of its rivals pack to a certain extent inside it, the Discovery Sport, which is already seen in good numbers on the road, is just the right bet you won't regret as it is priced right too.
Discovery Sport India Review
Design

Interior

Space

Features

Performance

Dynamics

Practicality

Value

Safety