The entry level premium luxury saloon never seems to stop growing despite the rapid success of the SUV. Manufacturers worldwide have invested in a lot of SUV's around the same price bracket. However, the saloons never stop coming and being upgraded. Audi, the facelit king, enjoys updating it sedans every once a while and then in a longer run, it gives us an all new model. The Audi A4 is no different. Launched more than a year ago, we got the car in India. We drove it earlier and today we have it in diesel guise. The Audi A4 is an important model for the brand in the country as well just like another nation. We spent some time with to tell you more about it.
Design
The front and rear have changed by a large extent. The tail-lamps are chunkier and bigger. The front LED DRL are signature of the Audi brand since day one, and here we can see Z motive in them. Needless to say, LED lamps can be seen in the rear tail-lamps too.The headlights offer good illumination and spread too. Side profile has increase in dimensions but the design, especially, the C-pillar kink, hasn't seen much of a change. The alloy wheels though are a breathe of fresh air and look good. Overall, shoulder line running from the start to the end and deep colors still make the Audi stand out.
When it comes to the interior, the quality and fonts used for everything make this cabin look and feel luxurious. Everything you touch is luxurious. The aircraft like switches for the A/C feel and look great. The wood used in cabin along with beige and black color used gives it an quitenessetional luxurious cabin which meets Indian demands.
The feature list is the usual list including power seats at the front, sunroof, android auto, apple car play, connectivity features, a good 12 speaker sound system, creature comforts, heated ORVM, auto dimming IRVM and ORVM's. Space in the back is excellent with good knee, leg and shoulder room, but the head room is a bit tight thanks to lower roof and sunroof on offer. However, very tall passengers will only notice that problem. Seats are comfortable in the front and rear and there is enough boot space at 500 litres.
Driving
The driving part is yet another highlight with this particular diesel engine making 190 PS and 420 Nm of torque going through a 7-speed DSG gearbox which is fast and smooth. The front-wheel drive car has a good power to weight ratio as there is no quattro. The means the acceleration is very rapid. 0-100 km/hr in 8.5 seconds may not sound interesting. However, the mid-range is so good, it feels like a sports car.
The torque concentrated there shoots this car ahead and it does triple digit speeds in no time. Reach its top speed of 220 km/hr takes no time. The top-end power is impressive too. The gearing is tall and that helps in fuel economy as well. We got 12-14 km/l as an average of driving to pune from Mumbai and doing a Mumbai traffic day run. The performance is truly something. You will have to be careful how it manages to gather speed and stay within the new found speed limits in our country. The Audi A4 does all of this with that engine and with almost the lowest level of NVH transmitted to the cabin. Road and wind noise are already well contained, which overall makes driving this car a comfortable experience.
Dynamically, it isn't the most fun with understeer at its limit. Body roll is very controlled, there is good enough of grip for most situations and steering is just about alright in terms of feedback and weighing up on the highway. The light and precise nature at slow speeds makes it easy to trundle around town and take gaps and park with ease. Brakes are good as well, but pedal can be a bit more sharper.
2019 Audi A4 Diesel India Review, Verdict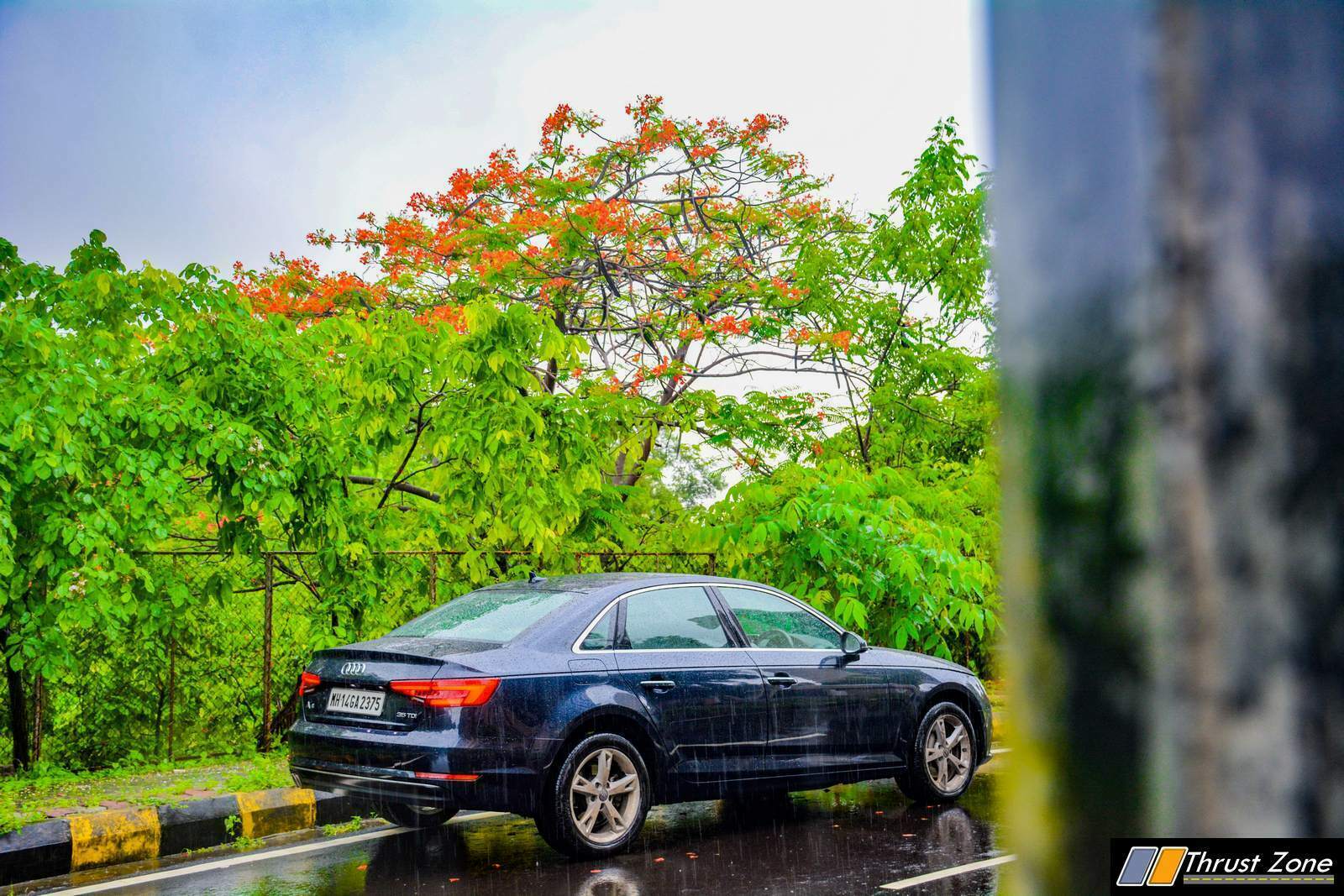 Overall, the Audi A4 makes for a compelling package. The understated design and luxurious interior makes it an excellent choice for a person looking for the badge power as well old-school luxury car with performance and practicality. Sure, it is a bit dated now and there is a new version coming next year. However, the Audi A4 now is priced well, making it a extremely viable option in this competitive segment.
As tested: 35 TDI Technology Rs. 46.96 Lakhs
Dynamic shots by: Arjun Menon #ArtLeavesAMark
2019 Audi A4 Diesel India Review
Design

Interior

Quality

Space

Features

Safety

Performance

Dynamics

Value