Volkswagen Group in India has been in the limelight because of the various decisions it has recently taken in the country. The manufacturer has now become one entire group which now includes Skoda and Audi. This helps in the back-end process but the front-end remains the same. Here, Skoda, with a lot more experience takes in charge because its products have done well in the market.
Laura and Octavia are the segment benchmarks since day one when it comes to offering the best possible package. Manufacturer has time and again updated it. The new version which couple of years ago in 2014, got a facelift in 2017 and now in 2019, the L&K variant is here and it comes with certain change. Let's look at them.
The design hasn't changed at all so it gets the dual headlight as the facelift got and we must say, back then, it divided opinion, but over the years, it has grown over most people, including ours. The tail-lamps, the alloy wheels, the typical European character lines and large use of sheet metal and glass makes this car a propionate design and hence an attractive sedan.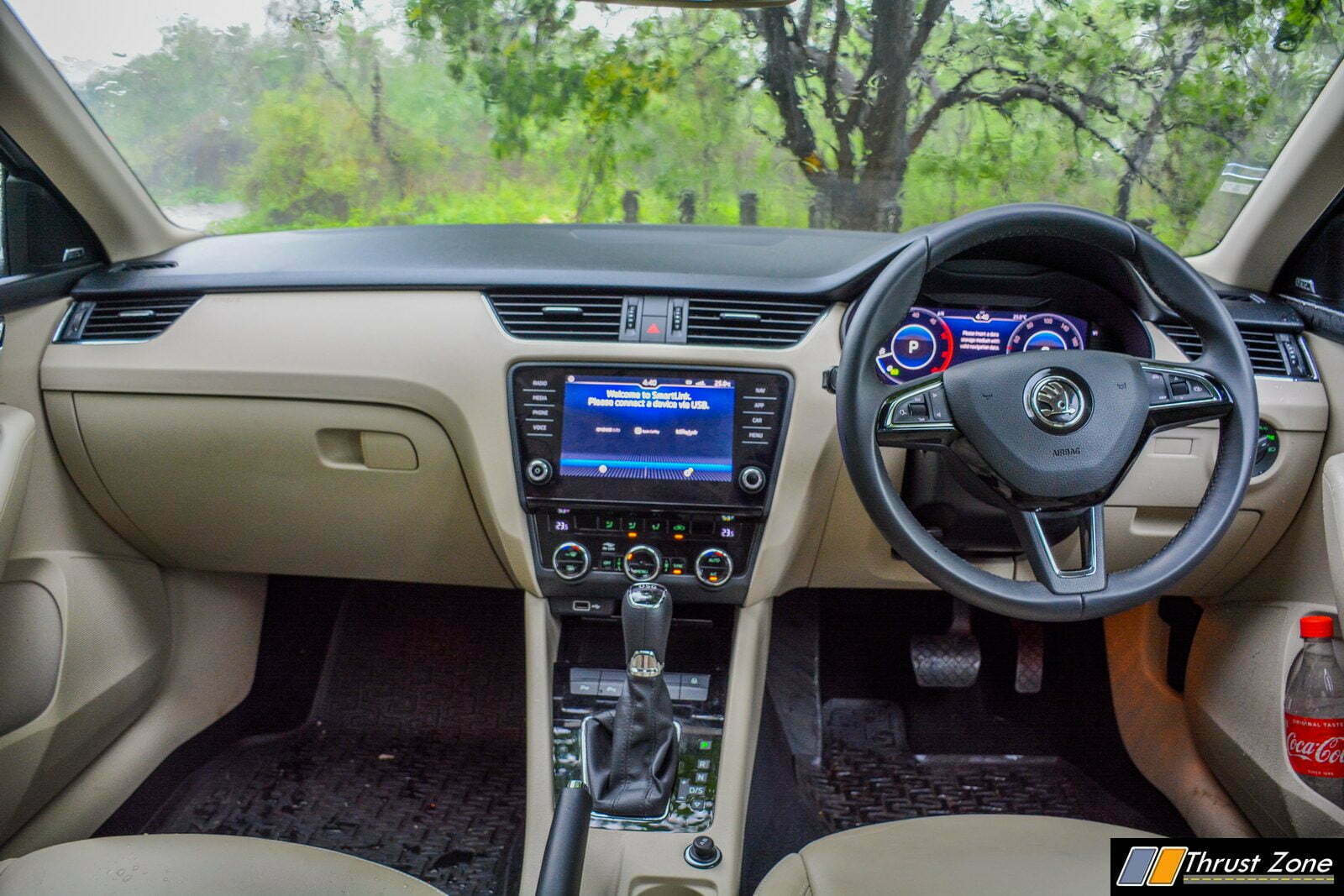 The interior is the best quality found in this segment by a good margin. Something its rivals cannot match till date. The 8-inch touch-screen also sets benchmark in use and feature list as it is flawless to use when it comes to operating with touch interface. It look sleek and large and is very well integrated into the center console. The major change to the L&K variant is the Virtual cockpit borrowed from the Volkswagen group, seen first in India with Audi range of cars. Change the view of the dials in multiple ways with the button on the steering wheel and suit your mood.
Steering mounted controls, cruise control, parking assist with 360 degree assist, reversing camera, parallel park assist, all connectivity options including Apple Car Play and Android Auto. Electric ORVM which are heated. IRVM which is automatic on the inside and ORVM also offer the same feature. Power windows all around with up and down one touch feature.
L&K is a fully loaded variant so you get electric seat, ambient lighting, leather seat, dual zone climate control, panoramic sunroof, Canton sound system, keyless entry, push button start, LED head and tail-lamps and tyre pressure monitoring system. Space in abundance when it comes to knee, leg, shoulder and headroom. The boot space is carnivorous at 610 litres and notchback opening is the highlight of the car.
A lot of space to keep your stuff inside the cabin such as under the center arm-rest, large door pockets. Waste basket (before Swatch Bharat was cool) baggage hooks around the car and in the boot make this car very high on practicality. Safety is taken care with ABS and EBD along with traction control. Side and curtain airbags with dual airbags at front are on offer.
The engine on test this time was the ubiquitous 2.0 litre diesel motor making 140 PS of power and 320 Nm in the VW group famous for its capabilities as an all rounder. However, this engine in the Skoda's has become almost BS6 ready and resulted in being a bit crude and noisy at lower rev. NVH levels at low speeds is a bit higher than expected. But as you get moving or are in bumper to bumper traffic, this isn't an issue.
The motor revs freely and smoothly towards the redline and there is power throughout the rev range. 6-speed DSG coupled to this engine means driveability is excellent and so is the performance. You can choose under 150 km/hr on the highway at ease. Doing all this, we got 12 km/l which was impressive considering high speed cruising and heavy throttle inputs while getting stuck in city traffic of Mumbai and Pune during our testing. All of this also despite there are no driving modes on offer like the Kodiaq.
Dynamically, one of the best cars in its segment and the enthusiast favorite for a reason. Body roll is bare minimum, grip is amazing, the suspension balance in Skoda cars is better than Volkswagen cars for some reason. All of this means ride quality, agility and nimble-ness is better in the Skoda Octavia. Steering feedback is good at all speeds and it is light enough of city duties and weighs well on the highway. Brakes are good with excellent pedal bite and power thanks to all four disc brakes.
2019 Skoda Octavia L&K Diesel Review, Verdict
Skoda has got the Octavia right time and again and with this small update it will rule over its rivals with class leading features, safety kit, great dynamics and excellent diesel engine on offer with a fantastic DSG gearbox. The styling is great, its high on practicality and quality is top notch. What has been a miss from Skoda all these years is also taken care of.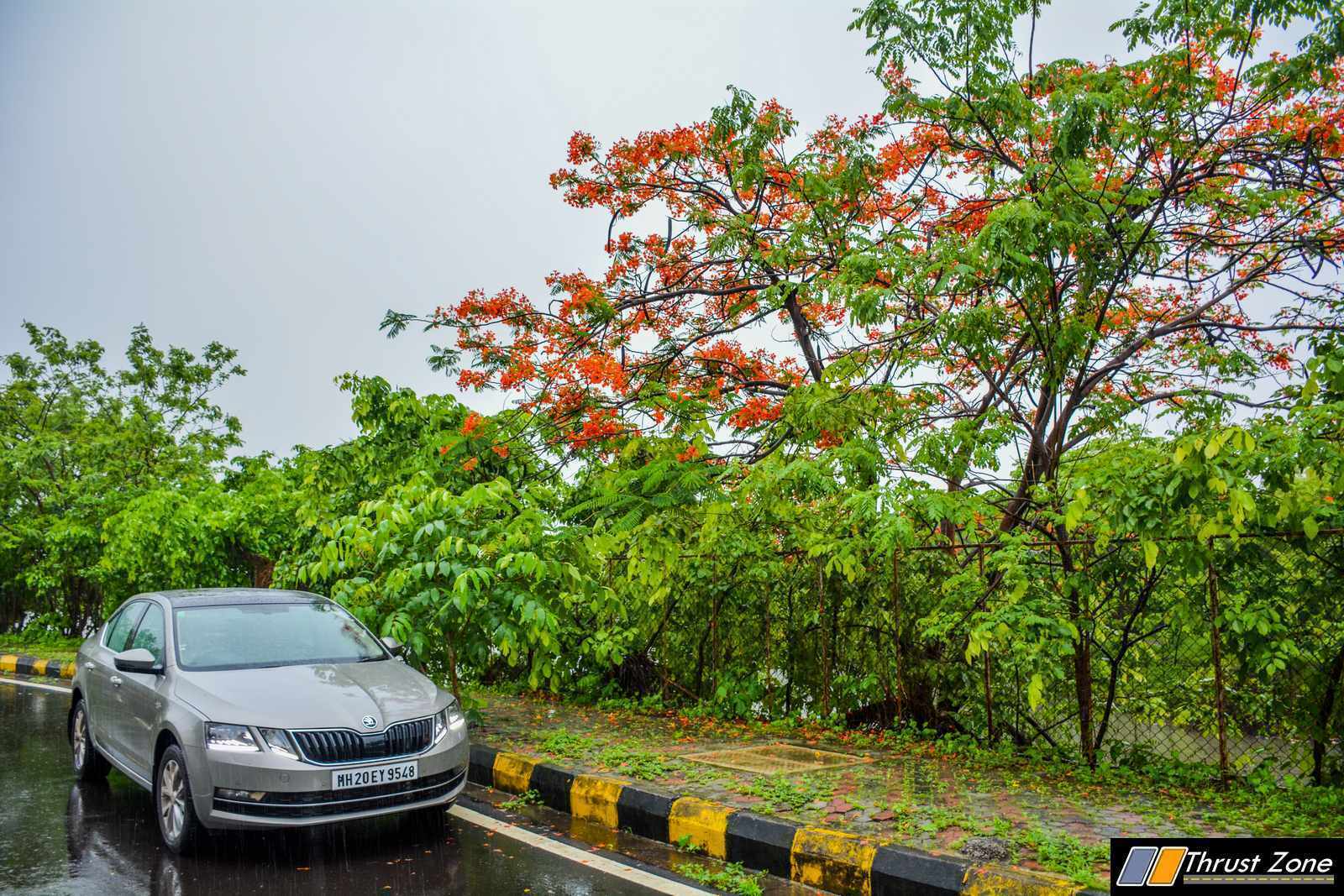 The sales and service is set to get better and is already getting better vows the brand every time we ask the question. Skoda has gone a step ahead and offered this time ŠKODA – 6 Years of Peace Of Mind, ŠKODA 4 Year Warranty, ŠKODA Shield Plus and ŠKODA Maintenance Package to make things lucrative for its buyers. With three trims, you can adjust your budget and get the best in class sedan with very little to no repcurisions to worry about now.
Octavia L&K Diesel Review,
Design

Interior

Space

Performance

Dynamics

Features

Safety

Value