The BMW 7-series is the only car in its class that gets close to the self-proclaimed best car in the world Mercedes S-Class. The 7-Series has had more gadgets, better ride and handling, and an equal amount of space but the ambiance has always been top quality and the experience of certain elements surpass the Mercedes. No wonder it is the only car at times and in this generation too, surpassed the Mercedes. With a facelift, there is always more hope. How did it fare, we drove and got driven around to tell you more about it. Let's find out!
On the outside, the grille size is the biggest we have ever seen on the 7-Series or any other BMW and somehow after a couple of days with the car, it does look befitting. The light bar on the boot lid which runs from one side to the other of the LED tail-lamps marks it as the facelifted 7-series. The build quality on the outside seems and sounds great and it scores high on crash tests like any other BMW. The elements on the car, such as grille, LED lights on both ends, 5-meter length along with a large wheelbase, multispoke subtle but classic-looking wheels add substance to the stance of the 7-Series.
On the inside, the build and quality are good and so is the expansive feature list we have explained time and again in our launch report. You get every feature possible in the saloon. Right from automatic lights and wipers to reversing cameras, front and rear parking sensors, and projector lamps, the car has a large panoramic sunroof, wireless apple car play and ambient lighting to speak of the top few features.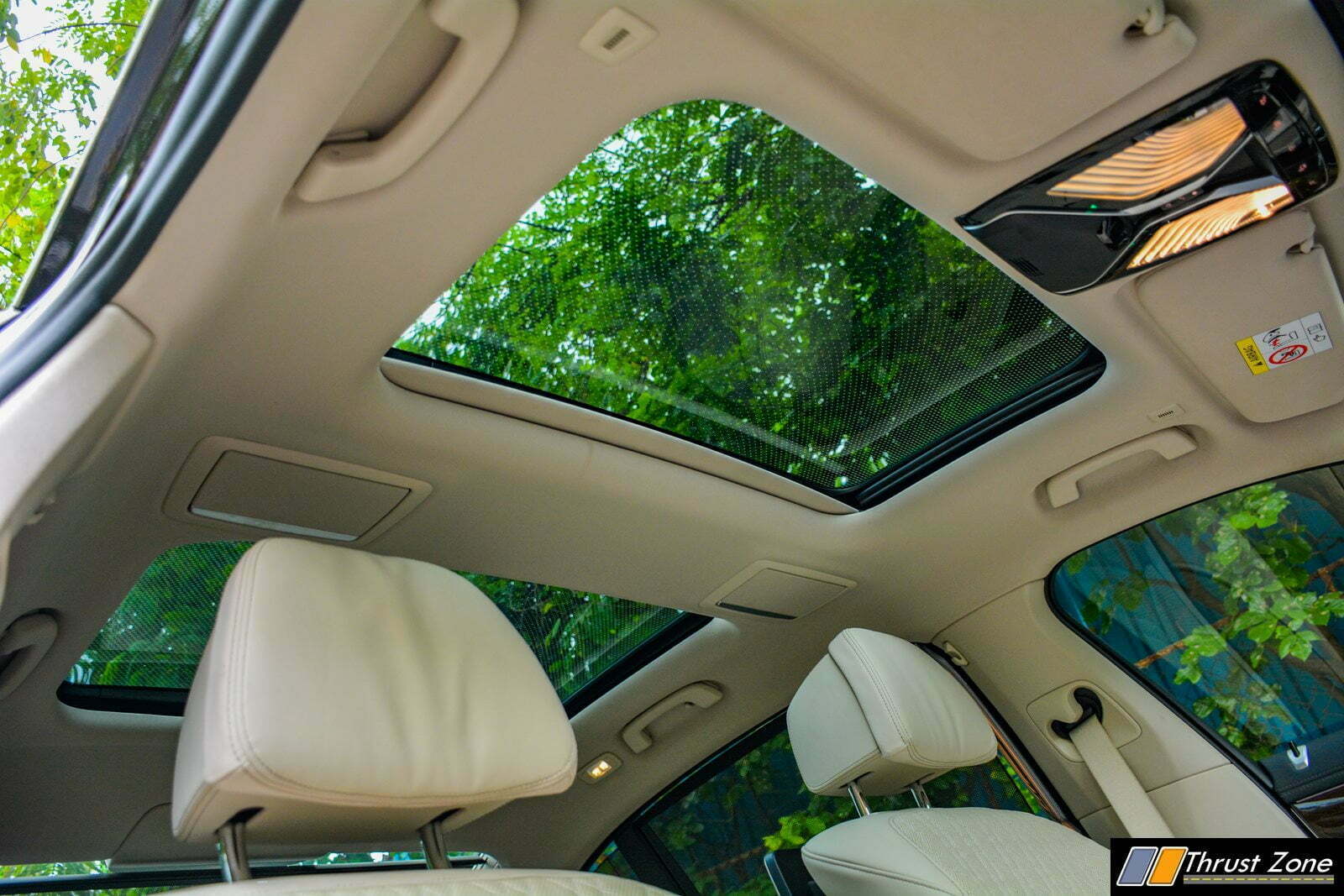 The LCD screen in the instrument cluster area is welcome and a host of features including navigation and all fuel economy indicators and other bits can be seen with a touch of the toggle button on the left indicator stalk. B-pillar mounted light, the lit sunroof, the digital key enabling remote movement, a tablet to control features on the screen at the back, a fantastic sound system by Harmon and Kardon make the experience top-class.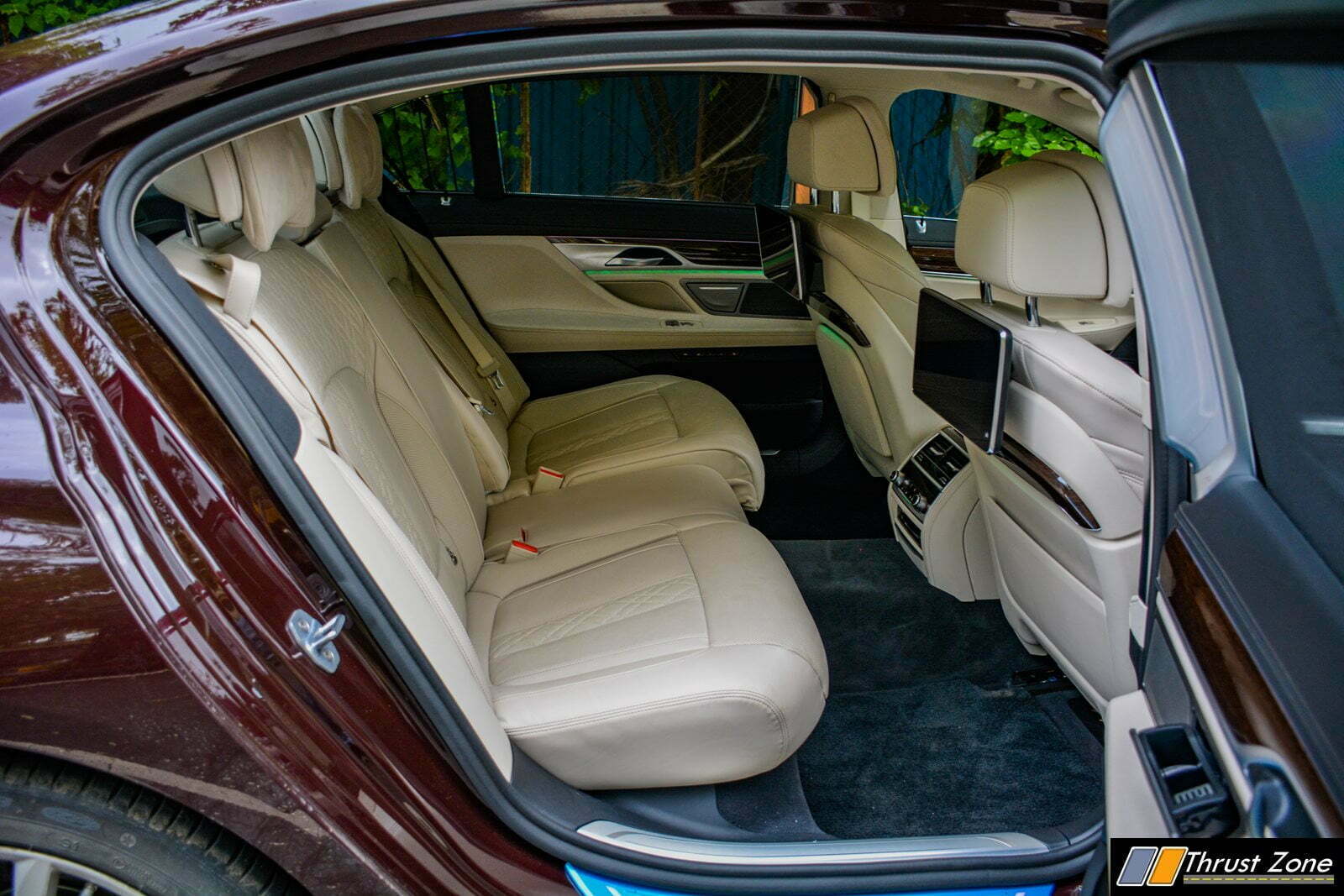 Space is more than sufficient with enough shoulder and knee room you expect, is here. Leg and headroom continue to be in good supply but as always it is a strict four-seater. The boot space is good enough and so is the overall practicality of the interior. Road and wind noise inside the cabin is also well-controlled thanks to massive insulation all around. Like any other BMW, it is still a pleasant place to be. Safety kit continues to be high with electronic stability control and eight airbags, Hill Hold Assist, ABS and EBD, and more come as standard.
All BMW engines are smooth, free-revving, and low on NVH and the one on the 730LD is no different. Be it in any part of the rev range. Low and mid-range are good on the diesel that makes a massive 262 PS and 620 Nm of torque going through the fantastic 8-speed automatic. The engine is even peaky in Comfort and Eco pro mode showing how flexible and powerful this engine is. 0-100 km/hr under 7 seconds is might quick and electronically limited top speed of 250 km/hr is on offer Top-end is good enough for a diesel engine and it cruises at legal speeds and higher than that, quite easily. This makes it good enough for city and highway duties and makes driving comfortable enough thanks to the precision in every driving mode. 9 km/l for the diesel in the city and 15 km/l on the highway is what we got in our Mumbai-Pune run.
The ride quality is good at all speeds and it does feel slightly softer in comfort over the previous version. We found ourselves to be in sport suspension setting all the time for that special BMW feel we always look for. We did not venture on really bad roads where comfort mode would be ideal. High-speed stability is spot on thanks to the ideal balance of underlying stiffness and compliance.
Body roll exists while changing lanes at high speeds but it is obviously a very confidence-inspiring car to drive at any given speed. Steering is light, precise, and has just about enough feedback on offer which makes the car fun and 100% confidence-inspiring to push harder in the twisties and the length and weight is still not as highly apparent as it should be thanks to clever tuning. Brakes are good with good pedal bite and more than enough stopping power. Overall, very easy-to-drive car despite its size while being extremely comfortable on all four ends while being good fun to drive if not great like the Jaguar XJ.
2021 BMW 7-Series India Review, Verdict
BMW 7-Series then is the best example of ultra-luxury. BMW offers stellar petrol, diesel, and hybrid engine options. This makes it a 7-Series for everyone. Considering it already has a great ride quality, striking looks, ample technology to keep you occupied and busy while giving you those bragging rights. 7-Series does not disappoint in any way. The new polished look of the facelift makes it even more special, grand, and luxurious inside and outside making it our pick in this segment, as always.
2021 BMW 7-Series India Review
Design

Interior

Features

Space

Safety

Practicality

Performance

Dynamics

Value