Times have changed in the last decade dramatically. Manufacturer are doing things, nobody expected a decade or two ago. All sort of transitions happening. Someone is making two and four wheels. Almost somebody out there is making an electric two or four wheeler. International tie ups happening at a rapid pace. Moto-scooters are coming in, four wheeled vehicles can now be described as Quadricycles instead of cars.
Most of this, ironically, is what Bajaj is doing. Electric mobility on the way. Triumph-Bajaj-KTM-Husqvarna portfolio to turn up into a large scale scenario and a lot more is happening, which includes the Qute aka, the R60 which it is still known by as in the real world.
R60 made such a fuss when it wanted to come to the Indian market that everyone knows it was coming and once it was given its production name it went to international market and after much hiccups, transition and changes, it can be sold in India too. Government now believes Quadricycles can deliver the rush to boost mobility to a large extent, just like Bajaj. The reason why we are now driving it on the roads of the country to tell you what it is exactly like.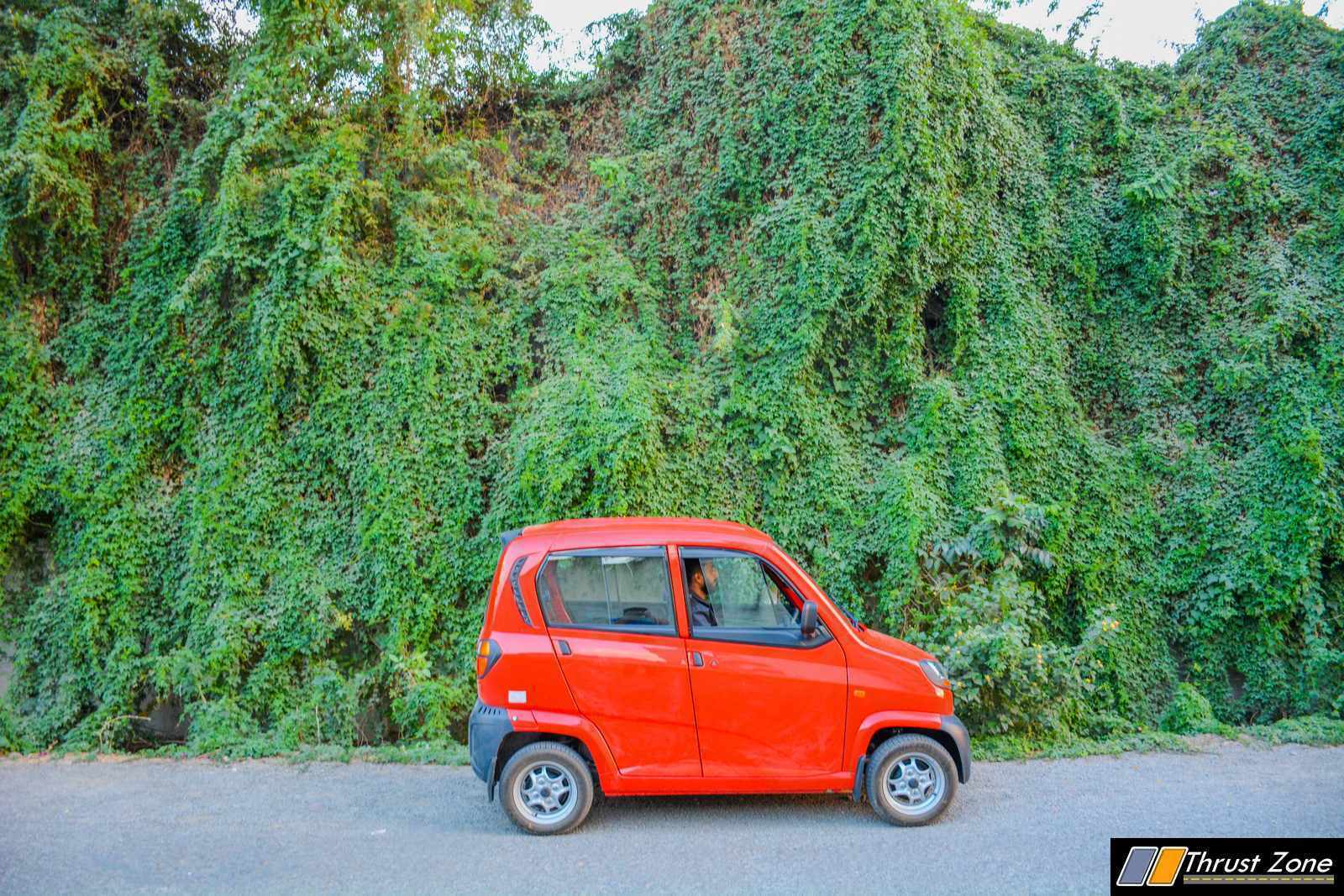 Design
The exterior design is of a very small car and Bajaj says it has the exact footprint of an autorickshaw, but to our eyes, it looks even shorter because it now looks like a complete version of the rickshaw. The 12-inch wheels, the standard headlight and tail-lamps, unpainted bumper, the slightly slashed up design which starts from the A-Pillar to the C-Pillar. The sliding windows, the single wiper, the masking around the head and tail-lamps are unique elements not seen for quite some time in a four-wheeler production version. Small door handles, vents on the C-Pillar, small door handles and lack of alloy wheels make it look a bit utilitarian.
Interior
The Interior has a dashboard layout like a car and it gets two lockable glove boxes at the front. There are pockets at top and the bottom of the door pad of all four doors. There is a small cubby to keep the remote for the basic stereo that is on offer. There is a gear shift lever on the dashboard itself. The instrument cluster sits above that and offers trip meters, time, gear shift indicator, tell tale lights, fuel gauge and distance to empty. There is also a hazard light button. The spare tyre can be seen right in front of the passenger seat covered neatly.
Space in terms of leg and knee room is good enough and there is ample head room as well. There is no A/C but there are vents on the inside of the A-Pillar which come from a separate duct in the front bumper to make it more airy in the cabin. The sliding windows also do the same and the ORVM has been scooped in such a way that pushes the air inside the cabin instead of blocking it.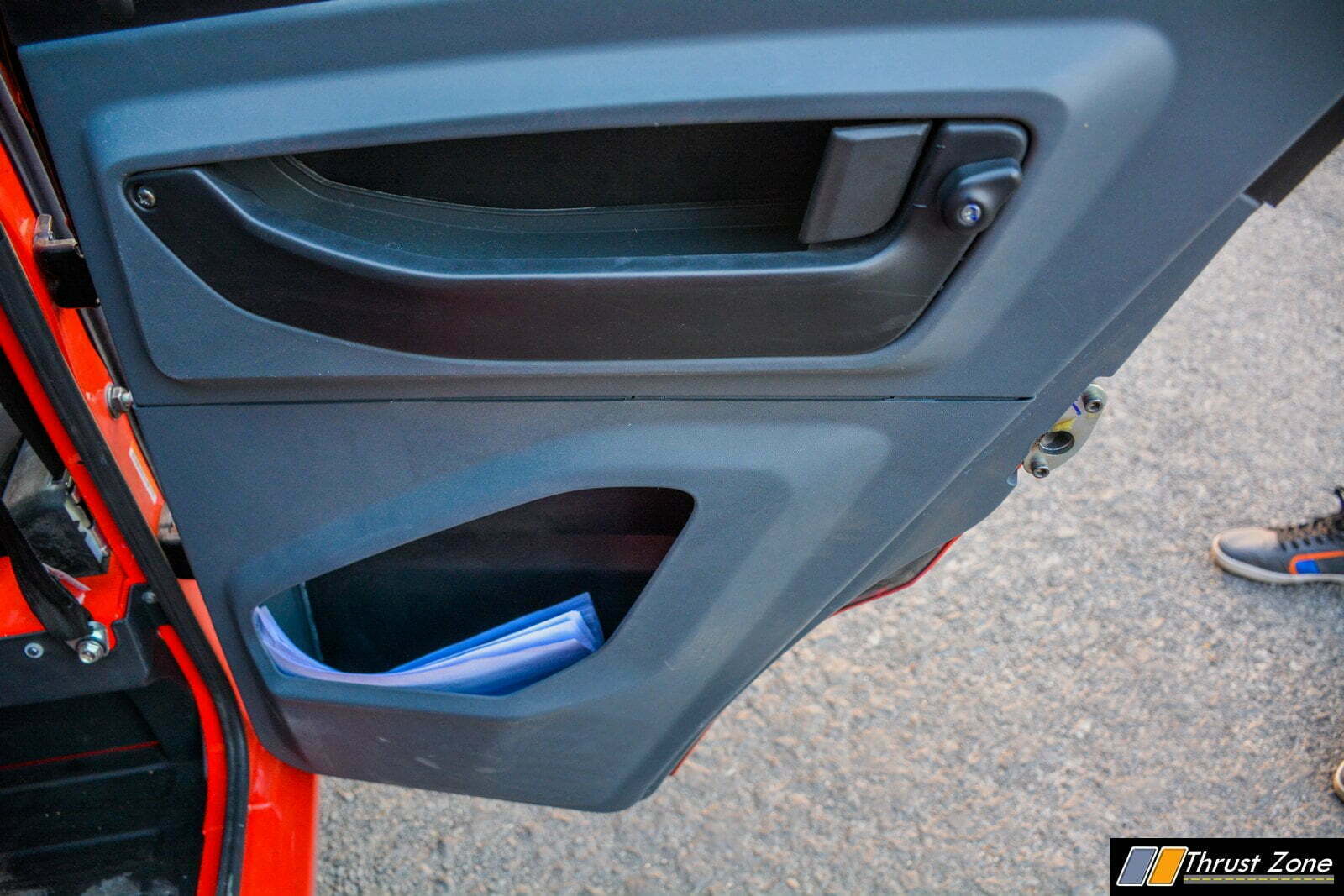 Quality all around is good as the plastics used were good to touch but not scratch resistant. There are seat belts for all four seats but they aren't retractable one's. There is storage behind the seats, the seats fold 60:40. The front bonnet area also can house 77 litres of stuff, but can take only 20 kgs worth of weight.
Engine
Driving the Quadricycle, the 216cc motor makes 8 PS of power and 16 Nm of torque. It is pushing 400 kgs of weight which gives just about enough driveability in the city and intercity highways. First three gears are short, rest two are tall. 5-speed gearbox is smooth, the clutch is light and the engine NVH levels are acceptable, but when pushed hard, there is noise, just like the rickshaw. 70 km/hr top speed is achieved in fifth gear as it constantly hits the rev limiter.
The neutral is below the first gear and the reverse can be engaged with grabbing the ring below the shifter. We drove the CNG variant for now, we will let you know when we can drive petrol version. The engine though is free and fairly quick revving. The liquid-cooled four-valve motor gives it, overall, peppy enough nature and performance to deal with city duties which it fair and squarely is meant for.
Dynamics
What is really good is the ride quality as it takes those nailed speed breakers and normal speed breakers and small to medium potholes with ease and doesn't transfer it into the cabin thanks to a well setup suspension at all four ends. Brakes are drums at all ends so pedal bite isn't the sharpest, but it does work after given a shove if doing high speeds. Low speeds, everything works comfortably for passengers.
Steering isn't an assisted unit so it is heavy at low speeds, but gets light as speeds increase. Stability is good enough. Body roll is well controlled and there is enough mechanical grip from the size of the tyres and tyres are grippy enough on most surfaces.
Bajaj Qute (R60) Review, Verdict
The Quadricycle is product well made. It is practical, easy to drive, spacious and practical. It is an whole new segment in the Indian market. A fact that Bajaj is here to tap it first despite being a motorcycle manufacturer does raise eye brows.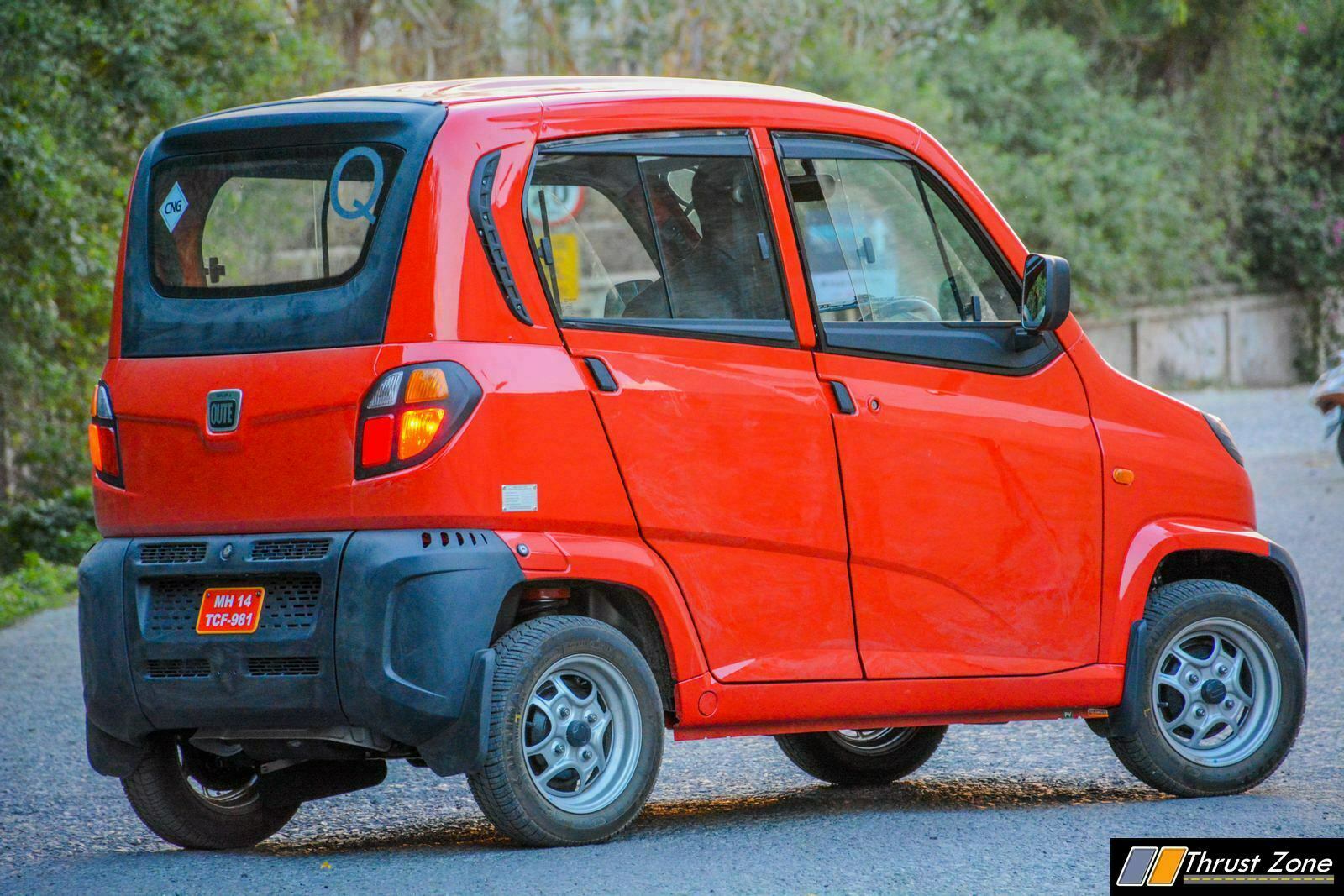 However, the car in the Indian market is also similar and given hatchbacks are available at similar prices with similar or more equipment in some case doesn't help the manufacturer especially because the Qute's only downside is the slightly high price. However, this is an only meant to be an intracity vehicle.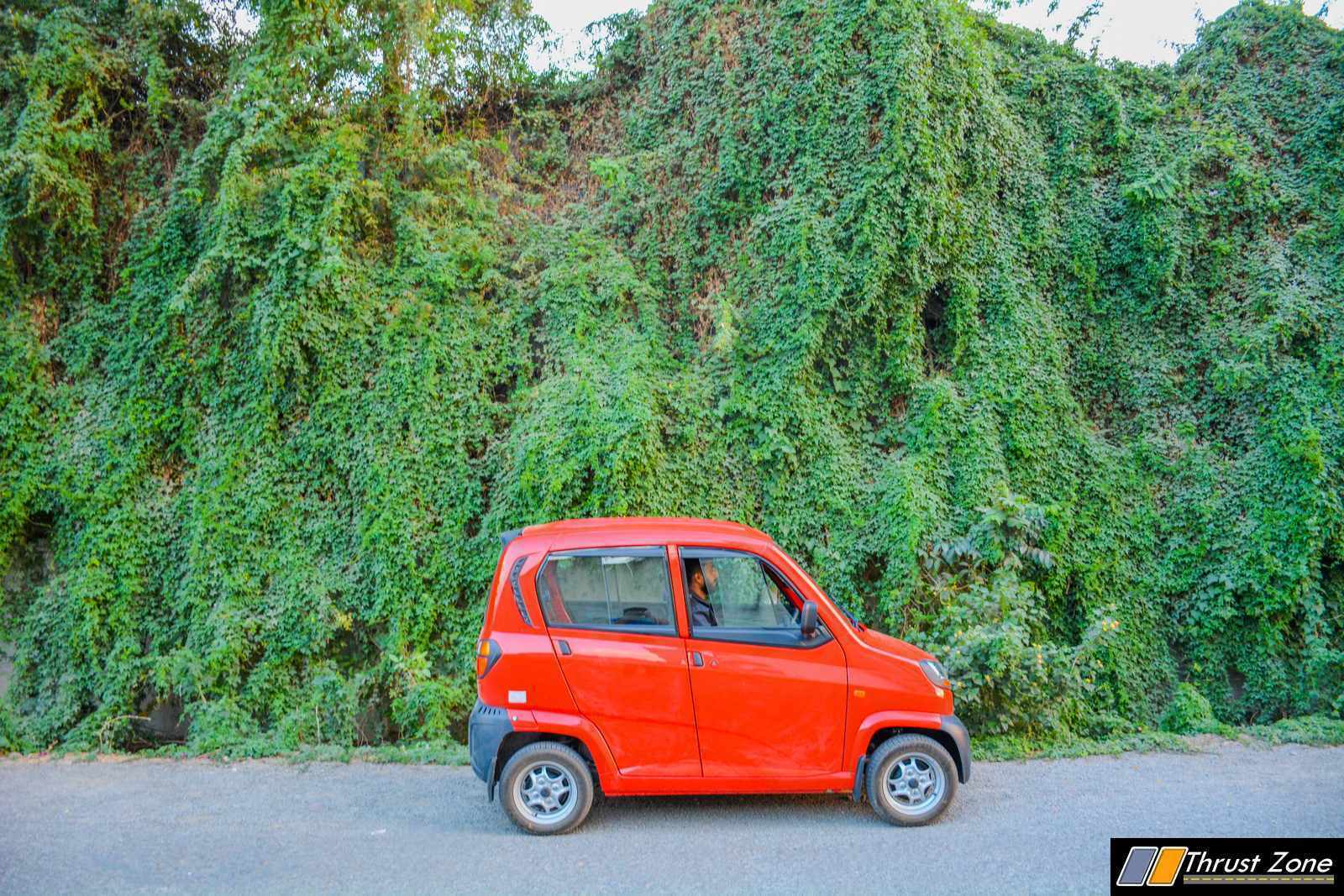 The ease of use is slightly higher than cars and it is far less complex makes it appealing to a certain audience and that is commercial and few private consumers alike, hence both can own the same this time around.
Bajaj could be able to get a pie from these two markets this time around with its 'non-car quadricycle', it can establish a niche and an idea that reap benefits for manufacturers, customers and government alike. All in the name of pushing mobility.
Rs 2.6 lakhs ex-showroom (Petrol)
Rs 2.8 lakhs ex-showroom (CNG)
Bajaj Qute CNG Review
Design

Performance

Interior

Space

Dynamics

Safety

Practicality

Value