Ducati Thiverval is a hardcore brutal version of the XDiavel that takes your senses by storm
The all new motorcycle Ducati Thiverval is constructed by Belgian customizer, Fred Krugger and is named after a small race track which is based in outskirts of Paris. The complete bike is based on the Ducati XDiavel and will be exposed on 1st of July during the Bikers Classic festival which is held in Belgium.
Fred Krugger is honored as one of the world's best custom bike builder, and has won two editions of the AMD Custom Bike Building World Championship. At the front the monsterous looking Thiverval retains the original headlights and front fork from the original bike.
The superstructures of the bike have been completely rebuilt. the motorcycles tank and tail have been covered in various gloss, matt and chrome finishes in pitch black. The taillight stands out against the rest of the build. The Thiverval is based on the award winning design of the XDiavel.
The lines of the bike have now been interpreted, and the beasty engine is now fully exposed while the trellis frame has been deliberately hidden to simply the lines of the bike.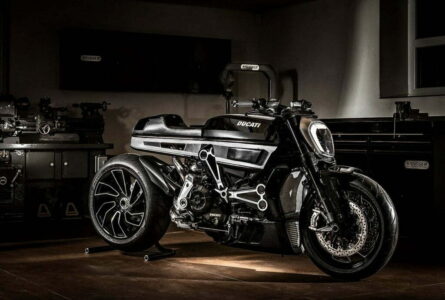 After seeing what Roland Sands and the Ducati Center did with the XDiavel earlier this year. Fred Krugger the man himself has got his hands on the sporty cruiser and this is how the stunning Ducati Thiverval was born.
The bike carries shade of silver on black graphic which starts at the front wheel and continues to the end of the bike which also matches Ducati's L-twin painted accents. The dual exhaust ports are very neatly blend into the tail which is cut short.
The Ducati Thiverval carries the same powertarin as the XDiavel. The L-twin 1,262cc motor churns out 156 horsepower and 95 Nm of peak torque at 5,000 rpm. The Ducati Thiverval is now present at the biggest biking event in Europe.