MPV demand has recently shot up in the Indian market. The wait for Marazzo and the established Toyota Innova has been a story long time coming. Mahindra has tried many ways to take down all its MPV rival and it has succeeded to a certain level but never took the love from the people for the Toyota MPV. The Innova is known for comfort and many things but it has its shortcomings which are hidden away because it does most things right, not all.
Mahindra's Marazzo seems to have something unique, in every regard, to take on Innova's shortcoming and yet do it with panache and efficiency. Mahindra has tried many ways. There was the Xylo and now the TUV 300 Plus. Marazzo is an all-new product, philosophy, approach and execution never seen from the Mahindra brand before. We spend some time with both vehicles to give you an answer which is the best!? Let's find out then.
Design
Clearly, the Marazzo from every angle looks as substantial as the Innova does. The Innova has an understated design with modern elements to make it look fresh and edgy, while the Marazzo carries a more trendy, similarly raised MPV look from the side which looks far more modern and contemporary at the same time. Innova does look butch with its front grille and the Marazzo, on the other hand, looks aggressive with grille and bumper design.
Rear is where both have vertically stacked tail-lamps and both are quite large in size. Needless to say, everything on the Marazzo is inspired by the shark and those elements help it stay fresh and modern albeit carrying more character along with it. Innova gets normal alloy wheels but the Marazzo gets diamond-cut wheels which get it the extra bling to a certain extent. Innova does look like a butch people carrier but the Marazzo, overall, strike the right balance of contemporary and style.
Interior
Interior, again, if were to compare both top variants. Innova has a darker interior and the Marazzo has a lighter interior. More glass area, white upholstery and slightly raised height make the Marazzo cabin definitely the best pick of the lot. The dashboard is pushed ahead in the Marazzo which makes it look more spacious as well and it is. Leg, shoulder, knee and headroom is generous in the Marazzo cabin and Innova is almost on par too. Both MPV's get one-touch tumble seats. Third row of seats in both cars and ferry short adults or taller adults for a longer journey. Boot space with all seats up or folded in the Innova is slightly higher, by 100 litres though as the vehicle is longer by almost 200 mm.
Features wise both are quite similar as they get navigation, touch screen units, navigation, automatic climate control, eco mode, ECON mode for A/C is seen on Mahindra to make the car more fuel-efficient and help make the best use of the A/C Compressor. Android Auto and Blue sense app help the Marazzo stand out which the Innova lacks. Steering mounted control, fuel efficiency parameters in a cluster is seen on both cars, but Mahindra offers turn by turn navigation, birthday/anniversary reminders is on offer as well. Both cars offer puddle lamps, projector headlamps, cruise control and 3 tone finish on the door panels.
Innova gets height-adjustable seat belts, seat back tables, electric seats, telescopic steering adjustment and start-stop system and keyless entry which the Marazzo doesn't. Both cars also do not get automatic IRVM in the car, however, the Marazzo offers a conversation mirror which is a neat touch. Both MPV's get a roof-mounted cooling system which is better in the Marazzo as it offers front and rear vents along with side vents to cool every part of the cabin.
Marazzo also gets a parking sensor and guiding camera which is a segment-first. When it comes to safety, the Innova offers 7 airbags on the top variant and three airbags on all variants. Marazzo offers only two airbags on all variants. Both MPV offers ABS with EBD as standard, but the Innova comes with Brake Assist as well. Overall, the Marazzo has a good amount of edge with uniqueness, but the Innova isn't far behind as it offers just necessity and nothing more or less.
The Drive
The engines are quite different on both MPV's, but they are similar when it comes to performing tasks. The 1.5 4-cylinder 123 PS and 300 Nm motor vs the 2.4 litre 150 PS and 343 Nm engine on the Innova are similar when it comes to carrying a cabin full of passengers at speeds upto 120 km/hr. Since the Marazzo weighs 220 kgs less than the Innova, it performs the drag strip test also quite well. While the Innova does 0-100 km/hr in 15.4 seconds, the Marazzo does it in 14.6 seconds. Marazzo excellent torque curve tuning along with gearing done in tandem makes it an MPV that has mid-range and power ready to make that overtaking manoeuvre on the highway.
Both MPV's have good gearboxes and light clutch, but the Marazzo's feels more car-like than the Innova in comparison, which feels industrial. Automatic isn't there on the Marazzo and Innova offers only a bigger 2.8 engine. Marazzo delivers high on fuel economy as well because it ends up churning out 13.6 kilometres to a litre while the Innova manages to deliver 9-10 km/l. You can expect a little more from Marazzo because that is what Mahindra said and what we saw on the highway is 16 km/l, which quite close to the 17.6 km/l claimed ARAI figure.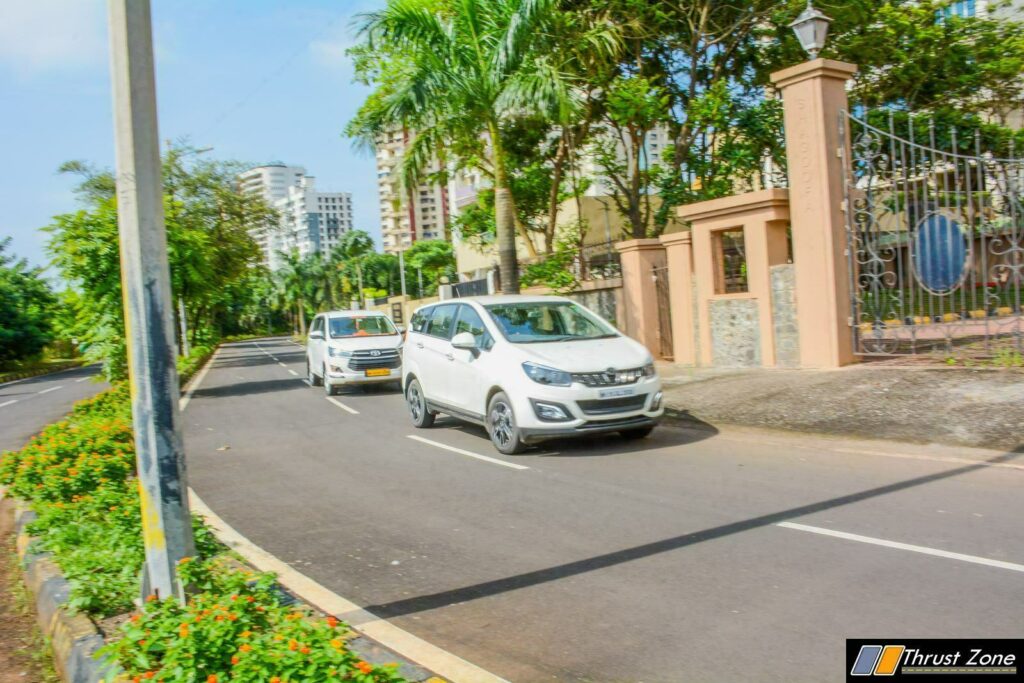 The driving part also has similarities to a large extent as the Marazzo matches the comfort of the Innova with excellent ride quality, better NVH levels than the Innova by a big margin and stability at any given speed which makes it a mile muncher for all passengers in the cabin. Brakes are good on both MPV's, but Marazzo could do with a better pedal despite it has all-disc brakes all around which the Innova doesn't as it does with rear drum brakes even today.
Both ladder on frame MPV's offer a different layout as the Mahindra has FWD while the Innova gets rear-wheel drive. Steering is good on both cars as they provide the normal amount of feedback and light enough to perform city duties. Mahindra feels more agile in corners and nimble in the city but the Innova isn't behind. In the corners, Innova is good to drive, but the agility and responsiveness of the Marazzo make it more fun to drive.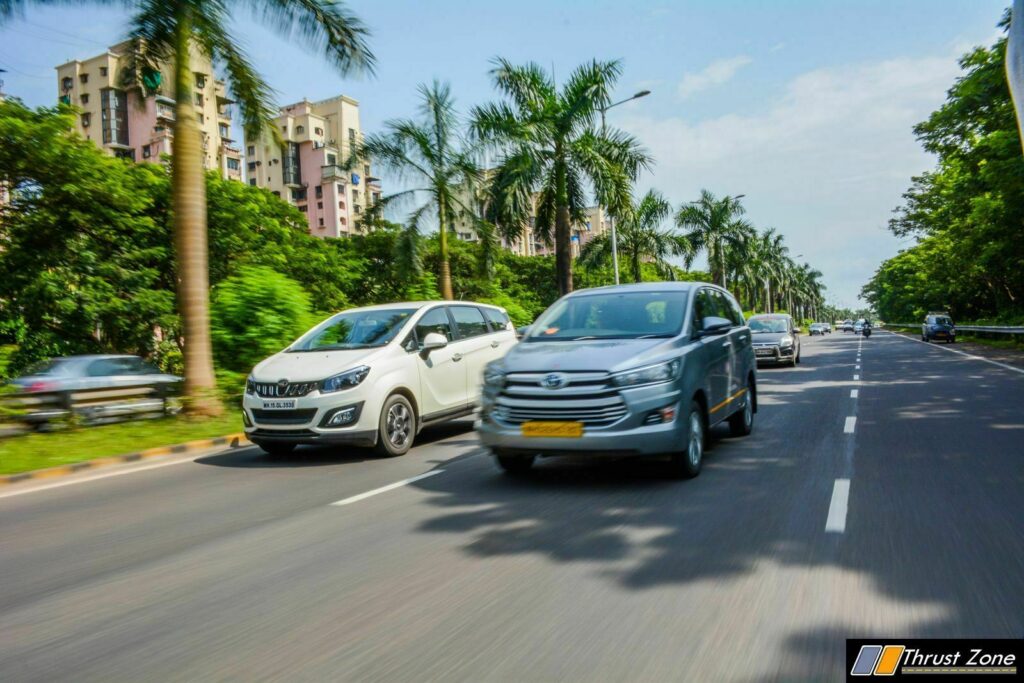 Mahindra Marazzo vs Toyota Innova Crysta Comparison Review, Verdict
As we said in the spec sheet comparison, the Marazzo offers more bang for the buck and it is efficient in its packaging, offering space and higher fuel economy over the Innova which has the traditional layout. Ingenuity cannot be denied here as Marazzo takes the game forward by a big margin, sets a new benchmark if you ask us. Price for Innova starts at Rs. 15.5 lakhs while the substantially and uniquely well packaged Marazzo starts at 9.90 lakhs (both prices are ex-showroom.)
You may think that Innova could help you get your money back with its resale proposition. However, with stiff competition in the MPV world that margin is not as lucrative any more. This is also because Marazzo sets quite a benchmark mark right now with its abilities. Question is, do you like to block your Rs. 8.2 lakhs so you can get it back in the future while you get a handful of features over the Marazzo and miss out on lower running cost? Probably not and hence it makes the Marazzo the winner in this shootout.
Innova 7 seater (Manual-Diesel) ZX 7-Seater Price: Rs. 24.80 Lakhs
Marazzo 7 Seater (Manual-Diesel) M8 7-Seater Price: Rs. 16.66 Lakhs
On-road Mumbai