Maserati Levante Trofeo Revealed At NewYork AutoShow is claimed to be the fastest and most fun to drive SUv in the market
At the ongoing 2018 New York International Auto Show, Maserati has revealed Levante Trofeo, it's undercover engineering project to develop the fastest engine in its history.A powerful Twin Turbo V8 on a finely tuned chassis combined with an elegantly restyled, carbon finished exterior and an exclusive interior wrapped in "Pieno Fiore" full-grain natural leather, bring the Levante Trofeo on top of its class in terms of performance, road handling and GranTurismo pedigree.
The first Levante built around a V8 engine, the 3.8-litre Twin Turbo V8 engine has been engineered to perfectly mate with the Q4 Intelligent All-Wheel Drive System. It delivers an astounding 590 hp at 6,250 rpm and 538 lb.-ft. (730 Nm) of peak torque at 2,250 rpm – 5,000 rpm. It is capable of accelerating in style from 0-60 mph in just 3.7 seconds (0-100 km/h in 3.9 seconds), reaching a top speed of 187 mph (300 km/h) and 34.5 metres (113 feet) of braking distance before coming to a complete stop. The engine boasts the highest output per liter (156 hp/liter) of any Maserati powerplant ever produced and, like all Maserati gasoline engines, is hand-built by Ferrari in Maranello, Italy.
The Maserati Levante Trofeo is definitely one of the fastest SUVs ever built, thanks to its remarkable weight/power ratio of 8.1 lbs./hp (3.6 kg/hp). The ideal 51:49 weight balance and the low center of gravity – common to all Levante models – in combination with the finely tuned double-wishbone front / Multi Link rear suspension and the larger tires fitted to the 22-inch forged aluminum wheels, endow the new Trofeo with remarkably balanced handling and lateral stability.
The chassis of the fastest Levante ever has been tuned to handle the higher power output and provides an exhilarating driving experience with no compromise in terms of comfort. This tuning ensures the Levante Trofeo continues to embody the essence of the Maserati GranTurismo philosophy with supercar performance.
A new matte carbon fiber trim and paddle shifters, specific instrument cluster graphics, floor mats with metal Trofeo badges and a Maserati clock with a unique dial elegantly underline the exclusive sporty character of this extraordinary Levante, which is outfitted with a standard 1,280-watt, 17-speaker Bowers & Wilkins premium surround sound audio system for exceptional listening enjoyment.
The new "Corsa" Driving mode with Launch Control functionality in addition to the existing Normal, I.C.E., Sport and Off Road modes has been adopted to enhance the athletic character of the ultimate Maserati SUV. "Corsa" driving mode further improves engine response and opens exhaust valves in acceleration, as well as provides faster gear shifting, lower air suspension height levels, sportier Skyhook damping and optimized Q4 Intelligent All-Wheel Drive settings and interacts with Traction Control and ESP systems to maximize driving pleasure.
The elegant restyling was mainly focused on the lower front fascia and the rear bumper and is underlined by the 22-inch forged aluminum "Orione" wheels – the largest ever fitted on a Maserati – available in both polished and matte finishes.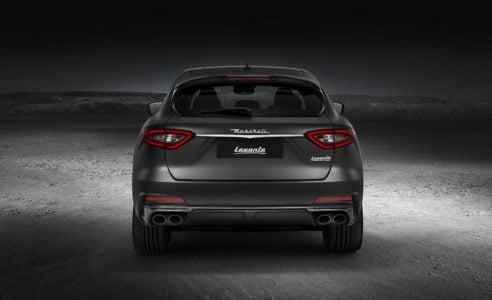 In May 2017, Maserati engineers and testers were sent around the world to test the first V8 "mule" prototypes in diverse road and extreme weather conditions, ranging from the proving grounds of Balocco, Nardò and Barcelona to the twisty, desert or icy roads of Sierra Nevada, South Africa, Arizona and Lapland. The long-term testing activities covered extreme environments and climates ranging from -35°C to well over 40°C (-31°F – 104°F).
The production of the Maserati Levante Trofeo starts this summer at the refurbished Maserati plant in Mirafiori (Turin), Italy. The fastest Levante in Maserati history is initially intended for overseas export markets, including the U.S. and Canada. Other Maserati models showcased at NYIAS 2018 include Ghibli S Q4 GranSport, Ghibli S Q4 GranLusso, Levante S GranLusso, Quattroporte GTS GranSport, GranTurismo Convertible Sport