The entry of Kia Sonet in the compact SUV segment has really intensified the competition. Kia is promoting its Sonet as a wild SUV and by doing so, it has pitted itself squarely against Mahindra XUV3oo. Here's how both these commendable options compare against each other on the paper:
Design
Kia Sonet has a slight edge over Mahindra XUV 3OO in the styling department. Kia feels more contemporary in its turnout and subtle design elements like Tiger nose grille, taut skinning, and sophisticated rear make it more appealing to next-generation buyers. That's not to say Mahindra XUV 3OO lacks the flair – it's just that it pales in comparison to Sonet when it comes to elements. The clash on the dimensions yields a mixed bag of results.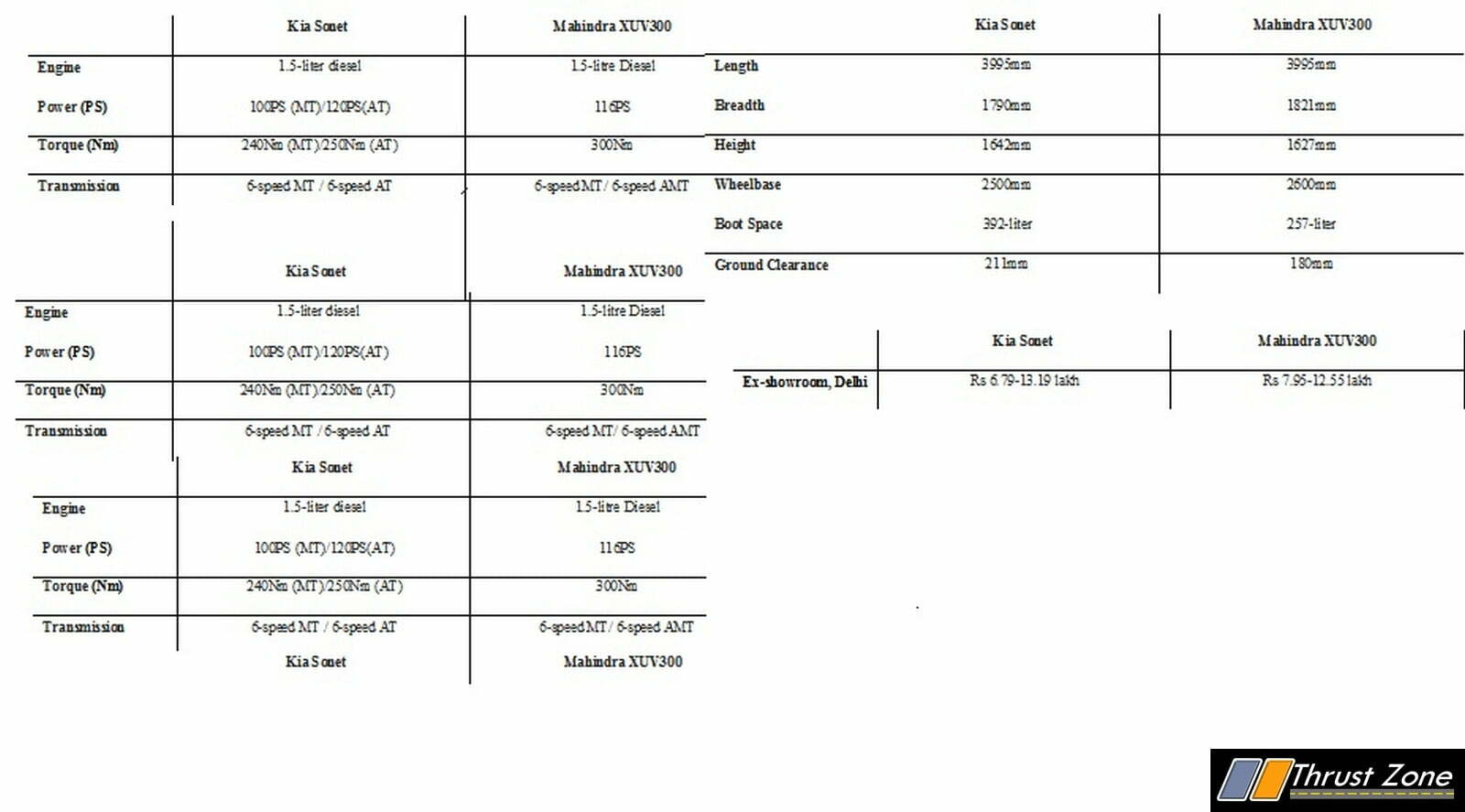 Interior
Quality inside the XUV 300 is almost on par with the Kia as well. However, the Kia design is more modern. Mahindra's centre console design feels dated but its two-tone colour scheme is good for boosting the sense of space. That said the styling is a subjective dimension and preference can vary depending upon the taste of the customer. Kia Sonet offers a taller structure and it comes with more boot space and ground clearance. Mahindra XUV3OO, on the other hand, features a longer wheelbase and its wider body also comes in handy to free more occupant space inside the cabin.
Renault Kiger vs Nissan Magnite vs Urban Cruiser Vs Vitara Brezza
Engine and Gearbox
Despite using a lower capacity engine, the power output of the Kia Sonnet petrol is higher than Mahindra XUV3oo. However, on the torque front, Mahindra races ahead with 200Nm on tap. Kia offers an option of 7-speed DCT while the Mahindra offers a 6-speed AMT and manual transmission. Kia has manual and automatic gearbox options on its diesel Sonet. Mahindra offers AMT in diesel and its 1.5-litre oil burner makes more torque than Kia's motor. Interestingly, the power and torque output is different in diesel Sonet depending upon the transmission you have decided to go ahead with.
Feature List
Mahindra has got a 5-star NCAP rating for XUV3OO which means it has a decisive advantage over Kia Sonet on safety. XUV3OO also gets both front and rear disc brakes which coupled with cornering braking control offers superior stopping performance. Sonet, however, is a more comfortable car as it offers ventilated seats, a 10.25-inch touch screen infotainment system, an air purifier, a fully digital instrument cluster, and rear AC vents. Both SUVs come equipped with an electric sunroof, cruise control, and tyre pressure monitoring system, front parking sensors and 16-inch wheels, which is standard on the XUV 300 when it comes to size. Mahindra offers a segment-first which is missing on the Kia Sonet is the heated ORVM, which are great for our rainy conditions.
Ford Ecosport vs Mahindra XUV 300 Comparison Review – Shootout
Price and Value for money
The base model of Kia Sonet costs less than Mahindra XUV 300 though when it comes to the top trim, Mahindra offers better value for money with more safety kit. Also, XUV 300 now with the addition of automatics on petrol and diesel, has made more sense than ever. With the addition of BlueSense connectivity just like the Kia which has UVO, both match in that regard as well. Given the XUV 300 safety rating, more space in the back it makes for an ideal SUV to considering in the family. The XUV 300 reach in terms of sales and service is higher as well.
Hyundai Venue Vs XUV300 Vs Brezza Vs Nexon Vs EcoSport – Specification Comparison