Volvo XC40 spied testing in UK for the first time and will be the entry level SUV for the manufacturer
Volvo has a new SUV coming up in this year in the form of the new XC40 crossover. The XC40 is the smallest SUV in Swedish firm's line-up. The small SUV has been spot for the very first time on the roads of UK. Set to go up against the BMW X1, Audi Q3 and the Mercedes GLA the XC40 is built around a brand new platform which Volvo calls as CMA (Compact Modular Architecture). The XC40 might not remain Volvo's smallest crossover in the line-up for long though, as the company has already admitted a 20-series family will arrive. Volvo's next generation compacts will be based on the CMA platform developed by the Volvo in partnership with parent company Geely.
Volvo will build its new compact cars at its plant in Ghent, Belgium, where the current V40 and V40 Cross Country soft roader are built. The cars will also be built in Luqiao, China at a plant shared with Lynk and Co. The new CMA platform is been designed to accommodate a variety of drivetrains, including plug-in hybrid and potentially pure electric variants alongside conventional pure combustion engine models.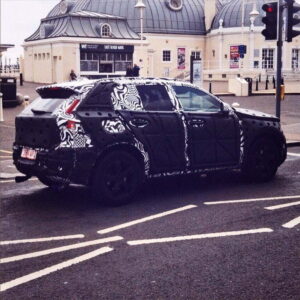 The front-end of the car the headlights and grille in particular are taken from the 40.1 and 40.2 concept which were revealed in May last year. Alongside the XC40 we await a new S40 saloon and a V40 to appear. In terms of powertrains, Volvo has confirmed Twin Engine plug-in hybrid technology for the new 40 cars which are expected to carry a new 1.5 litre turbocharged three-cylinder petrol power alongside a four-cylinder diesel. The XC40 will debut in production guise this autumn and should go on sale before the end of year or early 2018. Before the 40 series arrives Volvo will start introducing redesigned 60 series model that debuted at the 2017 Geneva Motor Show.