Audi Q3 India Review: We get behind the wheel of the most popular and best selling Audi to tell you if its worth it even today or not
Enchanting –
Timeless and well proportioned compact SUV
High on performance and effieincy diesel motor
Surprisingly spacious and feature loaded
Unsatisfying –
Lacks steering feel
Interior looks dated
The Audi Q3 has been the go to SUV in the manufacturer stable for a quite a long time. Reason? The SUV is the entry-level vehicle in the big world of Quattro that Audi is known for. The Q3 came to India in the year 2012 and till date it has been updated regularly. Today we have the 2017 version launched late last year. The model we have here is with Quattro and a powerful diesel motor. Let's get into the details about the Q3 as we got some time to spend with the SUV.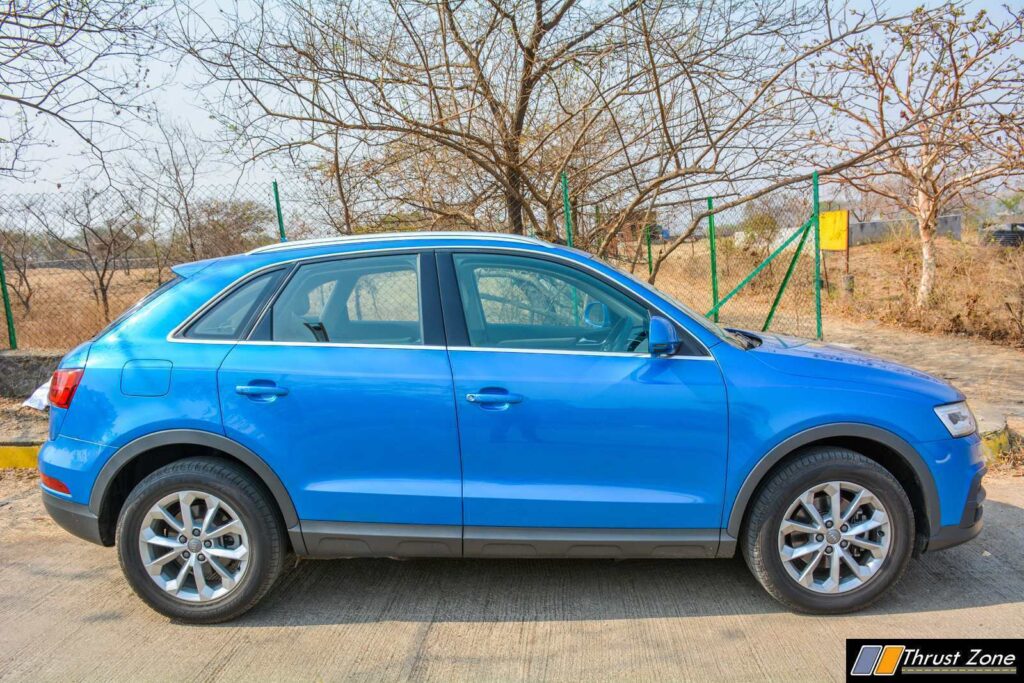 Styling
In terms of design, it is a mix of a crossover hatch that is raised and has just about the tall stance to be passed as a compact SUV. This works really well in the favor of the car as the elements such as the large grille, chunky LED head and tail-lamps make it stand out. Our fuscia blue color test car managed to get a lot of eyes popping after all these years.
Interior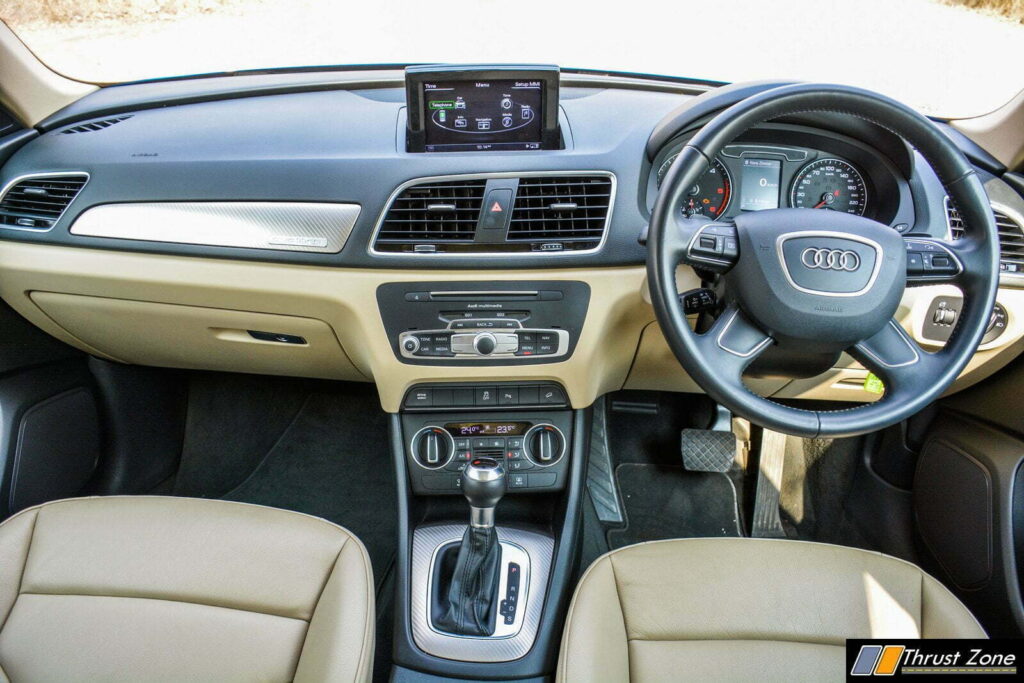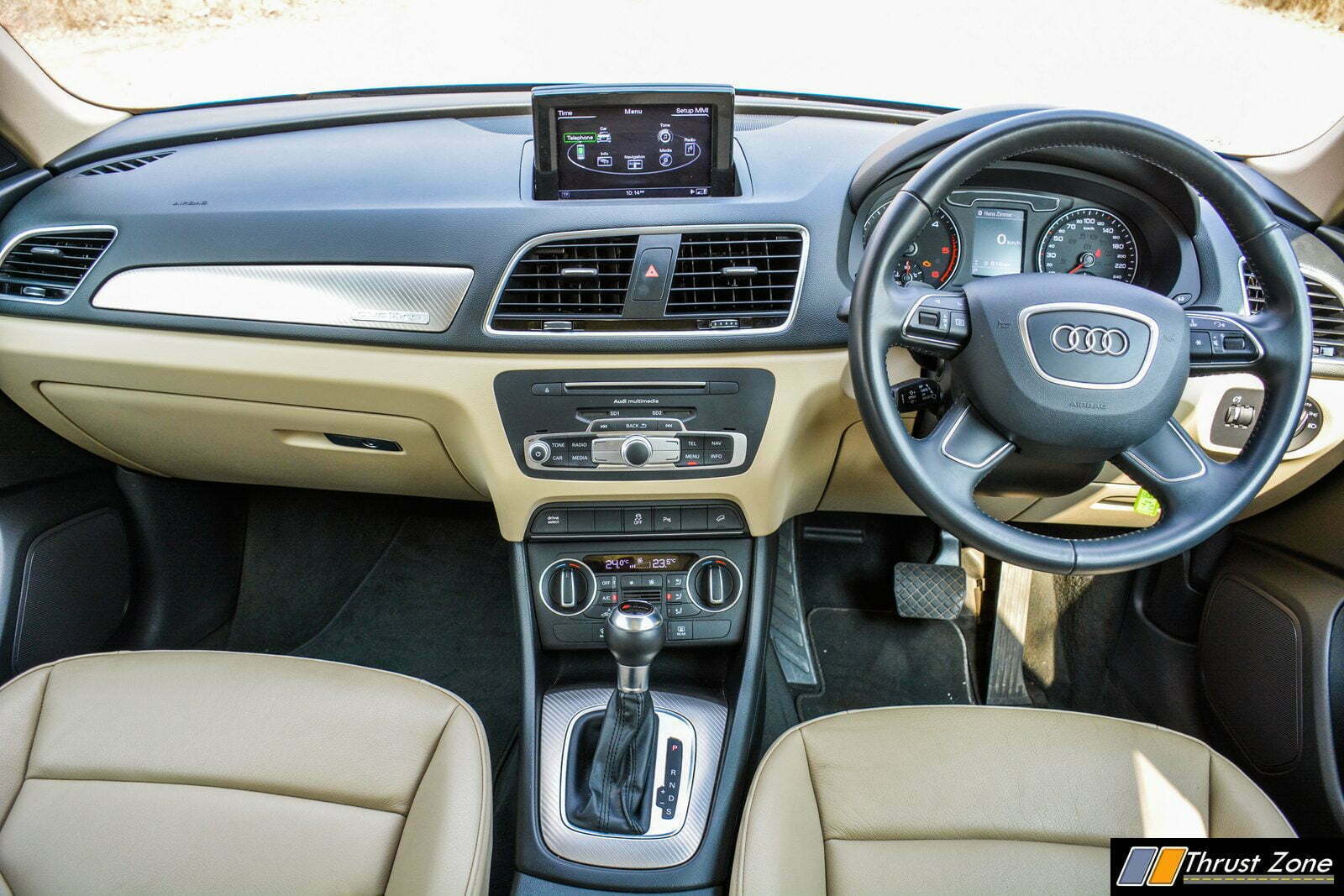 Interior has all the soft-touch materials, good quality, finish and build quality to last long. Our well-used car had zero issues with it. The design has become dated but in a rather sophisticated manner. It ends up looking old-school which is a hit or a miss. All of this vastly seen with the steering wheel design, the knobs, and buttons all around. Feature list includes electric seats, sunroof, steering mounted control, fully electric ORVM, automatic climate control, rear a/c vents, a screen which isn't a touch unit and looks dated in terms of graphics and font. Start-stop is also missing.
What we think is just about average in the cabin is the sound system and front seats which could be a bit better at this point of time. There is a CD player, Aux, USB and Bluetooth on offer. Parking sensors with rearview camera is also on offer. There is MID on the screen with all the parameters on offer. Cruise control is offered as well. The sound system is a tad lower spec with just 8 speakers and 80 watts on offer, but the quality is good by luxury car of 2012 in 2018. Cruise control, electric parking brake and 6 airbags are part of the interior package.
Space in the front and rear is quite the highlight of the Q3 and is has enough legroom and headroom on offer. Shoulder room and knee room is adequate as well, but it continues to be a strict four-seater. Seats could be better in terms of support. Overall, a great cabin with an old-school feel and good quality still keeps the Q3 interior a place where you can spend a lot of time in.
Engine and Gearbox And Verdict On The Next Page